It is a considerable tragedy when any talented musical artist dies at a far-too-young age. But Stevie Ray Vaughan's death at 35 years old on August 27, 1990, in a helicopter accident carries notably poignant elements.
A guitar prodigy from his youth in Dallas, Tex., much the same as his older brother Jimmie, Vaughan had toiled for more than a decade in the bars of Austin before being signed by Epic Records in 1983 at the urging of veteran talent scout John Hammond, whose previous discoveries had included Bob Dylan and Bruce Springsteen. One of the bars he played, Antone's nightclub, had become a regular multi-night stop on the classic blues circuit where both the Vaughan brothers had enjoyed the tutelage and friendship of many of the creators and innovators of modern urban electric blues.
As he stepped into the international spotlight, Vaughan enjoyed the support of Jackson Browne and received impressive initial mainstream rock exposure for his stunning solo on David Bowie's 1983 #1 single "Let's Dance" and work on six of the eight tracks on the album of the same name. Over four studio albums, one live LP and extensive touring with his band Double Trouble, Vaughan became rock music's newest guitar hero, eventually earning gold albums for sales of half a million or more.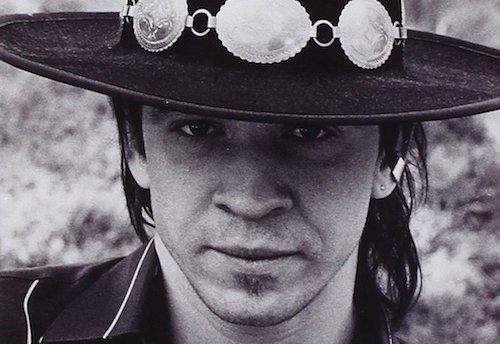 Over the years Vaughan had also acquired substance abuse problems as prodigious as his guitar skills. A severe health crisis in 1986 led him to rehab and a firm commitment to sobriety. But he also "proceeded to defy the old music-business notion that when the truly talented go straight, they sacrifice their creative energy: Stevie became more focused, both as a player and a person," wrote Joe Nick Patoski, co-author of the 1993 biography Stevie Ray Vaughan: Caught in the Crossfire, in a 1990 Texas Monthly article.
If you're a new Best Classic Bands reader, we'd be grateful if you would Like our Facebook page and/or bookmark our Home page.
Vaughan recorded both his best album, In Step (1989), which yielded a #1 single "Crossfire" and won a Grammy, and a duet recording with his brother Jimmie – onetime guitarist with The Fabulous Thunderbirds who had embarked on a solo career – Family Style, completed a month before Stevie's death. All signs pointed to even further artistic achievements in the years to come.
On the evening of August 27, 1990, Vaughan played what was by all reports a triumphant show on a bill with Eric Clapton and his brother Jimmie at Alpine Valley Music Theatre in East Troy, Wisconsin. The helicopter ferrying him away after the gig crashed into a mountainside under dense fog conditions (for which its experienced pilot, who also died, had not been instrument rated to fly in). It was a loss compounded by unfulfilled potential for a now iconic blues-rock guitarist.
Vaughan was born October 3, 1954, in Dallas, where he was raised. He followed his older brother by taking up the guitar at age seven. As a teenager, he was performing in local nightclubs and began devoting all of his time to his craft.
He moved to Austin and joined a band, the Cobras, with whom he continued until 1977, when he formed his own band, Triple Threat Revue. After some personnel changes, the group was renamed Double Trouble.
In 1983, following numerous accolades for his performance on Bowie's "Let's Dance," and several blues awards, Double Trouble released their debut album, Texas Flood.
Related: Our Album Rewind of Texas Flood

Latest posts by Best Classic Bands Staff
(see all)