Status Quo: 'Pictures of Matchstick Men' and You
by Jeff Tamarkin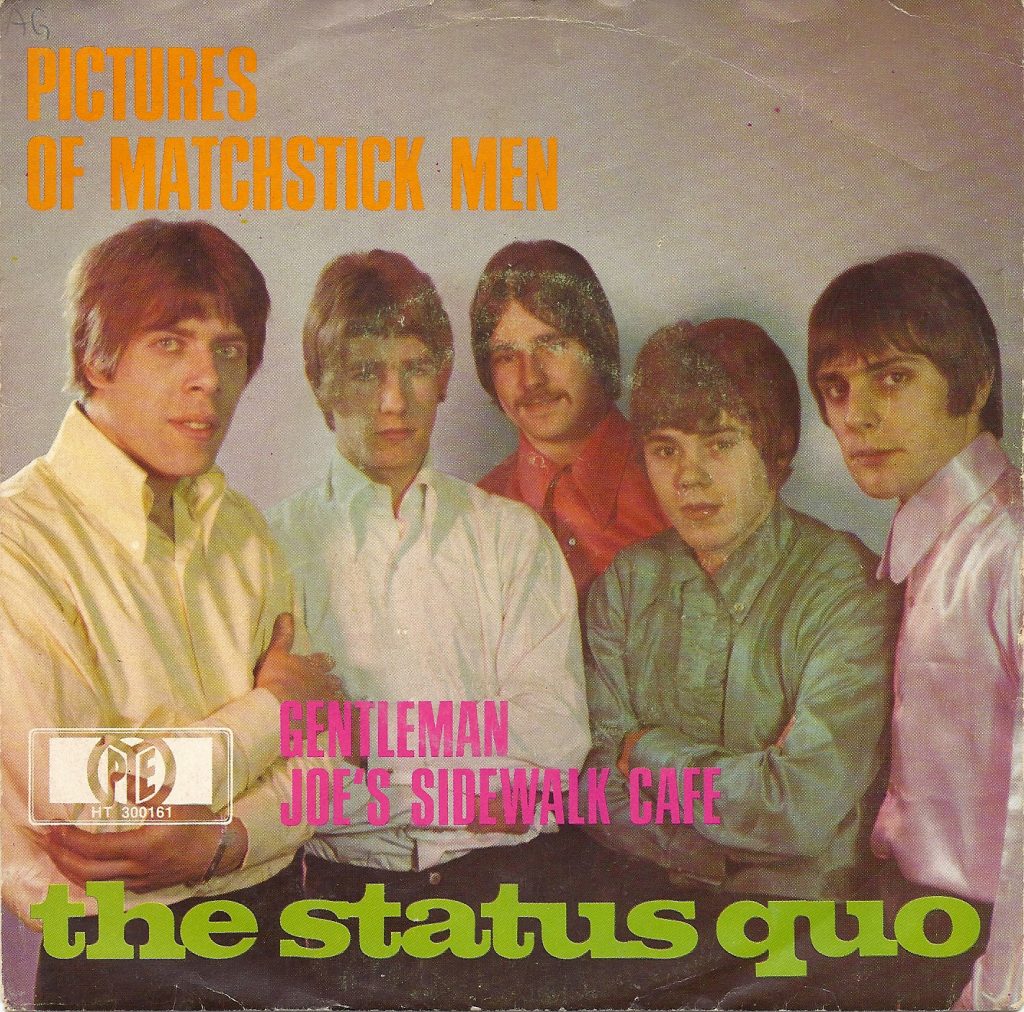 In England, Status Quo is an institution, a hard-boogieing, highly revered band with dozens of hit singles and more than 30 albums to its name. In the United States, Status Quo is a one-hit wonder.
But what a hit "Pictures of Matchstick Men" was!
They began as the Scorpions in 1962, with Francis Rossi (lead guitar and lead vocals), Alan Lancaster (bass, vocals), Jess Jaworski (keyboards) and Alan Key (drums). A name change to the Spectres led to a couple of singles that failed to chart but by the summer of 1967, with a series of lineup changes—most notably the addition of Rick Parfitt on rhythm guitar—and another new name, this time to Status Quo (they wanted to call themselves Traffic, but Steve Winwood beat them to it), things began happening for the band.
Signed to Pye Records in England, Status Quo released "Pictures of Matchstick Men" on January 5, 1968. Written by Rossi while holed up in his bathroom to escape his wife and mother-in-law, the song was originally chosen to be the B-side of a tune called "Gentleman Joe's Sidewalk Café." It didn't take long before rock fans discovered "Pictures…" though, with its prominent wah-wah guitar and psychedelic phasing effect.
Rossi has said that the song's title was inspired by the art of British painter L.S. Lowry but the lyrics, like those of many other songs of the era, were more impressionistic than about anything specific. It begins…
"When I look up to the skies
I see your eyes a funny kind of yellow
I rush home to bed I soak my head
I see your face underneath my pillow
I wake next morning, tired, still yawning
See your face come peeping through my window"
The chorus—"Pictures of matchstick men and you/Mirages of matchstick men and you/All I ever see is them and you"—repeats between similarly trippy verses sung over a catchy, swirling melody and danceable beat. The record-buying public took the single to #7 in the U.K. in the early part of 1968.
Flash forward a few months and, released on the Cadet Concept label, "Pictures of Matchstick Men" fared nearly as well in the United States, entering the Billboard chart on May 18 and eventually peaking at #12 (and just #17 on Record World).
In both countries, the followup single would be "Ice in the Sun," which went to #8 in the U.K. but topped out at #70 in America. This is where the story splits into two very different directions.
Status Quo would never again find their way to the singles chart in the U.S. but they didn't really need to. They were quite happy to remain huge in their own country for the rest of their still-ongoing career.
Sensing a shift in the direction of rock, by the start of the '70s Status Quo quickly abandoned the psychedelic route and began toughening up their sound, morphing into a band that took its allegiance to the blues as seriously as any. Their hard-rock, boogie-based sound found a dedicated audience at home and Status Quo—whose lineup solidified during the peak years around Rossi, Parfitt, Lancaster (replaced by John Edwards in 1986) and, beginning in 1982, keyboardist Andy Bown (with many changes yet to come)—spent the next couple of decades rocking concert halls and placing single after single and album after album on the U.K. charts, many going into the top 10.
In July 1985, Status Quo opened the famous Live Aid concert in England.
Watch Status Quo opening Live Aid in 1985
Throughout this unstoppable reign—they've had more than 60 hits in their homeland to date in all—America shrugged. Only one album, a self-titled set released in 1976, even made the top 200 album chart in Billboard, and it stalled at #148.
To this day a version of Status Quo, still including Rossi, Bown and Edwards, continues to tour, their audience in Britain only somewhat diminished.
Related: Rick Parfitt died in 2016
But ask a rock fan in the United States about Status Quo and you will invariably get one response: "Oh, yeah, I loved 'Pictures of Matchstick Men.'"
Watch Status Quo perform their first (and, in the U.S., only) hit, from Top of the Pops in 1968
Bonus video: Here's Status Quo doing an acoustic, semi-orchestrated version in more recent years.

Latest posts by Jeff Tamarkin
(see all)