Squeeze's 'East Side Story': A Wily New Wave Classic
by Sam Sutherland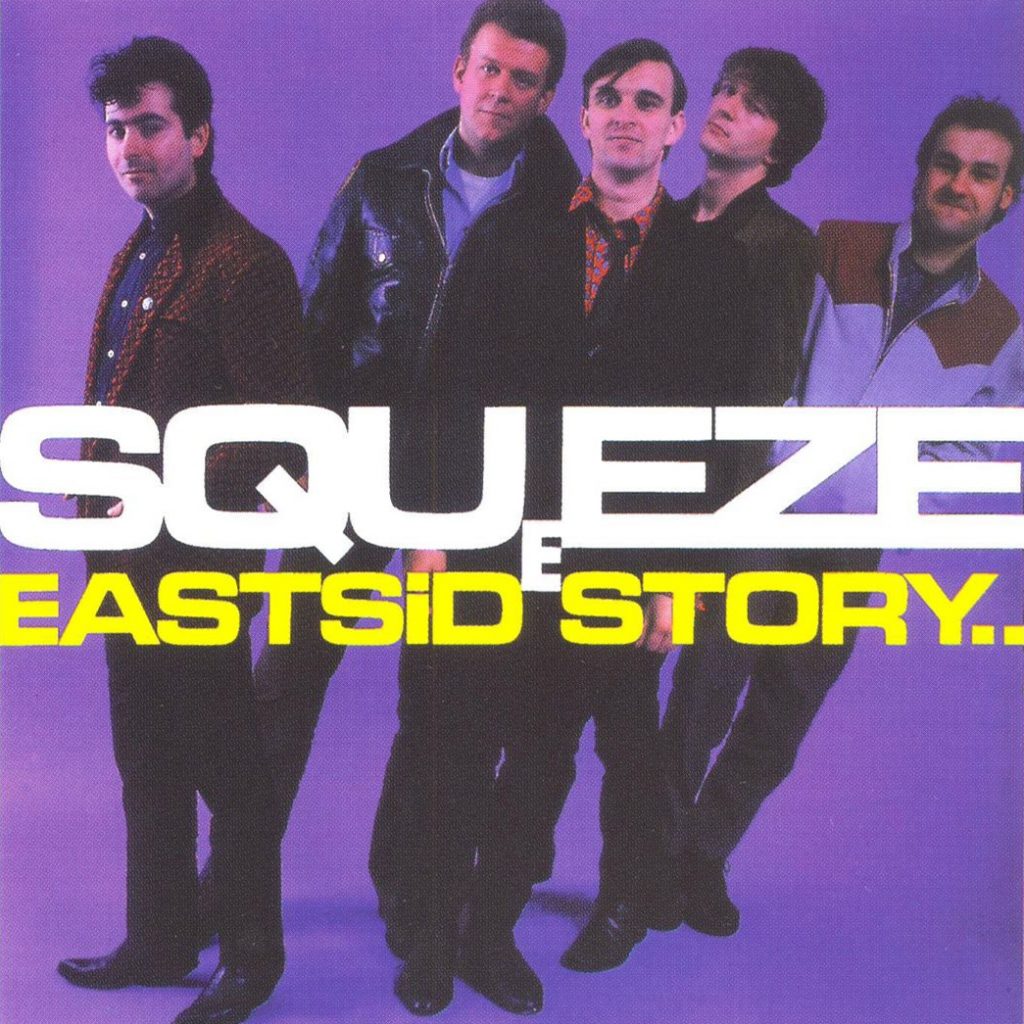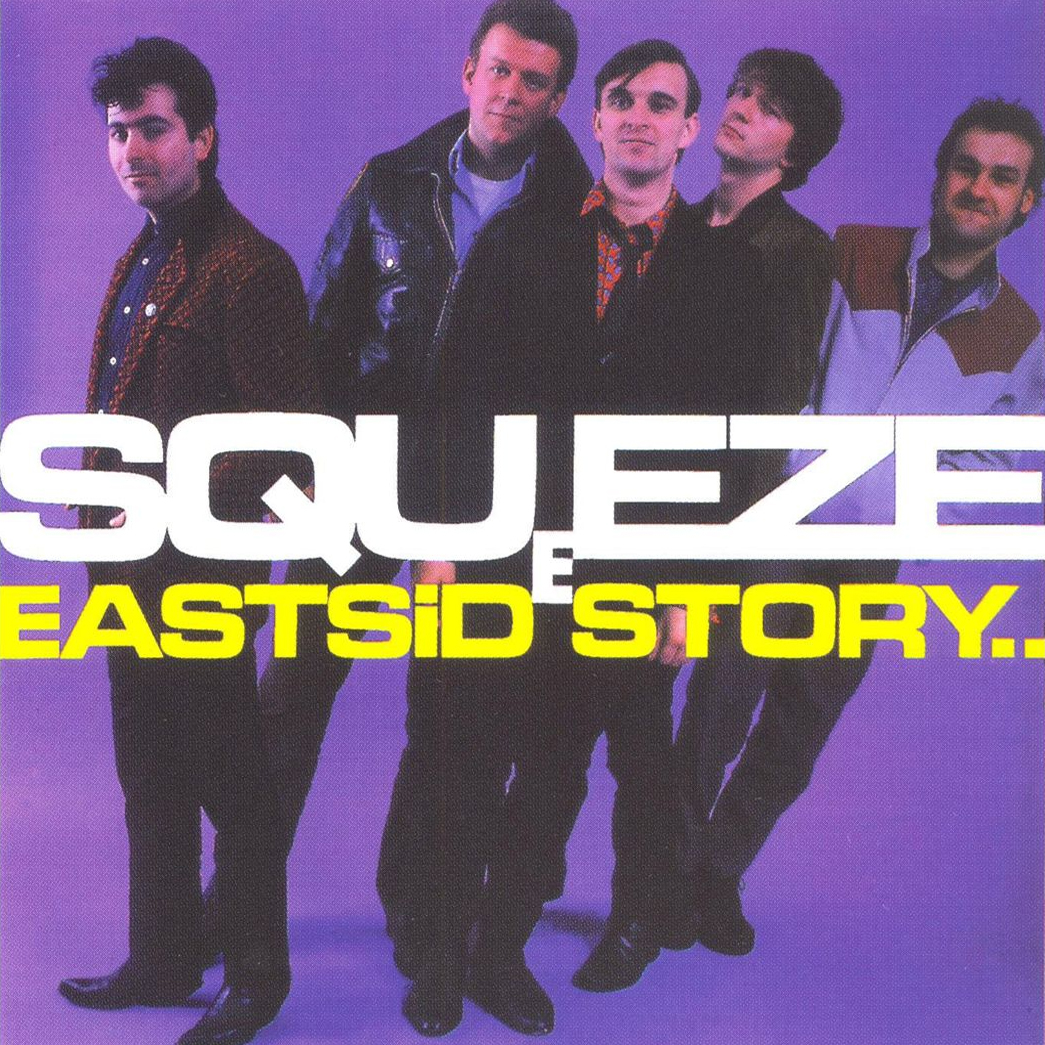 With their third album, 1980's Argybargy, Squeeze reinforced a new wave charm offensive with a salvo of lively, smart songs that earned songwriters Chris Difford and Glenn Tilbrook glowing comparisons to Lennon and McCartney, a compliment that no doubt influenced manager Jake Riviera's master plan for climbing the next rungs of their career ladder. For the wily, flamboyant Riviera, a de facto new wave architect as record label entrepreneur and manager for Elvis Costello and Nick Lowe, Squeeze's deceptively breezy but sophisticated music deserved blue chip producers.
Although the band had co-produced two successful albums with John Wood, Riviera proposed going big: Album number four would be a double-LP statement with a different producer for each side, all bold-faced names: Costello and Lowe would each helm a side, as would Lowe's Rockpile comrade, Dave Edmunds. Completing the team would be Paul McCartney himself, bringing the Beatle comparisons into high relief.
Riviera's ambitions to go BIG with the band were buoyed by Squeeze's steady ascent since signing with A&M Records and releasing their self-titled 1978 debut album, produced by John Cale. The Velvet Underground co-founder's involvement verged on an inside joke: Squeeze facetiously took their name from the Velvets' widely scorned fifth album, recorded after its original members had departed. Jokes aside, Cale's marquee value was offset by conflicts induced when he rejected Difford and Tilbrook's stage-tested material to push the duo toward sleazier topics to provoke a reaction.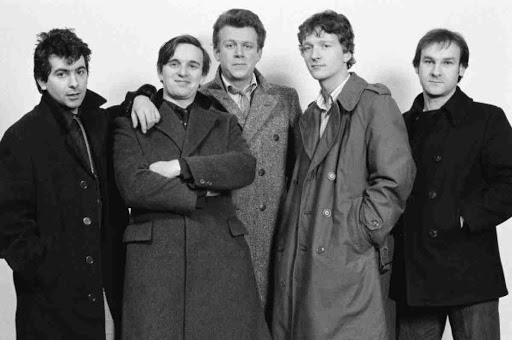 The band's own instincts proved sharper on two self-produced tracks including "Take Me I'm Yours," which broke into the British Top 20 as a single. A galloping shuffle pushed and pulled by Tilbrook's guitar and Jools Holland's keyboards, the song unveiled an edgy ensemble style and lead vocals stacking Tilbrook's sunny tenor an octave above Difford's sepulchral baritone as an aural signature they would periodically deploy on subsequent records.
With their next two albums, Squeeze shifted focus to more recognizable domestic fables of love found, lost or simply misplaced to achieve a sweet and sour tension between comedy and heartbreak, sometimes in the same song. Adolescent rites of passage and pop culture fashion also surfaced as targets, unsurprising given the genesis of Difford and Tilbrook's partnership as teenagers in the mid-'70s. Cool for Cats, released in 1979, yielded four singles including the #2 British hit "Up the Junction," its title a direct link to gritty "kitchen sink" neorealism explored in Britain's post-World War II popular culture on the eve of rock's British Invasion. Argybargy, released the following year, sustained homeland momentum while making inroads in North America.
As sessions began, Riviera's grand vision of multiple producers was eclipsed by conflicting schedules. Edmunds was able to guide the band through just one track, "In Quintessence," which would open the album at a sprint propelled by Tilbrook's electric guitar figures. "Musically it was my tip of the hat to Elvis [Costello]. He'd borrowed the riff from [Booker T. & the MG's] 'Time is Tight' and used it on a song called 'Temptation.' I thought it would be funny to use that riff again for 'In Quintessence' and expand it." Lyrically, the song captured "a 15-year old's browse through life," distracted by drugs, pining for sex but settling for masturbation, with Difford and Tilbrook piloting their octave duet at a breakneck speed, a device that harkens back to Gilbert and Sullivan's "patter songs" in its breathless momentum.
Temptations also figured prominently in another consequential track after engineer Roger Bechirian and Costello took over the rest of the album. Holland had departed following Argybargy, leaving a significant gap in the band's sonic design, so Squeeze reached out to Paul Carrack, fresh from recent stints with Frankie Miller and Roxy Music, a personnel change that brought not only a versatile keyboard veteran but also a powerful singer whose previous tenure with Ace yielded pub rock's only international single hit, 1975's "How Long," written and sung by Carrack.
Although Tilbrook's dominance as Squeeze's primary vocalist would be sustained for the rest of the album, Costello lobbied for Carrack as lead vocalist for a new song steeped in '60s soul. Where "In Quintessence" echoed Memphis R&B, "Tempted" became a simmering Motown homage built on Tilbrook's sultry melody for a tale of hapless infidelity, with Difford's lyrics offering quotidian details more shabby than sexy. Its opening verse listed mundane items packed for the tryst including "a toothbrush, some toothpaste, a flannel for my face, pajamas, a hairbrush, new shoes and a case."
By the third verse, Tilbrook and Costello add harmonies and choral responses that pay tribute to the Temptations. A recurrent theme in darker songs from both Squeeze and Costello, sexual betrayal is spun here as farce thanks to Carrack, Tilbrook and Costello's affectionate soul details. Although Tilbrook would later admit to a bruised ego after ceding the lead to Carrack, over time "Tempted" would emerge as one of the band's most enduring songs and a prime example of its balance of lyrical intelligence and musical ingenuity in deceptively economical three and four-minute creations. Although downsized to a single disc for its May 15, 1981 release, East Side Story, its title a nod to their Deptford neighborhood, would offer 14 tracks, just like that earlier Liverpool quartet's first seven U.K. albums.
Within those brisk running times, Difford crafted cinematic vignettes, from a panoramic post-coital tableau of a couple against a busy street scene in "Piccadilly" to the domestic drudgery of a housewife's ironic "kingdom" in "Woman's World," a tender, sympathetic lament that traces the loneliness and sense of neglect haunting its heroine.
Like the album's opener, "Is That Love" kicks off the original disc's second side with a fluid, uptempo shuffle boasting another breezy, concise Tilbrook guitar solo, leaning into a strong suit that Difford and Tilbrook would reliably mine with subsequent lineups. From there, the album detours into two songs stylistically removed from the quintet's core sound: "F-Hole" makes a daring leap into widescreen orchestral psychedelia, capturing a sense of queasy erotica in a romance slashed with horror movie strings arranged by Del Newman before Difford's lyric reference to "an old acoustic" F-hole guitar and a lover's favorite country songs segue into East Side Story's stealthiest piece.
With its opening lines, "Labelled with Love" carries that country reference forward as Tilbrook outlines a ballad that lopes across decades and miles, recounting the wartime romance between an English war bride and the American pilot that carries her across the sea to Texas and down with him into an alcoholic spiral. Tilbrook's matter-of-fact delivery and Difford's lightly droll lyrics don't dilute the final pathos of a dissolute widow, living alone back in her native country "like some kind of witch with blue fingers in mittens."
Related: Our review of a 2019 Squeeze gig
Released as the album's third single, "Labelled with Love" was a country weeper with an English accent and the band's last British Top 10 hit, peaking at #4 in 1981. Its success underscores how Squeeze's elan as a lively, kinetic pop-rock outfit was elevated by Difford and Tilbrook's artistry as storytellers with a self-aware sense of English pop culture, inviting comparisons not just to Lennon and McCartney, but to the sceptered isle's best and brightest, including erstwhile producer Elvis Costello, Ray Davies and Pete Townshend.
Bonus Video: Watch Squeeze perform "Messed Around" from the album
See Squeeze on tour. Tickets are available here or here.

Latest posts by Sam Sutherland
(see all)