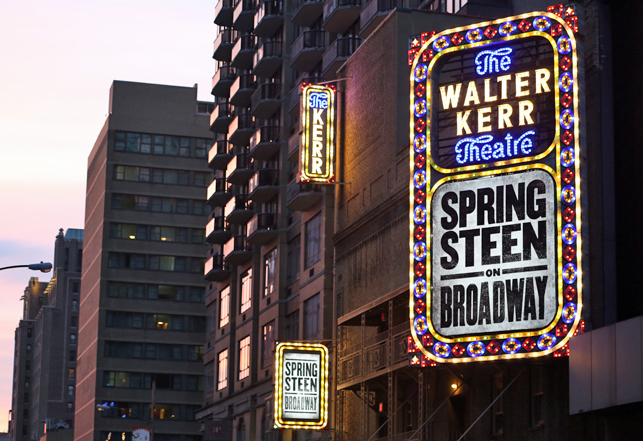 Is Bruce Springsteen going to play Broadway indefinitely? It's starting to look that way. According to a short item in the New York Post on Oct. 17, The Boss is considering extending his "Springsteen on Broadway" solo run at the Walter Kerr Theater as far as next June. He's already booked five shows per week into Feb. 2018, all of which have sold out immediately. The show premiered official on Oct. 12, following several previews. It was originally scheduled to run through Nov. 26 and was extended for 10 more weeks after the original run sold out.
Springsteen is having "the time of his life," said the Post report, which did not cite a source.
For the scripted shows, Springsteen performs solo (except for a brief appearance by wife and bandmate Patti Scialfa), playing both guitar and piano. The theater holds less than 1,000 people and Springsteen has been singing songs from throughout his career as well as telling personal stories, many of which are taken from his memoir, Born to Run.
Fans—some of whom paid four-figure sums for the privilege of being there—have been raving about the shows on social media, and initial critical reviews have, for the most part, been very kind. Said The New York Times, "'Springsteen on Broadway' is a painful if thrilling summing-up at 68: a major statement about a life's work, but also a major revision of it…Call it a greatest anti-hits concert: Many of the songs Mr. Springsteen has chosen to sing are less familiar and more meditative than his chart-toppers, and those that were chart-toppers are almost unrecognizable…Indeed, as portraits of artists go, there may never have been anything as real — and beautiful — on Broadway."
Rolling Stone wrote, "Overall, the show's inherent lack of spontaneity will be a little jarring for those that have followed Bruce for decades, especially when it becomes clear he's reading much of his dialogue from a large teleprompter suspended above the audience. But there's an incredible power to sitting so close from him while he strums a guitar or noodles around on the piano and tells his life story in rich detail, down to the green felt of his first guitar case when he was a kid."
Related: 10 reasons why Springsteen was born to run forever
"Springsteen on Broadway" grossed $1.9 million during its second week at the Kerr, and $2.3 million during it's first week, according to the Broadway League.
The Post article also said that Springsteen is a "lock" for a special Tony award for his run of shows on Broadway.
Watch a brief AP clip from opening night

Latest posts by Best Classic Bands Staff
(see all)