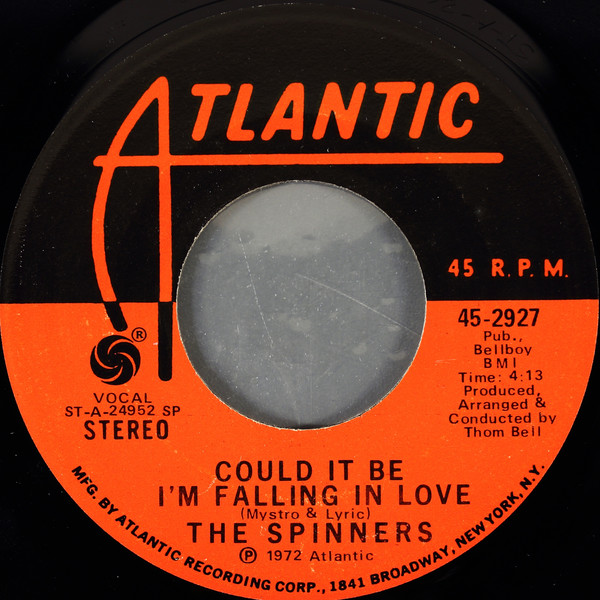 The Spinners are being celebrated for their long overdue induction into the Rock & Roll Hall of Fame's Class of 2023 with a new collection that spans their hits from the longtime label they called home. The Complete Atlantic Singles—The Thom Bell Productions 1972-1979, featuring such classic recordings as "I'll Be Around," "One of a Kind (Love Affair)," and "Then Came You," their #1 duet with Dionne Warwick, arrived August 4 on 2-CDs via Real Gone Music.
From the announcement: With six Grammy Award nominations, eighteen Gold and Platinum albums, twenty top 40 Pop singles, and both Pop and R&B chart-toppers, The Spinners more than earned their place in the pantheon of American popular song. Working with producer-arranger-conductor Thom Bell, the five-man group consisting of Philippé Wynne, Bobbie Smith, Henry Fambrough, Billy Henderson, and Pervis Jackson (and later, John Edwards) came to define the sound of smooth and sophisticated Philadelphia soul in the 1970s even as they paved the way for disco. With Bell's singular arrangements and the unmistakable musicianship of MFSB supporting them, The Spinners delivered rich, textured harmonies on hit after hit including "Could It Be I'm Falling in Love," "The Rubberband Man," and "Mighty Love."
From soul and pop to funk and dance, The Spinners transcended the tag of R&B to make a style all their own. This definitive anthology presents every one of the quintet's beloved A- and B-sides helmed by Bell on Atlantic Records during that halcyon period–with each song in its original single version (7" only…Real Gone Music had to leave out the 12-inch version of "If You Wanna Do a Dance" for timing reasons). The 43 mighty tracks, more than half of which are unique edits, include 19 Pop hits and 22 R&B hits. Most of these are new to CD, and all are freshly remastered by Mike Milchner at SonicVision from new tape transfers.
The Complete Atlantic Singles: The Thom Bell Productions 1972-1979 also includes a deluxe booklet with rare photos and memorabilia. The track-by-track liner notes from The Second Disc's Joe Marchese draw on a new interview with the last surviving member of the classic Spinners lineup, Henry Fambrough, as well as an unpublished interview with Bell, who died in Dec. 2022.
The complete track listing appears below the Amazon links.
The Complete Atlantic Singles—The Thom Bell Productions 1972-1979 Track Listing
1. How Could I Let You Get Away
2. I'll Be Around
3. Could It Be I'm Falling in Love
4. Just You and Me Baby
5. One of a Kind (Love Affair)
6. Don't Let the Green Grass Fool You
7. Ghetto Child
8. We Belong Together
9. Mighty Love Pt. I
10. Mighty Love Pt. II
11. I'm Coming Home (Single Version)
12. He'll Never Love You Like I Do
13. Then Came You
14. Just as Long as We Have Love
15. Love Don't Love Nobody Pt. I
16. Love Don't Love Nobody Pt. II
17. Living a Little, Laughing a Little (Single Version)
18. Smile, We Have Each Other (Single Version)
19. Sadie (Single Version)
20. Lazy Susan
21. They Just Can't Stop It (The Games People Play) (Single Version)
22. I Don't Want to Lose You
23. Love or Leave (Single Version)
24. You Made a Promise to Me
25. Wake Up Susan (Single Version)
26. If You Can't Be in Love (Single Version)
27. The Rubberband Man (Single Version)
28. Now That We're Together
29. You're Throwing a Good Love Away (Single Version)
30. You're All I Need in Life (Single Version)
31. Me and My Music (Single Version)
32. I'm Riding Your Shadow (Down to Love)
33. Heaven on Earth (So Fine) (Single Version)
34. I'm Tired of Giving
35. Easy Come, Easy Go (Single Version)
36. (Love Is) One Step Away (Single Version)
37. If You Wanna Do a Dance (All Night) (Single Version)
38. Once in a Life Proposal
39. Are You Ready for Love (Single Version)
40. Once You Fall in Love (Single Version)
41. I Love the Music (Short Version)
42. Don't Let the Man Get You
43. One of a Kind (Love Affair) (New Version) (BONUS TRACK)

Latest posts by Best Classic Bands Staff
(see all)