The Spencer Davis Group's 'I'm a Man': Admit It, You Don't Know the Lyrics
by Jeff Tamarkin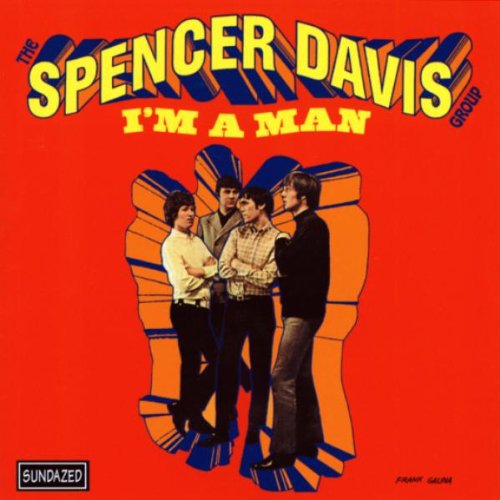 In his memoir, The Islander, Island Records founder Chris Blackwell recalls the first time he heard the voice of Steve Winwood. "I walked into the club," he writes of an informal mid-'60s visit to a nondescript pub in Birmingham, England, "and onstage was this skinny white kid with floppy hair, about 16…The kid turned out to be Steve Winwood. I'd never heard anything like it."
Blackwell signed the Spencer Davis Group, confusingly named after the quartet's guitarist and nominal leader, and proceeded to try to capture the magic of that stage performance in the studio. The Spencer Davis Group was Blackwell's first rock signing to his fledgling company, after having released a string of singles by Jamaican artists—including his first smash hit, Millie Small's "My Boy Lollipop"—but he couldn't seem to interest the public in this rocking band with the talented teenaged keyboardist-guitarist-vocalist.
Related: Steve Winwood pays tribute to Spencer Davis, who died in 2020
After a few flops, finally, the SDG scored in Britain in 1966 with the tune "Keep on Running," a cover of a composition by Jamaican artist Jackie Edwards. Produced by Blackwell, who admittedly had little familiarity with rock music at the time, it reached #1 in the U.K. but stalled at #76 in America.
For their followup, the group cut an original, "Gimme Some Lovin'," credited to three of the band members: Steve Winwood, his bassist brother Muff Winwood, and Davis. This time, America joined the U.K. in recognizing the talents of this new band: at home the record made it to #2 and in the U.S. it peaked at #7 on the Billboard Hot 100.
Winwood's voice truly was something to behold, steeped in the blues and soul but taking it to another level. There was only one problem: It was sometimes hard for fans to understand what he was singing; he seemed to delight in making it nearly impossible to discern his words.
A long version of "Gimme Some Lovin'"—which Blackwell leased to Fontana in the U.K. and United Artists in the U.S.—included a second full verse containing jumbled-up lyrics that included these lines:
"Well, my head's all splinting and I'm floating to sound
Too much has happened 'cause you're around"
The band's record labels wisely decided to cut out that verse altogether and released "Gimme Some Lovin'" as a three-minute single. (The long version with the extra verse, which runs more than five minutes, can be heard here.)
This is the single version that we all heard on the radio:
Perhaps, fans thought, on their next release, Winwood would try to pronounce his words a little more clearly.
Not even close.
The Spencer Davis Group returned on Jan. 20, 1967 with the release of "I'm a Man," a chugging, blues-fueled rocker co-written by Steve Winwood and the band's new producer, Jimmy Miller. Winwood showcased his agility on the organ during the song's lengthy instrumental intro, anchored by brother Muff Winwood's meaty, repeated bass line, Davis' stabbing guitar and drummer Pete York's steady-rolling shuffle. A full 45 seconds of wordless music go by—unusual for the time—before Steve Winwood opens his mouth to sing.
From the start, he's got us wondering what the song is about. It begins, we have since learned, with this:
"Well, my pad is very messy
And there's whiskers on my chin
And I'm all hung up on music
And I always play to win
I ain't got no time for lovin'
'Cause my time is all used up
Just to sit around creatin'
All that groovy kind of stuff"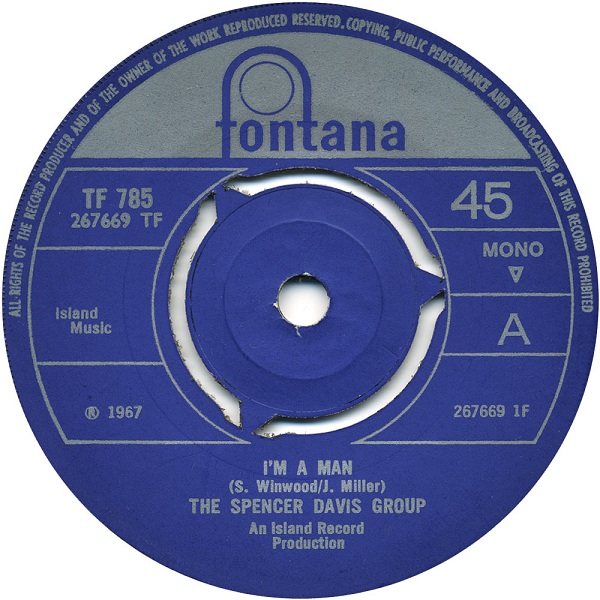 OK, so we're going to confess right at the start here that we have sung along to this song hundreds of times, and never knew what most of the real words were—except for those last two lines about sitting around creatin' groovy stuff. Oh, and the whiskers business isn't too hard to figure out. But that first line is about his messy pad? Really? We can't remember what we thought young Stevie (as he was called then) was going on about, but it wasn't his need for a maid.
The chorus is easy: "I'm a man, yes I am, and I can't help but love you so." But don't get too used to clarity. The next two verses get even weirder:
"Well, if I had my choice of matter
I would rather be with cats
All engrossed in mental chatter
Movin' where our minds are at
And relatin' to each other
Just how strong our wills can be
I'm resisting all involvement
With each groovy chick we see"
Woah. What? He's singing about cats? Does he mean real cats, the four-legged kind who also have whiskers, or cats as in cool people (i.e., those cats can really play that jazz)? We got the groovy chicks line long ago, but all that business about "mental chatter" and "resisting all involvement"? No.
More chorus and then the last couple of verses, wherein Steve Winwood, British soul-shouting wunderkind, tells us about his bathroom.
"I got to keep my image
While suspended from a throne
That looks out upon a kingdom
Full of people all unknown
Who imagine I'm not human
And my heart is made of stone
I never had no problems
And my toilet's trimmed with chrome"
WTF? Seriously, come again? Let's put aside the fact that we never figured out the throne and the kingdom and the stone heart and just skip ahead to the end: "My toilet's trimmed with chrome." There has got to be some cryptic significance to this, right? Was Winwood sitting on the crapper when he came up with this line, like, "Hmm, I need to end the song. 'I never had no problems.' What's next? Problems with what? My parents? Nah. The royal family? The record company? Jerry Lewis movies? Finding a good slice of pizza in England? Sounding like I was born to sing like no one else before me? Wait, I've got it! 'My toilet's trimmed with chrome.'"
We went back and listened to the hit recording with the published lyrics in front of us, just to make sure that's what he really sings. And it sure sounds like he does describe his fancy potty. The rest of the verses actually now sound like what we're seeing in print, and make more sense, but this toilet business remains a mystery.
(Just to be fair, some lyric sites on the Web say gold, not chrome, but mostly they stick with chrome. Anyway, who has a gold toilet, except for some rich snobs?)
Give a listen yourself…
Was this the first time a hit song contained the word toilet? We don't know but there's probably some trivia genius out there who can tell us.
The Spencer Davis Group's "I'm a Man" spends its final minute (of three) much as it does the intro: with the band jamming out, only this time with Winwood wailing away Ray Charles-style, mostly repeating the words "Yes I know" over a wild blast of percussion and swinging, out-of-control soul raving by the band.
While we were at it, once we started to acclimate to the reality that we had this recording all wrong, we remembered that it was also given a great cover by Chicago (technically still known as Chicago Transit Authority) on their self-titled 1969 debut album. The horn-rockers really transform the song into a jazz-rocking tour-de-force, nearly eight minutes long and stocked with killer guitar riffs by Terry Kath, as well as the rare extended percussion break that doesn't get boring.
We were quite curious to see where they went with the lyrics though. Do they also have chrome toilets in the Windy City?
The answer is…apparently not. Once again, we have no idea what singer Robert Lamm is mumbling about when he gets to that line. For some of the song, he sticks to what Winwood and Miller came up with. With other lines, he takes great liberties. He stays relatively true to "never had no problems" but skips the line to the rest room after that—it kinda sounds like "My body's made of stone," but don't take our word for it.
"I'm a Man" is a great, uptempo rocker and we love both the SDG's original version and CTA's  inspired remake. Winwood, of course, soon left Mr. Davis and company and formed a new ensemble he called Traffic, followed by Blind Faith and a successful solo career that is still going strong as of this writing. Chicago changed directions a few times, ultimately releasing 4,623 albums, each with the same title (we're kidding—it's not that many, it just sometimes seems like it).
To this day, we have never seen a toilet trimmed with chrome. Or gold.
Bonus Video: Watch Winwood and band perform "I'm a Man" live in 2020

Latest posts by Jeff Tamarkin
(see all)