Exclusive: '70s L.A. Singer-Songwriters Book Excerpt
by Bruce Pollock
The following piece on the singer/songwriters of L.A. in the 1970s is excerpted from author Bruce Pollock's new book, America's Songs III: Rock!, out now from Routledge Press. In the book Pollock takes a critical look at approximately 300 songs that shaped the genre from 1953 to 1993—with an introduction focusing on the role of the '40s in the history of rock, and a section at the end called "The Post Rock Era," with songs from 1994-2016. Most of the entries contain comments culled from the many songwriters Pollock has interviewed over the course of his career as a journalist and editor.
The book can be ordered here.
The Singer/Songwriter Explosion Of The '70s: Part One, West Coast

PEACEFUL EASY FEELING          
Written by Jack Tempchin
Recorded by the Eagles (Asylum, 1973)
TAKE IT EASY
Written by Jackson Browne and Glenn Frey
Recorded by the Eagles (Asylum, 1972)
Recorded by Jackson Browne (Asylum, 1973)
BEST OF MY LOVE
Written by J.D. Souther
Recorded by the Eagles (Asylum, 1974)
OL' 55
Written by Tom Waits
Recorded by Tom Waits (Asylum, 1973)
Recorded by the Eagles (Asylum, 1974)
SAIL AWAY
Written by Randy Newman
Recorded by Randy Newman (Reprise, 1972)
Recorded by Linda Ronstadt (Asylum, 1973)
To songwriter Jack Tempchin, the success of "Peaceful Easy Feeling" was definitely a matter of being in the right place at the right time. That place was the Troubadour, a club that would define the "peaceful, easy feeling" of L.A. in the '70s, much like the Gaslight Cafe in Greenwich Village defined the "times they are a-changin'" era of the mid- to late '60s, with some of the same players emigrating across the continent when the earlier scene wore out its welcome. With Joni Mitchell, Jackson Browne and even Bob Dylan joining forces with the ensconced regulars like J.D Souther, Tom Waits and Tempchin, the scene at the Troubadour became the hub of a songwriting universe that would dominate the decade.
Written in 1968 or '69, "Peaceful Easy Feeling" was one of the songs Tempchin pulled out of his hat when he was staying with Jackson Browne and Browne's friend and neighbor, Glenn Frey, came over to visit. "I put it down on a cassette for him," said Tempchin, "and he came back the next day and said, 'I've got a new band. We've been playing with Linda Ronstadt, but now we're putting together our own band. We worked up your song and here's how it sounds.' A day or two later, he took me over to meet the guys and see them playing in a very small rehearsal hall. I heard Don Henley sing it for the first time, and it was by far the best thing I had ever heard."
When the Eagles' first album came out in 1972, Tempchin had no idea whether it would be a hit, or whether his song would become a single. It became the third single from the album in 1973. "I was traveling with my wife in our Volkswagen bus up the coast of California. We met a guy who managed a band and he took us to the band house. There was a little radio on top of the refrigerator and 'Peaceful Easy Feeling' by the Eagles came out of that radio. Later, we were walking through the huge farmers' market downtown in L.A. and I heard it again. I didn't know if it was a hit; I just knew I started hearing it, and it sounded awful good when I heard it on the radio. And that feeling never has gone away."
Tempchin wrote the song on the back of a poster after a gig in El Centro, where he slept on the floor of the club when the waitress there turned him down for the night. "All I had was my guitar and the piece of paper that had this poster on it. So, I turned it over on the back and I started writing this song because I couldn't sleep. Then I came back to San Diego. I went down to a street fair and saw a woman with these beautiful earrings. So I put her in the song. And then my friends and I were on Park Boulevard, where we used to just look out the window at the bus stop and fall in love with women who came by. So, I put them in the song. And then I finished the song at the Der Wienerschnitzel Restaurant on Washington Boulevard, waiting for a Polish dog.
"I never thought it would be a hit. I didn't think it had a hook. It's not a love song, exactly. The guy's going, 'Hey, either way it's going to be fine.'"
Watch the Eagles perform "Peaceful Easy Feeling" on the BBC in 1973
Related: Jack Tempchin talks songwriting
Another Der Wienerschnitzel also figures in the story behind the Eagles' first hit from the album, "Take It Easy," this one located in Flagstaff, Arizona, where Jackson Browne claimed he was loitering when he was ogled by a girl in a Toyota pickup. In the song Glenn Frey turned the car into a Ford pickup and the town into Winslow, where a statue has since been erected to commemorate this signal event in the town's history.
Browne has gone on the record to clarify that his car did indeed break down in Winslow, even if Frey took some liberties with the subsequent girl and car in question.
In any event, Frey's verse was the one that helped Browne finish the song in time for the Eagles to include it on their debut album. "He kept after me to finish it, and finally offered to finish it himself," Browne said. "After a couple of times when I declined to have him finish my song, I said, 'all right. This is ridiculous. Go ahead and finish it.' And he finished it in spectacular fashion. And, what's more, arranged it in a way that was far superior to what I had written."
The Eagles' third album featured "Already Gone" by Tempchin and Robb Strandlund and "James Dean," by Browne in collaboration with Frey, Henley and J.D. Souther. Souther wrote their first #1 single, "Best of My Love" with Frey and Henley, with the Tom Waits-penned "Ol' 55" on the B-side. Browne, Waits and Souther would go on to significant careers in the new singer/songwriter genre.
Most of the lyrics for "Best of My Love" were written by Don Henley in a restaurant near the Troubadour. Glenn Frey found the guitar tuning after experimenting with something shown to him by Joni Mitchell. Souther told the website Acoustic Storm that the tune came from a Fred Neil record. "We wrote it in London," he said. "The three of us were on deadline to get it finished. When I'm writing music it's something that's swirling around in my head or happens to live on scraps of paper or a score paper that's sitting on my piano. I have no idea where the inspiration for that song came from."
Related: Linda Ronstadt honors the Eagles at the Kennedy Center
The lead-off track on Tom Waits' debut album, Closing Time, "Ol' 55," was one of the tunes he often played at his regular Monday night gig at the Troubadour. It subsequently had the good fortune to be recorded by the Eagles for their third album, and placed on the B-side of their #1 single, "Best of My Love," in 1974, earning Waits a tidy little nest egg to support his quixotic, eccentric career. Nevertheless, Waits did not care for their version, calling it "antiseptic."
Waits' original version was anything but antiseptic, tinged with the jazz touches that defined his early work, a cross between Mose Allison and Dave Van Ronk. Critics compared him to the similar-sounding and similarly acerbic Randy Newman, who released several acclaimed albums surrounding Three Dog Night's #1 rendition of his song, "Mama Told Me Not to Come" in 1970. Where Waits' songs were romantic portraits of bohemia on the skids, Newman's caricatures were more grotesque and satirical. In "Political Science," for instance, the recurring motif was "let's drop the big one and see what happens." One of his most serious and most affecting songs was "Sail Away," a personal favorite of his, written about the slave trade.
Don't miss a post! Sign up for Best Classic Bands' Newsletter; form is on every page.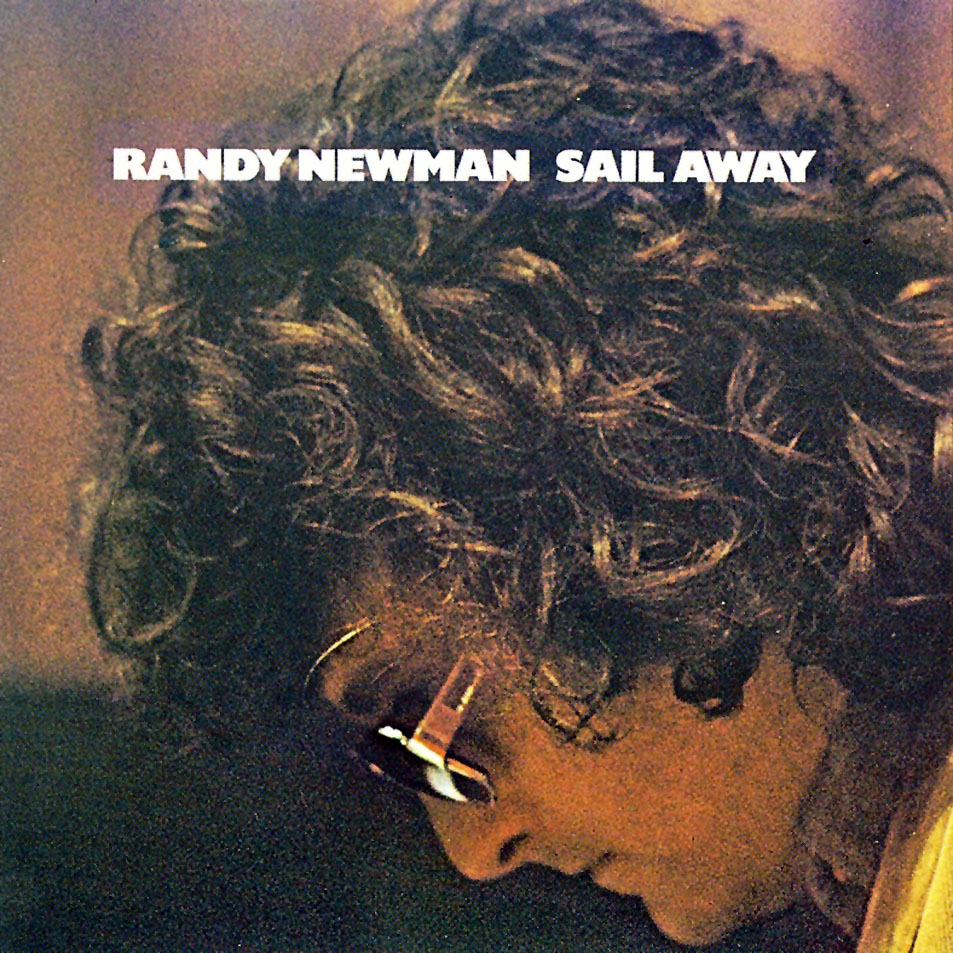 "I'm proud I wrote 'Sail Away,'" he said. "One thing that did precipitate some of my writing was the Watts riots of 1965. I think that's the biggest thing that happened, the biggest shock to me, and the biggest inequity in this country. The way black people are treated in this country is obviously the worst thing to me. I always felt that the race situation was worse here than anywhere. Other than that, I'm essentially apolitical. I didn't like 'Political Science' for a long time. I thought it was too close to a Tom Lehrer-type song, not that there's anything wrong with Tom Lehrer."
In fact, there are few songs of his that can survive Newman's eventual criticism. "I have urges to change them all the time. I would do it, but I know I could never get them right. There's ruin there if you start to do that. But I can't think of many of them where something musically or lyrically doesn't really bother me. You bust your ass with a crazed kind of worrying about every little thing and then see all these bad things about it two weeks later. It's a psychosis."
***
Bruce Pollock is the author of 15 books on music, including The Rock Song Index and Working Musicians. From 1984-1999 he was the editor of the annual reference book An Annotated Index of American Popular Songs (Gale Research Co.). His next book, Bob Dylan FAQ, comes out in May from Backbeat Books.
Find Bruce Pollock on Facebook and at his website.
If you're a new Best Classic Bands reader, we'd be grateful if you would Like our Facebook page and/or bookmark our Home page.
Latest posts by Bruce Pollock
(see all)