It may or may not be the greatest album of all-time. It may or may not even be The Beatles' crowning achievement. But regardless of where you fall on the Sgt. Pepper spectrum, there is no denying that its release, on June 1, 1967, changed rock music forever, and probably a lot more than that. (It would go on to win the Grammy Award for Album of the Year.)
If you're like most Beatles fans, you've likely heard it a thousand times. But an immersion into 2017's Super Deluxe Edition 50th anniversary boxed set of Sgt. Pepper's Lonely Hearts Club Band—four CDs, a Blu-ray and a DVD—may have you reassessing this watershed work regardless. However well you think you know the act you've known for all these years, one spin and you will—and yes, this is something of a cliché, but it happens to be true—hear this music as you've never heard it before.
There's no need to re-litigate the content: There are 13 songs on Pepper and you either live and breathe them by now or you probably never will. You likely have your favorite tracks; maybe there are a few you are ambivalent about. Or perhaps you see it as one inseparable epic and can't fathom any piece of it not being there.
Related: Our interview with Giles Martin on his Beatles projects and his father, George
Maybe you're a mono purist, insisting even in 2017 that the way most people heard the album in 1967 is still the way it needs to be heard. The Beatles, producer George Martin and engineer Geoff Emerick spent considerably more time on the mono than the stereo mix because, in those days, stereo was still in its relative infancy. The mono album, although relegated to the fourth and final CD in the new box, retains all of the punch and solidity of the original. If you never play the stereo disc, you'll be quite happy with what you hear in monaural.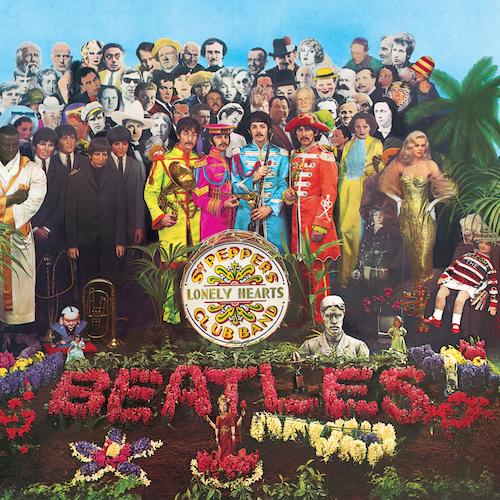 But…there's no other way to put this: You'd be a fool not to experience what Giles Martin, the son of George and for some time now the caretaker of all things Beatles audio, has created in stereo. Returning to the original Pepper recordings, Martin built a new stereo remix from the ground up. To call it a revelation is to do it a disservice: Sgt. Pepper's Lonely Hearts Club Band, regardless of which iteration you've been spending your time with all these years, has never, ever, sounded as gorgeous as it does on disc one of this set. It's 2017 stereo, not 1967 stereo, and there's simply no comparison. No more of that silly fake separation of old; the recording now sounds natural. And, it's important to note, Martin didn't change anything about the album; he just used all of the tools available to him to bring out what's always been there, just not in plain view due to technological limitations of the past.
It's hard to describe the impact. The first time this listener heard the new stereo mix he felt as if these tracks have never been as vivid, as dynamic, as present. It's as if a layer of dust has been scrubbed away and a brand new shine applied. The spaces are wider and more open, the bass deeper, the music's textural qualities greatly heightened. The drums (especially the kick, harder and more booming now) and cymbals (crisp and shimmery) are totally in your face (sorry, but anyone who can hear this record and still not understand that Ringo was one of rock's greatest drummers just doesn't get rock). The orchestral elements are richer, sweeping and grand; the Indian instrumentation of "Within You, Without You" takes on a new closeness that places you amidst the exotic flavorings; George Harrison, on this track and in his guitar work throughout, is revealed (as if we needed a reminder) as a master of craft and taste; his concision and ingenuity are constantly on display. The horns of "Good Morning, Good Morning" snap, crackle and pop with a new boldness. Take your pick—every song dazzles afresh.
Listen to the "Sgt. Pepper's Lonely Hearts Club Band" outtake
If there is one spot on the entirety of Pepper that brings home the power of the new stereo mix, it's the legendary final chord of "A Day in the Life." It attacks like a thunder crack, shudders and flows in waves, a rolling earthquake that detonates and doesn't so much fade as back away. But there are also numerous alternate takes that are also fascinating.
There are so many moments like that—in every track—that it would not be tedious to sit and dissect one at a time over and over. Tiny sounds previously buried in the mix come out of hiding; nuances bring the music into sharper focus. Giles Martin and his team have found the ideal sweet spot where the vocals are pushed further to the top of the mix, intimate and illuminating, but never at the expense of the instruments. The clarinets of "When I'm Sixty-Four" dance giddily beside and inside of Paul's vocal; the kaleidoscopic pastiches created around John's words in "Being for the Benefit of Mr. Kite!" and "Lucy in the Sky With Diamonds" throw bolts of color every which way.
"She's Leaving Home" floats in the air, raining down melancholy; the title track and its reprise, "Lovely Rita," "Getting Better" and "Fixing a Hole" rock harder than ever. And Ringo's greatest-ever moment, "With a Little Help From My Friends"—it seems, all by itself, to sum up the zeitgeist of the Summer of Love.
Your brain wants to believe it's a brand new recording, even as you listen knowing that it's a half-century old. It's hard to imagine anyone being disappointed; even if you were satisfied with the previous reissues of the album, an A-B test will demonstrate the difference.
More so than ever, the threads that bind these songs are exposed as obvious; there's no taking any of them out of context as you allow each to restate its glories. At the same time, every song is a wholly independent work of art, so perfectly conceived and executed. All four of these men were still in their twenties when they wrote and recorded this music; five decades removed, it seems like that much more of a feat.
So much for Sgt. Pepper. The stereo and mono albums are what they are. They're reason enough to re-buy this music, even if you already have six copies. Unlike in 1967, you have multiple choices of format and configuration. If all you want is the original, you can buy it sans extras. A two-disc "Deluxe" edition includes the stereo album and a second disc of previously unreleased Pepper-related music, including a new stereo mix and a previously unreleased instrumental take of "Penny Lane" and the 2015 stereo mix and two previously unreleased complete takes of "Strawberry Fields Forever."
If vinyl is your preference, the 180-gram two-LP version features the stereo mix and a second record consisting of complete alternate takes of every song on the album. (The set, of course, will also be available in digital formats.)
Then there's the "Super Deluxe," the ultimate Pepper boxed set, which is what this review is based on. As noted above, it includes the complete album in the new stereo mix and the original mono. Then things get really interesting—at least temporarily. On disc four, following the mono, album, are the original mono mixes of "Penny Lane" and "Strawberry Fields Forever." What, you might justifiably ask, do those two tracks have to do with Sgt. Pepper? It seems they were initially intended for the album, but as the Beatles owed their record companies a single, manager Brian Epstein had the two finished tracks paired and released on 45 r.p.m. in February '67, four months ahead of the album.
The songs are spiritually, if not physically, part of the Pepper family. They work in this context, but thankfully the producers did not opt to augment the actual 13-song running order by including them.|
Watch the teaser trailer the Beatles released to announce the reissues
The rest of disc four is taken up with further mono mixes ("A Day in the Life," "Lucy in the Sky with Diamonds," "She's Leaving Home"), and the Capitol Records U.S. mono promo mix of "Penny Lane." The entirety of discs two and three is given over to some 33 previously unreleased tidbits, mainly alternate takes, false starts, instrumental backings, overdubs, studio banter and the like. We hear George Harrison instructing the Indian musicians on what he wants them to do for "Within You, Without You," rudimental versions of several songs and so on. While it's always instructive and fascinating to hear the Beatles piecing together a song—often quite underdeveloped compared to the perfect final takes we are used to—in truth they get old fast. A couple of plays and you've got the idea—that the band and George Martin worked tirelessly to hone a tune—but there's really no good reason to keep coming back to them.
Listen to an early take of a classic
That leaves the DVD with new high-resolution audio mixes, promo films for "Strawberry Fields Forever," "Penny Lane" and "A Day in the Life," a making-of video, a 1992 documentary and so on.
Watch "A Day in the Life"
All of this, it should be noted, is housed in a stunningly designed box, with a 3-D outer sleeve, LP-sized jacket holding the discs, the cutouts and other inserts found in the original LP, a reprint of the original Mr. Kite poster on which Lennon based his song, another oversized poster advertising "New Beatles LP Here Now" and—last but very far from least—a handsomely assembled, info- and graphics-packed 144-page hardcover book, detailing the recording sessions, the story behind the cover art, various essays, lyrics and more. The book, by itself, is well worth owning.
All of which is to say that a splendid time will be had by any and all indulging once again in the phenomenon that was Sgt. Pepper's Lonely Hearts Club Band. Both Paul McCartney and Ringo Starr were involved in the process of putting it all together. Pepper was, in retrospect, the last time that McCartney and John Lennon truly synced their ideas, the last time all four Beatles were thinking as a group in the studio. Together they created something that wasn't only influenced by its time but incalculably influenced what was to come. It's impossible to know, of course, which 20th century musical works will still be considered worthy in 2067, but it's a good bet this one will be.
Order the various configurations here…
Super Deluxe (Order here): The comprehensive 6-disc box set
Deluxe Vinyl (Order here): Expanded 180-gram 2-LP vinyl package
Deluxe (Order here): Expanded 2-CD and digital package features the new stereo album mix on the first CD and adds a second CD of 18 tracks
A CD featuring the new Sgt. Pepper stereo mix. (Order here.)

Latest posts by Jeff Tamarkin
(see all)