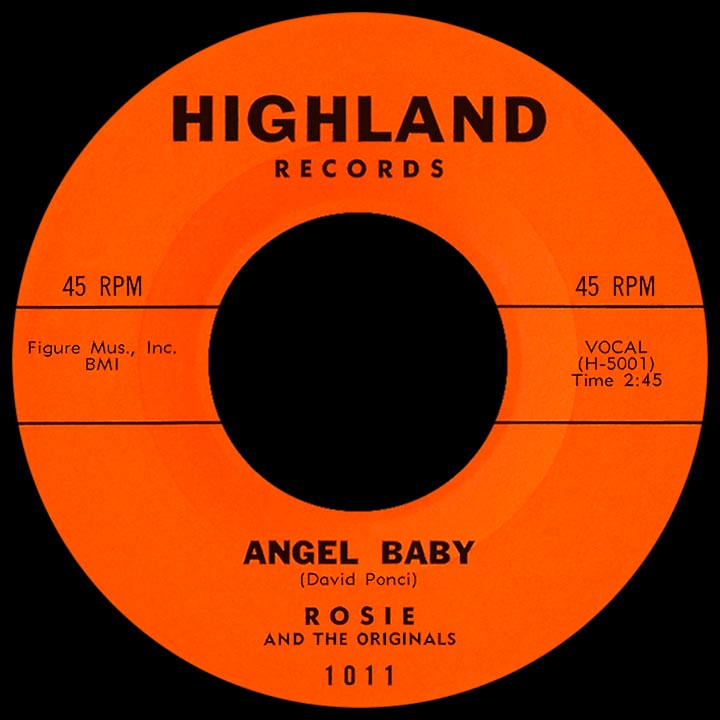 When John Lennon covered Rosie and the Originals' 1960 doo-wop ballad "Angel Baby" for his 1975 Rock 'n' Roll album—it didn't make the final cut but was added as a bonus track to the 2004 reissue—he prefaced his version with a tribute: "This here is one of my all-time favorite songs. Send my love to Rosie, wherever she may be."
Rosie Hamlin, who wrote and sang the song, died on March 30 at age 71. The cause and place of death were not reported, although her website notes that Hamlin was diagnosed with fibromyalgia in her 50s. A notice on the site simply states that Hamlin died in her sleep.
"She didn't perform anymore and had removed herself from the music scene because of health concerns. She did still paint and tended a very lovely garden," it says.
In an extensive biography on the site, Hamlin recalled her childhood. She was born Rosalie "Rosie" Méndez Hamlin on July 21, 1945, in Klamath Falls, Ore., and grew up in Alaska and California. She wrote "Angel Baby" at age 14 and recorded it with a group of relatives: David Ponci and Noah Tafolla on guitar and Tony Gomez on bass. Carl Von Goodat later joined on drums and and Alfred Barrett on saxophone. The group had trouble landing a record deal but a local shop owner agreed to sell copies for them. After demand for the record picked up, a representative of Highland Records decided to sign the group and distribute their record.
Hamlin wrote on her website:
"When we met them that night we were surprised at how grungy and scary they looked. Not like record people at all. But we were young and we ended up giving them our master with no contract. Three weeks went by and we heard 'Angel Baby' on K-Day Radio with Allen (sic) Freed. He said, 'This is by a fifteen year old girl from National City, California, named Rosie. This is going to be a hit, guys and gals.' After that he was playing it six to ten times a day. We called and called until we finally got one of the people from Highland to meet us with a contract. I had to bring my mother in with me to sign because I was too young. They listed David Ponci's name as the writer and my name as the singer on the record. It would take years to straighten that out. We were musicians and not business people. We got burned like so many of our peers in those days. Listing David as writer kept me away from any royalties until I was able to prove that I had written 'Angel Baby.'"
Long story short, the single, with "Give Me Love" on the B-side, ultimately rose to #5 on the Billboard chart. Along with the late Ritchie Valens, Hamlin was one of the first artists of Hispanic heritage to score a top 10 single during the early rock era.
Give a listen to the original single…
And here is Rosie reprising her hit many years later…
Following the success of "Angel Baby," at the suggestion of R&B star Jackie Wilson, Hamlin signed with Brunswick Records and had one more chart single (#66), "Lonely Blue Nights," under her own name. She continued to perform, sharing bills with everyone from Little Richard and Chuck Berry to the Rolling Stones, and was actively performing until recent years.
Lennon was a fan of "Angel Baby," and in 1973, when he began cutting covers for his Rock 'n' Roll album, he took a stab at the song. His version included musicians such as Phil Spector on guitar and piano, Dr. John and Leon Russell on pianos, Steve Cropper, Jesse Ed Davis, Jose Feliciano and other guitarists, drummers Jim Keltner, Hal Blaine and Jim Gordon, and a team of horn players, including Bobby Keys of Rolling Stones fame. He ultimately left it off the official album but it was included on the unofficial album Roots: John Lennon Sings The Great Rock & Roll Hits, issued by Morris Levy in January 1975; the 1986 Menlove Ave. collection and the 1990 Lennon boxed set, as well as the reissue of Rock 'n' Roll. Scroll down to hear his version.
Other artists who recorded "Angel Baby" are Linda Ronstadt, soul singer Charles Brown, Texas rocker Roky Erickson and the modern group Black Rebel Motorcycle Club.
Here are the lyrics of "Angel Baby," from the Rosie and the Originals website (lower case lettering left intact):
It's just like heaven being here with you
You're like an angel, too good to be true
But after all, i love you i do
Angel baby, my angel baby
When you are near me my heart skips a beat
I can hardly stand on my own two feet
Because i love you, i love you i do
Angel baby, my angel baby
Ooh ooh i love you, ooh ooh i do
No one could love you like i do
Ooh ooh ooh ooh ooh ooh, ooh ooh ooh
Please never leave me, blue and alone
If you ever go, i'm sure you'll come back home
Because i love you, i love you i do
Angel baby, my angel baby
It's just like heaven, being with you dear
I could never stay, away without you near
Because i love you, i love you i do
Angel baby, my angel baby
Ooh ooh i love you, ooh ooh i do
No one could love you like i do
Ooh ooh ooh ooh ooh ooh, ooh ooh ooh
Ooh ooh, ooh ooh ooh
Listen to John Lennon's cover of "Angel Baby"
Bonus video: Linda Ronstadt's version…

Latest posts by Jeff Tamarkin
(see all)