10 Great 'Rolling Stones' Tracks Not By the Stones
by Rob Patterson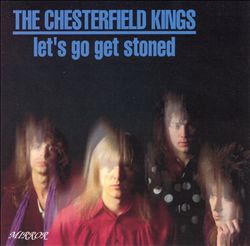 Next time you're about to say that a band sounds like The Rolling Stones, think again. Sure, some bands remind you of the Stones, and a number have tried to take that further, only to then stumble and fail. But very few sound like The World's Greatest Rock 'n' Roll Band (one of many reasons they continue to firmly hold that title).
Trust me, I know. After digging on some Stones-sounding tunes by other acts over the years,  I set out to find some others I knew existed. And figured I'd run across at least a few more. Nope. Took some deep digging to flush out this list. Many try to play like the Stones; few come even close, which makes digging those who do as on here even more fun and impressive.
Yep, there's good reason why people still pack stadiums and arenas to see The Rolling Stones even if they haven't had a hit album in a coon's age. Because almost nobody can rock like they do. But here's a few who can.
10) "Rock You Up" by The Romantics
This 1980s Detroit band may have worn matching suits a la The Beatles. But they could also plow a mighty Stones groove (flip side to their biggest hit, "Talking In Your Sleep").
9) "Firmament Vacation" by The Soundtracks of Our Lives
Time can sometimes be quite open and flexible, as epitomized by how this young Swedish band (circa 1995-2012) very nicely summon up a 1970s Rolling Stones vibe.
8) "Jealous Again" by The Black Crowes
No, The 1990s Atlanta band didn't sound that much like The Rolling Stones. They tried to. And on occasion succeeded, like here.
The Robinson brothers are touring again. Tickets are available here and here.
7) "Kill City" by Iggy Pop & James Williamson
If anyone deserves to be able to sound like Mick'n'Keef, it would be Iggy, right?
6) "Little Troublemaker" by Ian McLagan
Having played a pair of Rolling Stones tours as a sideman and emerged from a similar London milieu, it's no surprise that the onetime Small Face/Face known as "Mac" could channel the band so well. What is so surprising is how few others have managed to do so. From his first solo album in 1979. Bonus points for Bobby Keys on saxophone.
5) "Movin' On Up" by Primal Scream
This contemporary Scottish band are very gifted at sounding like The Stones.
4) "Stellazine Blues" by The Georgia Satellites
A killer track from the group's magnificent yet sadly overlooked third and final album. Starts at 35:31.
3) "Rosalyn" by The Pretty Things
The 1964 first single by the next band of Dick Taylor, briefly an early Rolling Stone, and a tune that either young band could have been proud of.
2) "Johnny Volume" by The Chesterfield Kings
In 2004, the Rochester, NY retro rockers made an uncannily fine album,  Let's Go Get Stoned, of songs either done by the Stones or could/maybe even should have been written by Jagger/Richards.
1) "Rocks" by Primal Scream
What? It's not the Stones? Nope. It's Primal Scream again. Wow. Could have almost fooled me.

Latest posts by Rob Patterson
(see all)