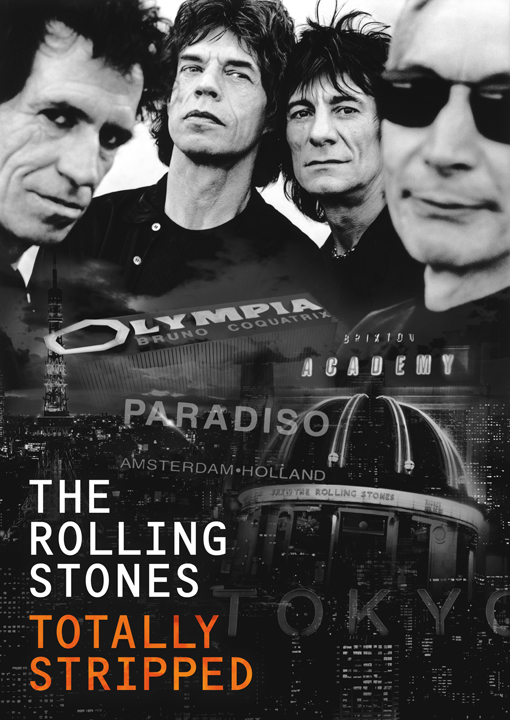 Just over a decade after the release of Stripped, The Rolling Stones are bringing us Totally Stripped – an expanded reissue of the popular acoustic live album with new additions galore. Totally Stripped arrives June 3rd on DVD or SD Blu-ray along with a revised version of the documentary of the same name, which offers a behind-the-scenes look at the two studio sessions and three live shows featured in this project. It also comes as a DVD+CD or DVD+LP featuring the documentary and single CD/two LPs compiled from live shows. Fans can get as well a deluxe edition of the reissue, complete with a 60-page book, a disc of hand-picked live cuts and DVDs of the complete live shows, now available for the first time ever.
Inspired partly by the sounds of MTV's Unplugged, the Stones released the original Stripped in 1995, featuring simpler takes on many of their classic tunes as well as a few covers. The tracks came from two studio sessions in Tokyo and Lisbon and three intimate live shows in London, Paris and Amsterdam, with a goal of shifting the focus from production techniques to the lyrics and melodies of each song, shedding light on their simplicity and timeless qualities. The resulting performances were some of the band's finest – raw, immediate and showcasing a whole new way of connecting with listeners.
Don't miss a story! Sign up for Best Classic Bands' Newsletter; form is on every page.
In other Stones news, yes, the band's been in the studio cutting some of their favorite blues tunes and new original material…
Related: The Rolling Stones and Eric Clapton have recorded some songs together
The Rolling Stones Totally Stripped Deluxe Edition track listing:
CD
"Not Fade Away" – Amsterdam
"Honky Tonk Women" – Paris
"Dead Flowers" – Amsterdam
"Faraway Eyes"- London
"Shine a Light" – Amsterdam
"I Go Wild" – Paris
"Miss You" – London
"Like a Rolling Stone" – Amsterdam
"Brown Sugar" – Paris
"Midnight Rambler" – London
"Jumpin' Jack Flash" – Paris
"Gimme Shelter" – Amsterdam
"Rip This Joint" – Amsterdam
"Street Fighting Man" – Amsterdam
DVD 1
Totally Stripped documentary
DVD 2
Paradiso, Amsterdam (May 26, 1995)
"Not Fade Away"
"It's All Over Now"
"Live With Me"
"Let It Bleed"
"The Spider and the Fly"
"Beast of Burden"
"Angie"
"Wild Horses"
"Sweet Virginia"
"Dead Flowers"
"Shine a Light"
"Like a Rolling Stone"
"Connection"
"Slipping Away"
"The Worst"
"Gimme Shelter"
"All Down the Line"
"Respectable"
"Rip This Joint"
"Street Fighting Man"
DVD 3
L'olympia, Paris (July 3, 1995)
"Honky Tonk Women"
"Tumbling Dice"
"You Got Me"
"All Down the Line"
"Shattered"
"Beast of Burden"
"Let It Bleed"
"Angie"
"Wild Horses"
"Down in the Bottom"
"Shine a Light"
"Like a Rolling Stone"
"I Go Wild"
"Miss You"
"Connection"
"Slipping Away"
"Midnight Rambler"
"Rip This Joint"
"Start Me Up"
"It's Only Rock 'n' Roll"
"Brown Sugar"
"Jumpin' Jack Flash"
DVD 4
Brixton Academy, London (July 19, 1995)
"Honky Tonk Women"
"Tumbling Dice"
"You Got Me Rockin'"
"Live With Me"
"Black Limousine"
"Dead Flowers"
"Sweet Virginia"
"Faraway Eyes"
"Love in Vain"
"Down in the Bottom"
"Shine a Light"
"Like a Rolling Stone"
"Monkey Man"
"I Go Wild"
"Miss You"
"Connection"
"Slipping Away"
"Midnight Rambler"
"Rip This Joint"
"Start Me Up"
"Brown Sugar"
"Jumpin' Jack Flash"

Latest posts by Best Classic Bands Staff
(see all)