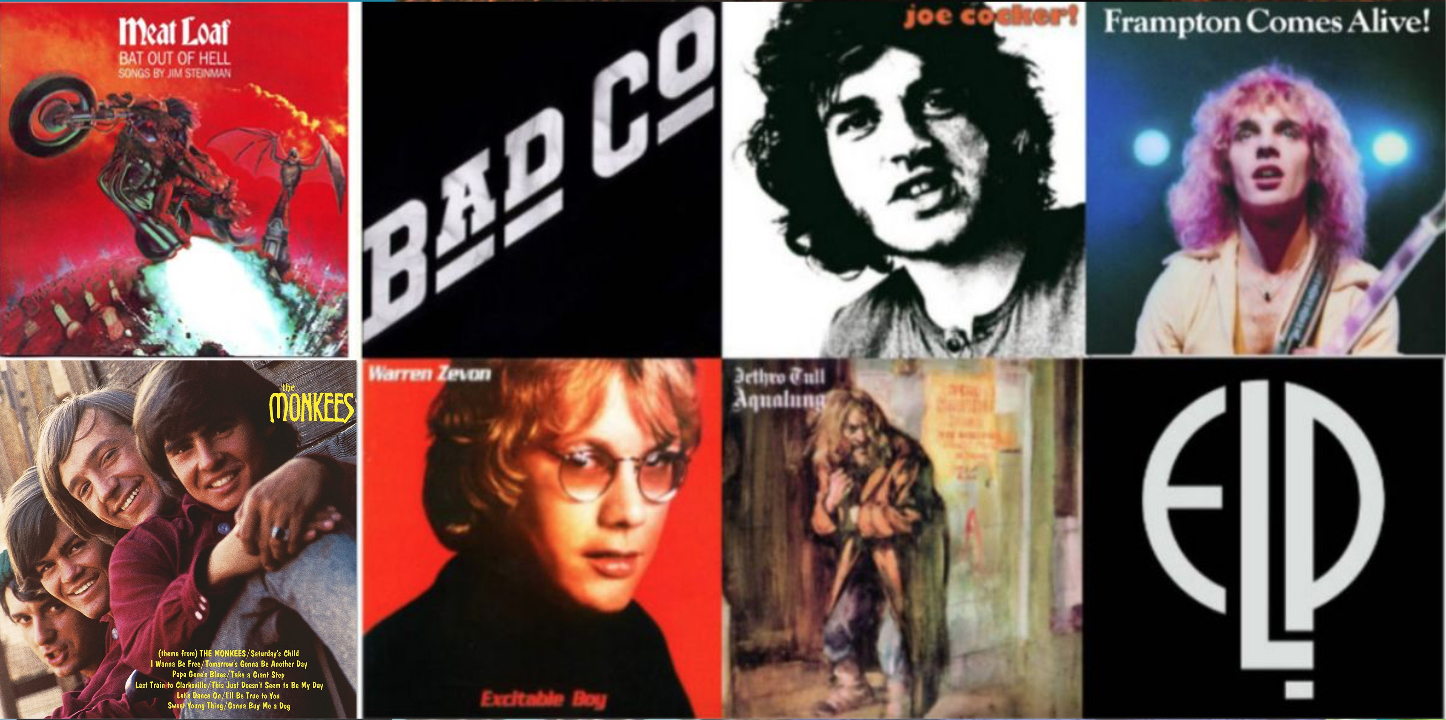 On May 4, 2022, the Rock and Roll Hall of Fame announced the nominations for its Class of 2022.
In Fall 2016, we put together a list of artists that we feel deserve consideration for induction. We update the list each year, deleting those that have finally been selected decades after they were first eligible to be inducted and replacing them with other deserving names.
In that time, many core rock acts that had been overlooked for decades were finally chosen. Notably, that list includes Todd Rundgren (2021), the Doobie Brothers (2020), Def Leppard, the Zombies, and Stevie Nicks as a solo artist (2019), the Moody Blues, the Cars, Bon Jovi and Dire Straits (2018), and Yes, the Electric Light Orchestra and Journey (2017).
With the selection of Pat Benatar, Judas Priest and Carly Simon—each of whom had been on this list—into the Class of 2022, Best Classic Bands has again updated our feature with three new names.
[There are so many that we've written Part 2 of our list of HoF omissions, which includes another 100 artists that have thus far been snubbed. Click the link for Part 2 at the end of this story.]
Since the Hall's inception, music fans have argued over who should be in, who shouldn't be, why and why not? Lists abound online and there is almost never any consensus.
Below we present a list of our own: 100 artists we think deserve nomination. Our reasons for selecting them vary. One factor we considered in particular is whether they were important in their own time, not only how they are regarded today. Some will eventually make the Hall's cut, others never will, and that's just how it is. You will undoubtedly agree with some of our picks and we can already hear you shouting,"I can't believe they left out (fill in the blank)!" Feel free to offer your comments.
In order to be eligible, an artist must have made their first recording 25 years prior to the current year (for the 2021 class, that means 1996). For this first round, we concentrated nearly exclusively on artists from the '50s-'70s that haven't been nominated yet, including only a few from the '80s-'90s. You'll find more of the latter in part two.
One other note: This list considers only artists who recorded primarily under their own names. This is the only category that is submitted to the voting body each year. Thus it does not include musicians who have served primarily as "sidemen" or "sidewomen." Some of the greatest musicians in rock history have never received the recognition they deserve because they contribute mostly to others' recordings. The Hall of Fame has a separate sideman category, to which it occasionally appoints names its executives deem worthy. As those artists are not submitted for consideration to voters, we are not concerning ourselves with them here.
Names are listed alphabetically
The Association—Their ballads "Cherish" and "Never My Love" are among the most played songs in history. And "Along Comes Mary" is another classic.
Bad Company—Singer Paul Rodgers should also be in for the band Free, but we'll settle for these crunching blues-rockers.
Badfinger—They have a tragic story but such great songs—and Beatle-approved, too.
Blood, Sweat and Tears—Along with Chicago, they kick-started the horn-rock genre of the late '60s and early '70s.
Blue Öyster Cult—Hard-rock meets prog with lots of pre-punk attitude.
Blues Project—The New York quintet was tremendously influential. Keyboardist/vocalist Al Kooper and guitarist Danny Kalb were superb instrumentalists.
Boston—This perfectionist classic rock band, which scored with one of the best-selling debut albums of all-time, wasn't very prolific afterwards but still retains a huge fan base.
Kate Bush—One of the most innovative and individualistic singer-songwriters around.
Jerry Butler—Already in with the Impressions, but like Curtis Mayfield the R&B great's solo work is vital.
Glen Campbell—Yes, he was usually tagged as country-pop, but for his session work alone (Spector, Beach Boys, Monkees) he should go in. Plus, he played a killer guitar.
Canned Heat—One of the great blues-rock bands of the '60s. The real deal. Here they are at the 1967 Monterey Pop Festival.
Captain Beefheart—Never sold any records but had a tremendous influence on other experimental rockers.
The Carpenters—Some may say they're too lightweight to be considered rock but Karen Carpenter's voice is a thing of beauty, and they made wonderful pop records.
Harry Chapin—A supremely talented singer/songwriter whose life was tragically cut short, he had hits like "Cat's in the Cradle" and "Taxi." Also one of music's most generous spirits, who worked ceaselessly for humanitarian causes.
Chubby Checker—He took "The Twist" to #1 twice, in two different years. Give the man his due already!
Cher—Is she rock? Probably more so than Madonna, who's been inducted. And let's not forget those good times with Sonny.
Joe Cocker—That voice! That thing he did with his hands! A master interpreter of songs. Did we mention that voice?
Judy Collins—More than just another talented folk singer, she was one of the artists who defined her generation.
Phil Collins—Already in as a member of Genesis, but he arguably had a bigger impact on his own.
Ry Cooder—For his guitar work alone he should be enshrined. Add his work as solo artist and producer, and it's a no-brainer.
Country Joe and the Fish—San Francisco psychedelia met Berkeley social commentary in the '60s. They were ubiquitous at festivals and on radio.
Jim Croce—His life was cut short before he had a chance to truly develop but the trove of hits he left behind was substantial.
The Crystals—Even more than the Ronettes, the Crystals were Phil Spector's go-to girl group. Darlene Love and La La Brooks were (and still are) dynamic singers.
Dick Dale—The man invented surf guitar. That's enough. Check out his version of "Misirlou" below.
The Damned—The first bona fide British punk band, who later expanded their sound.
Related: A Rock and Roll Hall of Fame Cynic Visits the Rock and Roll Hall of Fame
Delaney and Bonnie—The husband-and-wife duo's soul-rock revue at various times included Duane Allman, Gregg Allman, George Harrison, Leon Russell, Bobby Whitlock, Dave Mason, Rita Coolidge, King Curtis, and, oh yeah, Eric Clapton.
Lee Dorsey—The great New Orleans R&B hitmaker. Induct him for "Working in the Coal Mine" alone.
Emerson, Lake and Palmer—Prog-rock virtuosity and over-the-top showmanship all condensed into a powerful little package.
Fairport Convention—Two words: Richard Thompson. Two more: Sandy Denny. No other band defined English folk-rock like Fairport.
Marianne Faithfull—From Stones-associated chanteuse she reinvented herself as world-weary interpreter of the first order.
Flying Burrito Brothers—One of the seminal country-rock bands. Criminally overlooked.
Foreigner—Few mainstream arena-rock bands were bigger in the late '70s/'80s, and anthems like "Hot Blooded" and "Cold as Ice" are emblematic of that era's radio-friendly mindset.
Peter Frampton—Beside creating one of the best-selling albums ever (Frampton Comes Alive), he's a monster guitarist and engaging showman.
J. Geils Band—Killer live band fronted by the dynamic Peter Wolf. In their heyday they were always the best show in town. Hits included "Centerfold" and "Love Stinks."
Lesley Gore—"It's My Party," "You Don't Own Me" and so many more hits. She was every teenage girl's BFF in the '60s.
Grand Funk Railroad—One of the first truly divisive rock bands, but love 'em or hate 'em you can't deny they helped popularize hard rock.
The Grass Roots—Easy to forget them until you look at their long string of smashes: "Midnight Confessions," "Let's Live for Today," "Temptation Eyes" and many more.
Related: Our feature story on the Grass Roots
The Guess Who—The Canadian band led by Burton Cummings and Randy Bachman was another hit machine: "American Woman," "These Eyes," "No Sugar Tonight," etc.
Emmylou Harris—Few singer-songwriters so successfully straddled the worlds of traditional Nashville country and the modern singer-songwriter genre of the '70s and '80s. And she still sounds amazing today.
Richie Havens—One of the most distinctive voices ever, he made every song he covered his own. And he opened the Woodstock fest.
Herman's Hermits—They weren't popular only because singer Peter Noone was "cute." They also made many durable pop hits.
Related: Our interview with Noone
John Hiatt—A consistently excellent singer-songwriter, he's got a rich catalog of songs that have been covered by everyone from Dylan to Ronstadt to Clapton.
Humble Pie—Steve Marriott is already in with Small Faces but his second great band is equally deserving. These guys seriously rocked. Listen to them below.
Iron Maiden—One of the most successful and accessible metal bands of all-time, with tens of millions of album sales—and thousands of live shows—to their name, they're still going strong after four decades.
Tommy James and the Shondells—"Crimson and Clover," "Crystal Blue Persuasion" and, of course, "Hanky Panky." So many hits, all very diverse.
Related: Our interview with Tommy James on all those hits
Jan and Dean—The surf duo was overshadowed by their colleagues the Beach Boys but for a few years they were massive.
Jethro Tull—Their detractors will never understand why, but Ian Anderson and the band sold tons of records and were a major concert act for years.
Tom Jones—Forget about the schlocky stuff—on the strength of his voice, this masterful interpreter of songs belongs in. As a live performer, he's better than ever now, and his past few albums have been spectacular.
Watch Tom Jones sing "Show Me," a song made famous by another artist on our list, Joe Tex
Ben E. King—Inducted as a member of the Drifters, but his solo output includes "Stand By Me" and "Spanish Harlem." He needs his own slot in the Hall.
King Crimson—Prog at its most inventive. Whatever you think of the genre on the whole, you must acknowledge that Robert Fripp is a genius.
Gordon Lightfoot—If fellow Canadians like Neil Young and Joni Mitchell can make the cut, why not this terrific singer-songwriter?
Little Feat—This L.A. outfit was just so funky, and with the late Lowell George as their lead guitarist they left audiences numb night after night.
Los Lobos—For more than four decades this East L.A. band has continued to innovate. Their output has been consistently strong since day one, and in concert they kill.
Love—Fronted by the gifted singer-songwriter Arthur Lee, this '60s L.A. band was, for a while, as important to that scene as the Byrds and Buffalo Springfield.
Lonnie Mack—One wicked guitar player, championed by the likes of Stevie Ray Vaughan, Jeff Beck and Duane Allman.
John Mayall—He's the father of British blues—Clapton, Peter Green and Mick Taylor all came out of his bands.
Related: Our Album Rewind of Mayall's Blues Breakers With Eric Clapton
MC5—These wild Detroit rockers bucked convention in the late '60s, mixing hard rock and revolutionary rhetoric—inspiring countless punk bands.
Meat Loaf—Larger than life in several ways, his Bat Out of Hell collaborations with Jim Steinman have persevered as classic rock staples.
The Meters—They are nothing less than the quintessential New Orleans funk/R&B band. That makes them pretty important, no?
The Monkees—Enough with the "didn't play their own instruments" excuse. Their records were some of the finest pop-rock of the era, and their influence on the rock video medium was incalculable.
Mott the Hoople—Just for the fact that they gave us the brilliant Ian Hunter, they belong in. Mott was more than glam; they rocked big-time.
Mountain—Leslie West and company took hard rock to the next level. "Mississippi Queen," of course, but there was a lot more going on there.
Willie Nelson—While he is, of course, one of our top country artists, his impact on rock is measurable (he co-created Farm Aid with Neil Young and John Mellencamp, for example).
New York Dolls—Seriously, the Dolls are not in? Yes, their whole glam style thing was over the top, but they rocked like crazy and were a major influence on the punk scene.
Watch the Dolls sing "Personality Crisis"
Harry Nilsson—There are still many important singer-songwriters still on the outs, but it's simply criminal that Nilsson has been ignored. He was loved by the Beatles and just about everyone else.
Phil Ochs—The late singer-songwriter gets stereotyped as a political/protest artist and for sure there was that side of him. But Ochs also wrote insightful love songs and was a keen observer.
Gram Parsons—He should be inducted with the Flying Burrito Brothers and as a solo artist! Synonymous with country-rock.
Teddy Pendergrass—Both with Harold Melvin and the Blue Notes and on his own, he was one of the most dynamic R&B singers.
Poco—Another of the essential country-rock pioneers unjustly ignored.
Iggy Pop—Inducted for the Stooges, but he's arguably had even more influence as a solo artist.
John Prine—This 2018 nominee finally received recognition for his decades of solid songcraft and heartfelt performances.
Procol Harum—Just for "Whiter Shade of Pale" alone they should get the nod, but they went on to record about a half dozen killer albums after that. And live—wow, especially in the early days with guitarist Robin Trower!
Related: The Rock Hall opens in 1995
Quicksilver Messenger Service—Along with the Dead and the Airplane, QMS defined the San Francisco scene. Give them their due too. Guitarist John Cipollina played like no one else!
Paul Revere and the Raiders—With charismatic frontman Mark Lindsay, they released hit after hit: "Kicks," "Hungry," "Just Like Me" and more.
Related: We talked to Lindsay about the Raiders' "Good Thing"
Cliff Richard and the Shadows—Richard was Britain's reigning pre-Beatles solo artist. His backup band the Shadows influenced the Beatles and everyone else in the U.K. They should each have their own place but we'd be happy to see them honored jointly.
Johnny Rivers—No one reimagined others' songs as deliciously: "Memphis," "Secret Agent Man," "Baby I Need Your Lovin'," "Summer Rain." He was a constant presence on the charts for years and still performs today.
Related: Our feature on Johnny Rivers
Diana Ross—As if she hadn't already broken enough ground with the Supremes, Ross then went on to have a huge solo career, with #1 hits like "Upside Down" and "Touch Me in the Morning."
Related: Many of these artists are still touring – Links for 100s of tours
Mitch Ryder and the Detroit Wheels—Rockin' blue-eyed soul at its finest. "Devil With a Blue Dress On" alone makes him worthy.
Boz Scaggs—The guitarist and singer brought classy stylishness, and a jazzy elegance, to the Bay Area music scene in the '70s, then expanded beyond that with first-rate albums like Silk Degrees.
The Shangri-Las—They were the toughest of the '60s girl groups, and their hits like "Leader of the Pack" reflected the angst of growing up teenage and female in their era. Here they are singing "Give Him a Great Big Kiss."
Sir Douglas Quintet—The Texas band that revolved around singer-guitarist Doug Sahm had only a few hits but their impact on the Americana movement was felt long after their chart reign ended.
The Spinners—They've been around since the '50s and had major hits ("Then Came You," "I'll Be Around") in the '70s that still get airplay. It's time, Hall of Fame!
Squeeze—Fronted by Chris Difford and Glenn Tilbrook, they turned out one classic pop-rock gem after another, including such great tunes as "Cool for Cats" and "Tempted."
Steppenwolf—Yes, the band behind "Born to Be Wild" and "Magic Carpet Ride" is still on the outs. What's up with that?
Television—Most of the other big NYC punk-era bands are in but Television predated all of them. Highly influential but someone forgot to tell the Hall.
Ten Years After—Did you ever see the Woodstock movie? Remember watching Alvin Lee shred? That was just a taste.
Joe Tex—Another super soulman of the '60s who has been unjustly forgotten.
Thin Lizzy—The Irish rockers led by the late Phil Lynott were a whole lot of fun to watch and kicked ass live. "The Boys Are Back in Town" indeed.
Rufus Thomas—From the Stax Records stable that gave us Otis Redding and Booker T. and the MG's, but he actually began his career in Memphis long before. An R&B giant.
Three Dog Night—If we judge Hall of Fame nominees by the impact they had in their own time, then Three Dog Night deserves a look. Hit after hit after hit.
Toto—This group of virtuoso musicians made a significant impact together but the band's members have also been first-call sidemen for decades.
The Turtles—The L.A. band was one of the few that didn't use studio musicians, and they came up with "Happy Together," "She'd Rather be With Me," "Elenore" and more. That's impressive.
Jr. Walker and the All Stars—Walker was the only Motown star who was primarily an instrumentalist. His sax powered hits like "Shotgun" and "Road Runner," great stuff all.
War—They've been nominated but have yet to make the final cut. They fused R&B with funk, rock, jazz and more to create their own sound.
Dionne Warwick—Even just as the premier interpreter of the songs of Burt Bacharach and Hal David, she was a special artist. But there was so much more beyond those.
Barry White—Did you ever hear Barry White's voice? And if so, can you ever forget Barry White's voice? Didn't think so.
Johnny Winter—There was never an artist like him before, and never again will be. A spellbinding guitarist and master performer. Watch him perform "Jumpin' Jack Flash." (PS–Johnny's brother Edgar Winter is also not an inductee.)
Steve Winwood—Inducted with Traffic, but he needs to be similarly honored for his solo career.
Link Wray—It's often said that Wray invented the power chord—a solid decade before most rock bands knew what to do with it. His "Rumble" is one of the most important instrumental hits ever.
Warren Zevon—He's one of the most beloved singer-songwriters of the past four decades, yet he's been inexplicably shunned by the Hall. What are you waiting for?!
For Part Two, we've included several worthy artists from the 1980s. Click here.
If you're a new Best Classic Bands reader, we'd be grateful if you would Like our Facebook page and/or bookmark our Home page.

Latest posts by Best Classic Bands Staff
(see all)