He was from New York City, grew up in Louisiana and made his mark in Los Angeles. It was the dawn of the British Invasion when we first heard him, but Johnny Rivers couldn't have been more American.
For more than three years, beginning in early 1964, Rivers was a constant presence on AM radio and the singles charts, placing seven tunes into the top 10, with another four landing close behind. Then, long after many had written him off, he bounced back twice more in the '70s, scoring two more top 10 hits.
In 2019, Rivers announced that he would be giving up touring. Judging by his performance videos on YouTube from that year, he went out at the top of his game, sounding much as he did when we first heard him.
He first came to our attention as an interpreter of classic tunes, one with particularly good taste—resurrecting songs made famous originally by Chuck Berry, Willie Dixon, Smokey Robinson and others. By the time he scored his first hit, he was already a veteran performer with a sizable catalog of recordings.
Johnny Rivers was born John Henry Ramistella on Nov. 7, 1942, and although he spent his first five years as a city boy, in the late '40s his father moved the Ramistella family to Baton Rouge, La., where work awaited. Young John would watch rapt as his father and uncle played Italian folk songs on guitar and mandolin, but as he grew John found the sounds that came out of the family radio more thrilling. He especially loved the music created by African-American artists such as Fats Domino and Jimmy Reed, and by the time he was 14 Ramistella was leading his own bands—including one called the Spades—that specialized in recreating R&B and rock 'n' roll hits by the likes of Little Richard, Bobby "Blue" Bland" and some of the fellows emanating from Memphis, among them Elvis Presley and Jerry Lee Lewis.
By the late '50s, Ramistella was already doing well as a touring act in the South, and he recorded his first single, titled "Little Girl," in 1957 for the Suede label under his real name. That same year, the budding singer took a trip back to his original hometown of New York, where he sought out the famed disc jockey Alan Freed, telling the star-maker that he wanted to play him a few of his songs. Freed arranged for the youngster to audition for him, liked what he heard, then hooked the singer up with George Goldner, a successful record label owner who'd already released a slew of hits.
Listen to Rivers' first single, "Little Girl"
Freed also suggested that Ramistella was no name for a rock 'n' roller. Since he came from a region near the Mississippi River, the radio man told him, he should call himself Johnny Rivers.
Rivers' first sides for Goldner, "Baby Come Back" and "Long, Long Walk," did not burn up the charts. Neither did Rivers' subsequent singles, cut (some in Nashville) for various small labels. Rivers kept plugging away on the Southern circuit until 1961, when we was befriended by James Burton, then the guitarist for Ricky Nelson's band. Burton convinced Nelson to record one of Rivers' own compositions, "I'll Make Believe," and before long Rivers was on his way to California to try his luck there.
Fame as a recording artist still eluded him, but Rivers found work producing and writing songs. It wasn't until 1963, when his own group replaced the house band at a Los Angeles nightclub owned by Bill Gazzari, that Rivers started to build a following in his adopted home. Backed by bassist Joe Osborn and drummer Eddie Rubin, Rivers—who played guitar—ran through a jukebox's worth of popular songs for the dance crowd, pumping up the rhythm much in the way that proto-folk-rocker Trini Lopez had been doing at the rival club PJ's.
Late in 1963, Rivers was approached by Elmer Valentine, proprietor of the new Sunset Strip club the Whisky à Go-Go, to move his act to the new venue. Rivers opened there on Jan. 15, 1964, just three weeks before the Beatles would put an end to the careers of dozens of American rockers.
But Johnny Rivers' career was just beginning. With Lou Adler as his producer, he cut a live album at the Whisky, complete with the sounds of the rowdy, appreciative audience. Liberty Records president Al Bennett agreed to release it on the Imperial label, which he'd recently acquired, and in February '64 At the Whisky à Go Go began finding its way to the national record-buying public.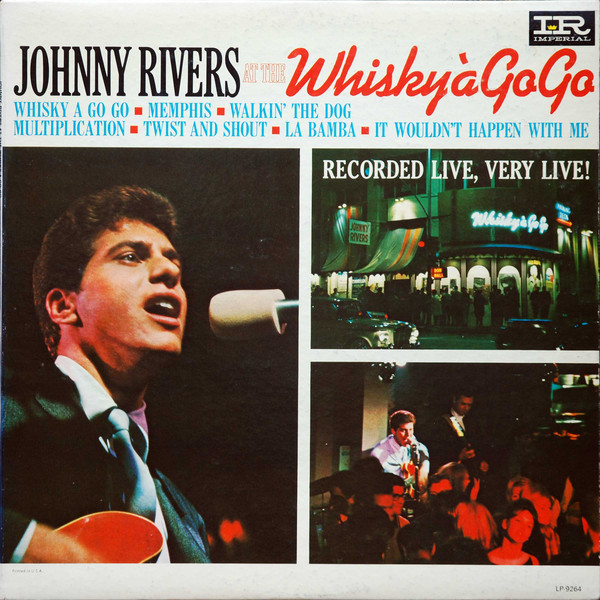 It didn't take off quickly; in fact it went nowhere until Imperial pulled the opening track, Rivers' cover of Chuck Berry's 1958 hit "Memphis," as a single. With its driving beat, the singer's Southern intonation and the enthusiastic audience sounds, the record began its climb on May 30, 1964, rising to the #2 position by July 11. The album too, picked up steam, eventually peaking at #12.
Related: What were some other great Chuck Berry covers?
Imperial repeated the formula with the followup, another old Chuck Berry hit, "Maybellene," taken from the next album, Here We à Go Go Again!, also recorded live at the Whisky. This single landed at #12, and was followed by "Mountain of Love," a 1960 hit by fellow Southerner Harold Dorman, taken from Rivers' third official album, In Action (with Mickey Jones now on drums). Mountain of Love" fared better than its predecessor, and Rivers/Imperial kept the formula going into 1965, scoring a #20 with the old Lead Belly number "Midnight Special," a #7 single with bluesman Willie Dixon's "Seventh Son" (from the LP Meanwhile Back at the Whisky à Go Go) and a #26 placement with a rocked-up take on the folk tune "Where Have All the Flowers Gone."
Watch Rivers lip-sync "Memphis" on American Bandstand
Rivers was still going strong as 1966 bowed, and it was a TV theme song that gave him his next smash hit and one of his lifelong signature songs. With the concept of cool spies enjoying a moment in the sun via the James Bond films and on television (The Man from U.N.C.L.E., I Spy and the comedic parody Get Smart), Rivers was able to parlay the theme from the program Secret Agent (itself based on the British show Danger Man) into a rock 'n' roll classic. Written by P.F. Sloan and Steve Barri, whose other compositions included "Eve of Destruction" for Barry McGuire, "A Must to Avoid" for Herman's Hermits and "Let Me Be" for the Turtles, "Secret Agent Man" told of "a man who leads a life of danger, to everyone he meets he stays a stranger." Rivers gave it his now familiar dynamic touch, punctuating the words with a twangy guitar riff and killer mid-song solo, and found himself at #3 on the charts.
The followup, which reached #19, was a country tune, "(I Washed My Hands In) Muddy Water," made famous by Stonewall Jackson. But with the rock music scene undergoing rapid evolution, Rivers knew that he too would have to evolve to survive.
He made that happen with an original, "Poor Side of Town," co-written with Adler. Unlike anything Rivers had attempted previously, it was a soulful ballad more in tune with the prevailing, emerging California pop than the "go-go" records he'd been riding to the top before. The story, not unlike several that had worked for New Jersey's Four Seasons, found the narrator (Rivers) wagging his finger at a former love who had snubbed him but now wants another shot because, reasoned the singer, "That rich guy you've been seein', must have put you down." He continues: "To him you were nothin' but a little plaything, not much more than an overnight fling/To me you were the greatest thing this boy had ever found, and girl it's hard to find nice things on the poor side of town."
Once he's had his say, the boy announces that he's ready to reconsider, but only under one condition: that she "Stand by me all the way now/With you by my side, they just can't keep us down."
Listeners took readily to the lush love song. "Poor Side of Town" entered the Billboard chart on Sept. 17, 1966, and during the week of Nov. 12, Johnny Rivers found himself enjoying the only #1 single of his career.
(By 1966, Rivers was such a force in the music business that he'd launched his own record label, Soul City. One of the acts he signed, the Versatiles, were renamed the Fifth Dimension and enjoyed a long string of soul-pop hits, including "Up, Up and Away," "Stoned Soul Picnic" and "Aquarius/Let the Sunshine In," while signed to the label.)
There would be more hits in 1967, both courtesy of Motown: a #3 reading of the Four Tops' "Baby, I Need Your Lovin'" and the Miracles' "The Tracks of My Tears," which found its way to #10. The latter first showed up in Billboard on June 3, just about two weeks before Rivers would be one of the featured artists at the landmark Monterey Pop Festival.
If the festival appearance was intended to boost Rivers' profile among the hippies who were beginning to dominate the rock scene, it didn't work. There would be one more big hit, the absolutely beautiful "Summer Rain" (penned by James Hendricks), a supersized production number featuring members of L.A.'s Wrecking Crew studio band and string and horn arrangements from Marty Paich. The song was later featured on the 1968 album Realization, and then things would slow down for the former Louisianan.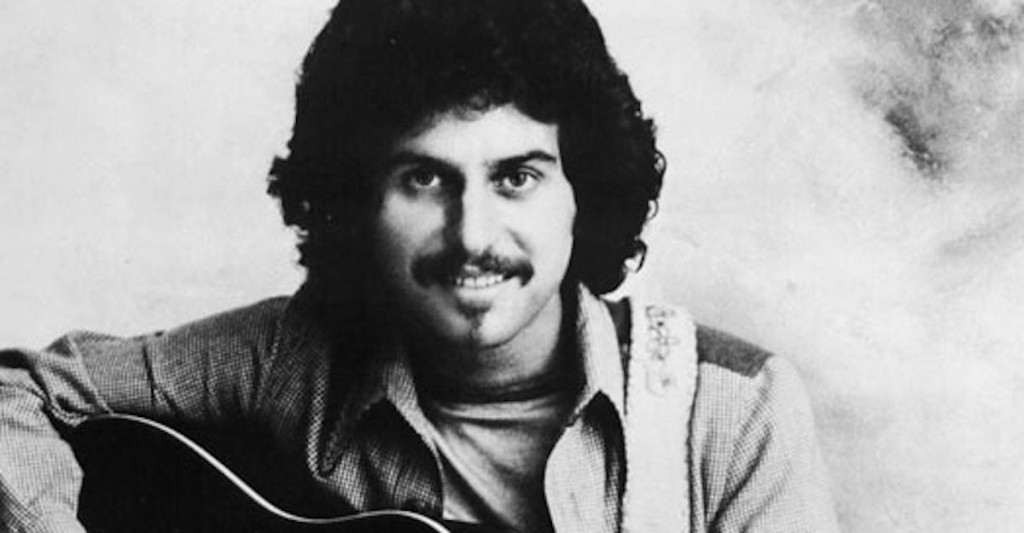 "Summer Rain" referenced a high point of the recent "Summer of Love" in its lyrics ("All summer long we were dancing in the sand, everybody just kept on playing Sgt. Pepper's Lonely Hearts Club Band"), while the rest of the song rejoiced in the peaceful life enjoyed with a lover ("She stepped out of a rainbow, golden hair shining like moonglow/Warm lips, soft as her soul, sitting here by me, now/She's here by me"). It remains one of the cornerstones of the Johnny Rivers canon, but it would prove to be his last major hit for some time.
As the 1970s dawned, Johnny Rivers was no longer in the spotlight. Heavier music had replaced his brand of California folk-rock-pop-soul. TThere was a new rush of singer-songwriters, but by definition they wrote their own songs, which Rivers had done only rarely. The drought lasted a few years, although Rivers continued to release fine albums and singles, among the latter covers of songs written by some of the newly reigning troubadours, Van Morrison and James Taylor.
But it was another oldie, "Rockin' Pneumonia and the Boogie Woogie Flu," made famous originally by fellow Louisiana artist "Huey "Piano" Smith back in 1957, that revived Rivers' hit streak. By this time Rivers had moved over to the United Artists label, and the funky, New Orleans-style tune clicked with the public, rising all the way to #6 in late 1972.
And then, again, nothing. Rivers would keep plugging along, switching labels a couple more times as the years went on, his most prominent chart placement a 1975 cover of the Beach Boys' "Help Me, Rhonda" that included a backing vocal from Brian Wilson. It took until 1977 for Rivers to find his way back to the upper reaches, scoring a #10 hit with the ballad "Swayin' to the Music (Slow Dancin')," written by Jack Tempchin and originally a minor hit for his band the Funky Kings. A sweet, mellow song, it was not atypical of its day, albeit far from the sort of raucous, rhythmic rockers that characterized Rivers' earliest work.
Rivers never returned to the top 10, or even the top 40, after that. He continued to perform and record, and while some of his albums, in particular The Memphis Sun Recordings and Last Train to Memphis (both 1998), showed no degradation of his abilities, he spent the rest of his career on the oldies circuit, playing the many hits that made him a huge figure in American rock 'n' roll of the '60s and '70s.
Listen to "Swayin' to the Music (Slow Dancin')," Rivers' final top 10 hit

Latest posts by Jeff Tamarkin
(see all)