Robert Palmer's 'Sneakin' Sally Through the Alley': A Tale of Three Cities
by Mark Leviton
In 1974, when Island Records signed the 25-year-old English singer Robert Palmer, he'd already had a decade of experience, from his Yorkshire high school band the Mandrakes to the Alan Bown Set, the Stax-meets-jazz-fusion big-band Dada, and their more successful offshoot Vinegar Joe. In that group, Palmer was a relatively sedate co-lead-singer with the raunchy, often alcohol-fueled "wild woman" Elkie Brooks; after three albums Vinegar Joe sputtered out, and both vocalists got solo deals.
The American musician, engineer and producer Steve Smith, who cut his teeth working in the famed Muscle Shoals, Alabama, scene, had met Palmer when his band Smith-Perkins-Smith opened for Vinegar Joe in 1972. Smith told journalist Tony Moss, "I knew talent when I saw it and Robert was being wasted in Vinegar Joe. It was part of his apprenticeship, so to speak. He had a great voice, was very good looking and had a dress style that was more Savile Row than Carnaby Street. As long as we could set up the right creative environment for him to record in with the right songs, I knew we potentially could make great music."
Island's Chris Blackwell agreed Smith would take Palmer in hand. Smith in turn lined up engineer Phil Brown, who'd worked with the Rolling Stones, Led Zeppelin, Jeff Beck and Jimi Hendrix. The album that would be called Sneakin' Sally Through the Alley was starting to develop a deep bench.
Indeed, Smith was able to call upon top-flight musical talents. He did pre-production with Palmer in London to pick songs, and eventually settled on two main venues to capture them. At Allen Toussaint's Sea-Saint Studios in New Orleans, legendary funksters the Meters were to be Palmer's main backing band: Art Neville on keyboards, Leo Nocentelli on guitar, bassist George Porter Jr. and Ziggy Modeliste drumming. At Media Sound Studios in New York City, Smith booked the virtuoso session musicians collectively known as Stuff: keyboardist Richard Tee, guitarist Cornell Dupree, Gordon Edwards on bass and Aretha Franklin's current drummer Bernard Purdie.
Years later, Smith answered his own question talking to Moss, "Was it ambitious? It could have been if we weren't all pros, to be honest, but you don't go through five years of stressful sessions in Muscle Shoals with hundreds of recording sessions and not know what you are doing. Try to think about this—the shame and humiliation to set up a mic or to get ready in time to record the perfect take of the classic 'Respect Yourself' by the Staple Singers or 'Freebird' by Lynyrd Skynyrd—you get what I mean?"
Robert Palmer was more than a bit nervous meeting legends like Dupree and Purdie, and in 1996 revealed to the Daily News' Fred Shuster, "They didn't know me from Adam and, at first, they wouldn't even say hello. But eight bars into the first tune, Purdie turned around and said, 'Sir, excuse me, what did you say your name was?' From then on, it was great."
There was yet another ace-in-the-hole, Little Feat guitarist Lowell George, who played in both cities after Smith invited him into the mix. "Working with him was great," Palmer told Shuster, "because you'd catch onto a grain of an idea and the next time you looked at your watch, it was a day later and you hadn't done anything but gone with that idea. In the meantime, ideas would just fly back and forth. Suddenly, you'd take a left turn and bang, there'd be a song. It was just music, music, music with him. I don't really find anything wrong with the word 'obsessive.' I especially loved the way he played guitar." Palmer also cracked up over George's surreal sense of humor.
Related: Remembering Lowell George
The idea to record Little Feat's "Sailing Shoes," which became the opening track, was actually spontaneous, when the Meters, who'd never heard of Little Feat before meeting George, began messing with it in rehearsals with him. Their version is way funkier than Little Feat's original, and Palmer sings the hell out of it. Neville's clavinet is out front, and Vicki Brown adds a backing vocal that lights up the chorus. (According to Smith, he used the Island Mobile recording unit to overdub vocals and other tidbits in a church near Midhurst, West Sussex, after the U.S. sessions.)
"Sailing Shoes" runs straight into Palmer's original "Hey Julia," which, according to Smith, includes the very first use of a drum machine on a record. As a massive Beatles fan, Smith latched onto the idea of segueing a sequence of songs together: "All I was trying to do was to give Robert as dynamic an opening to his recording career as possible by announcing that this guy was a serious player and you (the audience) better sit up and take notice."
"Hey Julia" is a sexy, snaking couple of minutes recorded entirely in London, with some extraordinary vocal pyrotechnics from Brown and Palmer, percussion and marimba from Jody Linscott and Palmer, and guitar by Jim Mullins and (uncredited) Smith himself: "I sure would like to handle what's between your ears/You're a temptation to a man/I could not resist you and I won't if I can."
Allen Toussaint's "Sneakin' Sally Through the Alley," which Lee Dorsey first recorded in 1971, erupts immediately after "Hey Julia," with the Nocentelli/George loose-as-a-goose duo in high gear, an absolutely riveting harmonica part from Steve York, and Palmer pushing his voice with intense authority. The whole track is a highlight reel, but George Porter Jr.'s bass has to get special mention. Released as a single, "Sally" didn't even chart in America, which is a pretty tragic violation of Rock's Rules of Order.
The first thing heard in "Get Outside" is Gordon Edwards' bass guitar. Edwards was James Brown's go-to bassist for many years, but here he's in a more contemplative mood, even when the rest of Stuff and Robert Palmer keep turning up the heat. Palmer tries out a number of vocal effects, twisting into growls, grunts and shouts in what sounds like an extended studio jam on the basic structure of his simple and effective melody. George's slide guitar and Dupree's electric bring terrific atmosphere, Tee plays a number of keyboards, including organ and acoustic piano, and if you want a drum lesson just listen to Purdie, especially from the three-minute mark. Once more, the "sweetening" sessions in London hit gold, with Vicki Brown singing and Gaspar Lawal's surprising percussion.
Guitarist Richard Parfitt joins the New York crew for the only Palmer-George co-write, "Blackmail." According to Smith, George and Palmer went to a hotel room, ordered room service, and came up with this loose little kicker that's second cousin to Little Feat's "Dixie Chicken": "You told me that you weren't infectious/So I brought no precautions with me/And you said your old man was in Texas/And anyway he'd forgotten his key/So I put my cassette in your bathroom/And threw all my clothes on your floor/Next thing, door bursts open/And there I am caught in the raw."
"How Much Fun" starts off sounding an awful lot like Little Feat, but gets more Meters-like as it goes on. There's a full-on female backing chorus, the band's locked in a nice groove, and Palmer's lead vocal is fine, but the track's nothing special in the context of what surrounds it.
The version of Toussaint's "From a Whisper to a Scream," which the composer had first recorded himself in 1971, is a winner from the first wah-wah pedal. A swampy atmosphere is immediately established through more stellar work from Porter, George, Nocentelli and guest Chris Stainton, formerly of Joe Cocker's Mad Dogs and Englishmen band, on acoustic piano. Palmer sounds more than a bit like Free's Paul Rodgers at this tempo, and that's not a knock. He even shows he can go into a falsetto as pure as Smokey Robinson's. Smith explained, "Allen owned the studio and had an office there so he was in and out the whole time. I asked him to present 'Whisper' to the musicians and he played it for us on the acoustic piano so we could learn the chord sequence. We changed the key to accommodate Robert's best vocal range and then funked it up Lowell and Meters style until I was happy with the arrangement."
The surprising album closer is the 12-minute studio jam "Through It All There's You." The enhanced Stuff features Steve Winwood on acoustic piano, Onaje Allan Gumbs' electric piano, Mel Collins' sax and Mongezi Feza's trumpet. It represents Palmer's "idea of pure funk" according to Smith. It bears some resemblance to Dr. John's "Walk On Gilded Splinters," and like that recording achieved some late-night FM radio airplay as the DJs could throw on for a food or bathroom break. It's not exactly the strongest ending for Palmer's debut, but it was his call.
Wrapped in an eye-catching sleeve photograph by Graham Hughes that positively screams "this album's going to be a lot of fun," the September 1974 release stalled at #107 on the Billboard album chart. It's gained in stature as the decades have passed. (The jam band Phish have pledged their allegiance through more than 80 live performances of the title track, which they started playing in 1985.)
Palmer's follow-up album Pressure Drop was solid, and utilized the entire Little Feat band, but didn't bring him the stardom he was ready for. Island stuck with him; it took a while longer for the world to catch up with Palmer's rare talent, when the pop charts were graced with "Every Kinda People" (1978), "Bad Case of Loving You" (1979) and the phenomenon of "Addicted to Love" (1986) and its meme-worthy video. Grammy awards and platinum sales levels brightened Palmer's life until his tragically early death, of a heart attack, at the age of 54.
Watch Robert Palmer sing a medley of "Sailing Shoes," "Hey Julia" and "Sneakin' Sally Through the Alley" in 1979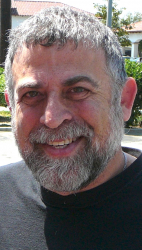 Latest posts by Mark Leviton
(see all)