When Robbie Robertson Reunited With The Band Photographer Elliott Landy
by Greg Brodsky
Robbie Robertson can be forgiven if it seems like the weight of the world has been lifted from his shoulders. He was speaking at the Q&A session that followed the Nov. 6, 2019, U.S. premiere of Once Were Brothers: Robbie Robertson and The Band, director Daniel Roher's feature documentary about the influential music group. The film served as the opening night presentation at the 10th edition of the annual DOC NYC festival.
The film played in theaters earlier that year and was released on DVD and Blu-ray. Watch the trailer below.
It was a particularly busy period for Robertson. The musician, born July 5, 1943, released a solo album, Sinematic, that September and wrote the score for Martin Scorsese's acclaimed film, The Irishman. A few weeks later, a 50th anniversary edition of The Band's 1969 self-titled, second album arrived.
Once Were Brothers follows Robertson from his early life in Toronto and on the Six Nations of the Grand River reserve, in Southern Ontario, as he becomes an adept guitarist and songwriter. It follows his path as he joined drummer Levon Helm, and then keyboardists Garth Hudson and Richard Manuel, and bass guitarist Rick Danko, as the touring musicians for singer Ronnie Hawkins; then as the backing band for Bob Dylan in 1965 and 1966. That set the stage for the five "brothers" to band together in their own group.
Watch the trailer for Once Were Brothers: Robbie Robertson and The Band
The film, with plenty of previously unseen footage–"[It was] a question of trying to leave no stone unturned and find every single piece of archive," said Roher–is at times exhilarating, thanks to the stunning footage of The Band rehearsing in the studio. Yet, at other moments, the movie is numbing for the painful way in which the five of them came apart just as they were achieving acclaim for their influential recordings.
Robertson and Roher had been asked by the moderator about the use of scores of images in the film that had been taken by photographer Elliott Landy in the late '60s. Landy, in the audience, was asked to stand up. "My buddy," Robertson said fondly.
"At that time with the Band… we lived up in the mountains in Woodstock, New York," Robertson said, "with Bob Dylan and [manager] Albert Grossman and everybody. And we didn't want anybody coming in. We didn't want anybody walking on our lawn.
"And we invited Elliott Landy in. He was the only one who came in and saw what was really going on. He was part of the family. Thank you, Elliott."
Roher, speaking about Landy's contribution to the film, added, "The look of the group, sort of the old western, Mathew Brady inspiration, that the group is known for–that was because of Elliott's creative vision."
At the afterparty that followed the U.S. premiere, Robertson and Landy caught up on old times, and posed for photos together. On his Instagram, Robertson wrote, "Hanging with my old partner in crime Elliott Landy. Nice to see him on this side of the camera."
Beginning in the late '60s, Landy photographed many of the biggest names in rock music. His images of Dylan and Van Morrison are featured on their album covers and his work has appeared on the covers of numerous magazines from Rolling Stone to Life.
Grossman had seen Landy's photos of another one of his clients, Janis Joplin, and, trusting his instincts, offered Landy an assignment to "take some pictures in Toronto."
"Of who," he asked.
"They don't have a name yet," was the reply.
He shot the members of The Band during the next two years, in a variety of settings. On Easter weekend, 1968, he photographed them at their house they called "Big Pink."
Over time, Landy shot The Band individually and collectively in the Woodstock area and also in California during the recording of The Band album and their debut performance as The Band at San Francisco's Winterland. His photos were used on the group's first two LPs, Music From Big Pink and The Band. Those albums include songs like "The Weight," "Up on Cripple Creek" and "The Night They Drove Old Dixie Down" that would become the group's signature tunes.
In 2016, Landy published his book, Elliott Landy: The Band Photographs 1968-1969, a stunning, large format, 168-page collection of hundreds of pictures, including many never-before-published. A second volume is in production; it's expected to be published in 4Q 2023.
Once Were Brothers: Robbie Robertson and The Band, was executive produced by Scorsese, Brian Grazer and Ron Howard. It includes illuminating interviews with Bruce Springsteen, Eric Clapton ("Music From Big Pink changed my life," he says), Scorsese, Van Morrison, Peter Gabriel, Taj Mahal, Dominique Robertson and Ronnie Hawkins.
Its filmmaker is a fellow Canadian. And though only in his mid-twenties, he had embraced the music of The Band, and many of their peers, such as Neil Young and Joni Mitchell. "There's a moment in the film when Robbie describes playing Music From Big Pink for Bob Dylan," he said. "And Dylan says, 'Who wrote that? Whose song is that?' And Robbie says, 'I wrote that.' And Dylan says, 'You wrote that? That's your song?' And my experience at that moment was when Robbie saw the rough cut and he said, 'That's your movie? That's what you made?' And that meant a great deal to me."
Said Robertson, "Daniel had to figure out [how] to focus on a certain period in time. All of these stories… he found a way to make this so moving and so emotional. And I didn't see this coming. When I saw the rough cut, I thought, this is quite beautiful. And the fact that it was touching to me and that he had the sense to go in the direction like that, which is night and day to what a lot of these [music documentaries] are, that was very rewarding."
The film is bookended with riveting performances of The Band rehearsing "Up on Cripple Creek" in Woodstock, and with their performance of "The Night They Drove Old Dixie Down," at The Last Waltz, their final concert, at Winterland, in 1976.
"Not only did they have the incredible writing, but they had three of the greatest white singers in rock history," says Springsteen. "To have any one of those guys would be the foundation for a great band. To have three of them in one group, that was just loaded for bear."
The Last Waltz lives on thanks to its 1978 concert film, directed by Scorsese.
Robertson says they talked about performing together once more. They never did. Robertson died on August 9, 2023, at age 80.
Watch the video for "Once Were Brothers," from Robertson's 2019 solo album, Sinematic
Related: The Last Waltz – An Audience Member Revisits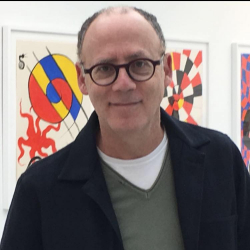 Latest posts by Greg Brodsky
(see all)