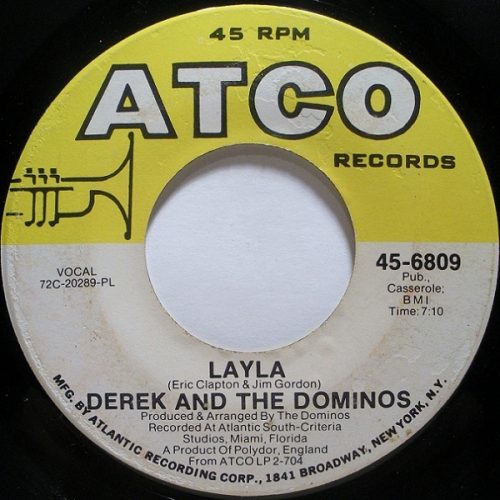 Maybe the stars weren't aligned the first time around. For a variety of reasons, many of our favorite classic rock songs weren't hits when they were first released. But whether it was their inclusion in a key moment in a hit movie, riding on the coattails of other hits by the artist, or just plain old serendipity, these 10 songs received a second chance at Top 40 radio in the U.S. and enjoyed a much more positive reception than they did the first time around.
10) "Layla" – Derek and the Dominos – This song, so closely identified with Eric Clapton, was actually released by his short-lived supergroup on their only studio album, Layla and Other Assorted Love Songs, in 1970. In its first life as a 1971 single, an edited version of "Layla" essentially stiffed. It wasn't until it was released in its full 7:10 length a year later from the History of Eric Clapton collection that it became a hit, peaking at #10 on the Billboard Hot 100. Bonus points: A newly recorded "Unplugged" version was released in 1992, reaching #12 and earning Clapton a Grammy for Best Rock Song.
9) "You Took the Words Right Out of My Mouth (Hot Summer Night)" – Meat Loaf – If you were listening to album radio in the late '70s, chances are you'd hear a song from Bat Out Of Hell. The breakthrough LP for Meat Loaf has become one of the top-selling albums of all time. But in 1977, when "You Took The Words…" was originally released as a single, it failed to click. However, once "Two Out of Three Ain't Bad" and the now-iconic "Paradise by the Dashboard Light" achieved success at rock and pop radio, "You Took The Words…" was re-issued to radio and became the third hit from the LP. Bonus points: Marvin Aday (Meat Loaf's birth name) was a long-time fixture on the NYC softball circuit throughout the '80s.
8) "Do You Love Me" – The Contours – Not a classic rock track, you say? Pshaw, we reply. This Motown act had failed to score with their initial singles, when luck intervened. Label founder Berry Gordy Jr. wrote the song and reluctantly gave it to them to record in 1962. The result was a #3 pop and #1 R&B smash. Years later, the song was featured in the 1987 surprise hit film, Dirty Dancing. Though not on the original soundtrack, RCA capitalized on the fever for anything related to the film and issued a companion album, More Dirty Dancing, in 1988. "Do You Love Me" was released as a single and reached #11, thus making The Contours sort of "one-hit-twice wonders." Bonus points: A cover by British Invasion band the Dave Clark Five scored a #11 hit in 1964.
7) "Monster Mash" – Bobby "Boris" Pickett and the Crypt-Kickers – Long a Halloween season favorite, this novelty song actually hit #1 in less than two months after its initial release in 1962. Eight years later, it again hit Billboard's Hot 100 at #91. Then in 1972, it earned a Hot 100 trifecta, peaking at #10. Bonus points: Pickett's nickname derived from his talent for doing a pretty good Boris Karloff imitation. Are you singing the chorus – "It was the Monnnn-stah Mash" – in your head now? You're welcome!
6) "Nights in White Satin" – The Moody Blues – The final track on the 1967 concept album by the British rockers, this song was a modest U.K. hit that year. It wasn't until the group had a series of Top 30 singles including "Question" and "The Story in Your Eyes" that "Nights in White Satin" was again released as a single in 1972, this time reaching #2 on the Billboard Hot 100 and becoming the band's signature tune. Bonus points: The song is featured in the 1995 Martin Scorsese film, Casino.
Related: 100s of current classic rock tour listings
5) "She's Gone' – Daryl Hall and John Oates – The blue-eyed soul duo racked up hit after hit on RCA Records in the '80s. But in the prior decade while on Atlantic they had not yet achieved superstardom. As a 1974 single from their Abandoned Luncheonette album, the song peaked at #60. Two years later, Hall & Oates enjoyed their first smash hit, "Sara Smile." That same year, Atlantic re-released "She's Gone" and this time it went to #7. Bonus points: The song was a #1 R&B hit for Tavares in 1974.
4) "Candle in the Wind" – Elton John – Originally included on Sir Elton's 1973 hugely successful double LP, Goodbye Yellow Brick Road, this tribute to Marilyn Monroe was eschewed as a single in favor of the title track, "Bennie and the Jets" and "Saturday Night's Alright For Fighting." (If the album had debuted 10+ years later, the label would have assuredly released at least two other singles.) In 1987, a live version of the song became a #6 hit. But its biggest success was in 1997 with updated lyrics to honor the memory of John's dear and departed friend, Diana, Princess of Wales, when it hit #1. Bonus points: The song is the second best-selling single of all-time behind Bing Crosby's "White Christmas."
3) "Welcome to the Jungle" – Guns N' Roses – The first track on G N' R's massively successful 1987 debut album, Appetite For Destruction, was also its first single, but it failed to chart in the U.S. It wasn't until the more pop radio-friendly "Sweet Child o' Mine" soared to #1 on the Billboard Hot 100 that "Jungle" was sent out again to radio. It subsequently became a Top 10 pop hit. Several years ago, VH-1 named it the greatest hard rock song of all time. (Let the debate begin!) Bonus points: The album finally hit #1 a full 13 months after its release.
2) "Got To Get You Into My Life" – The Beatles – The only singles from the Fab Four's 1966 album Revolver were the double A-sided "Yellow Submarine"/"Eleanor Rigby." But the buoyant "Got To Get You Into My Life" with its prominent use of horns was a popular LP cut. Several years after The Beatles broke up, Capitol/EMI began adding new titles to their catalog. One such release was 1976's double LP Rock 'n' Roll Music. "Got To Get You Into My Life" was chosen as the U.S. single and the song reached #7 – a success, but a modest one given the group's previous chart domination. Bonus points: Two years later, Earth, Wind & Fire recorded the song for the ill-fated Sgt. Pepper's Lonely Hearts Club Band movie; it went #1 R&B and #9 pop.
1) "Bohemian Rhapsody" – Queen – The king of all re-releases was actually a legitimate though somewhat surprising hit during its first go-round, hitting #1 in the U.K. (1975) and #9 in the U.S. (1976). The unique song was Queen's breakthrough hit in America and helped its A Night at the Opera album reach #4. Less than a year after lead singer and the song's writer Freddie Mercury died, "Bohemian Rhapsody" enjoyed a second chart life, buoyed by its prominent inclusion in the highly popular Wayne's World movie, peaking at #2. Bonus points: Magnifico!
Related: 10 more re-released singles that became hits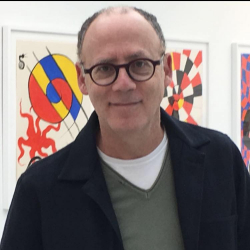 Latest posts by Greg Brodsky
(see all)