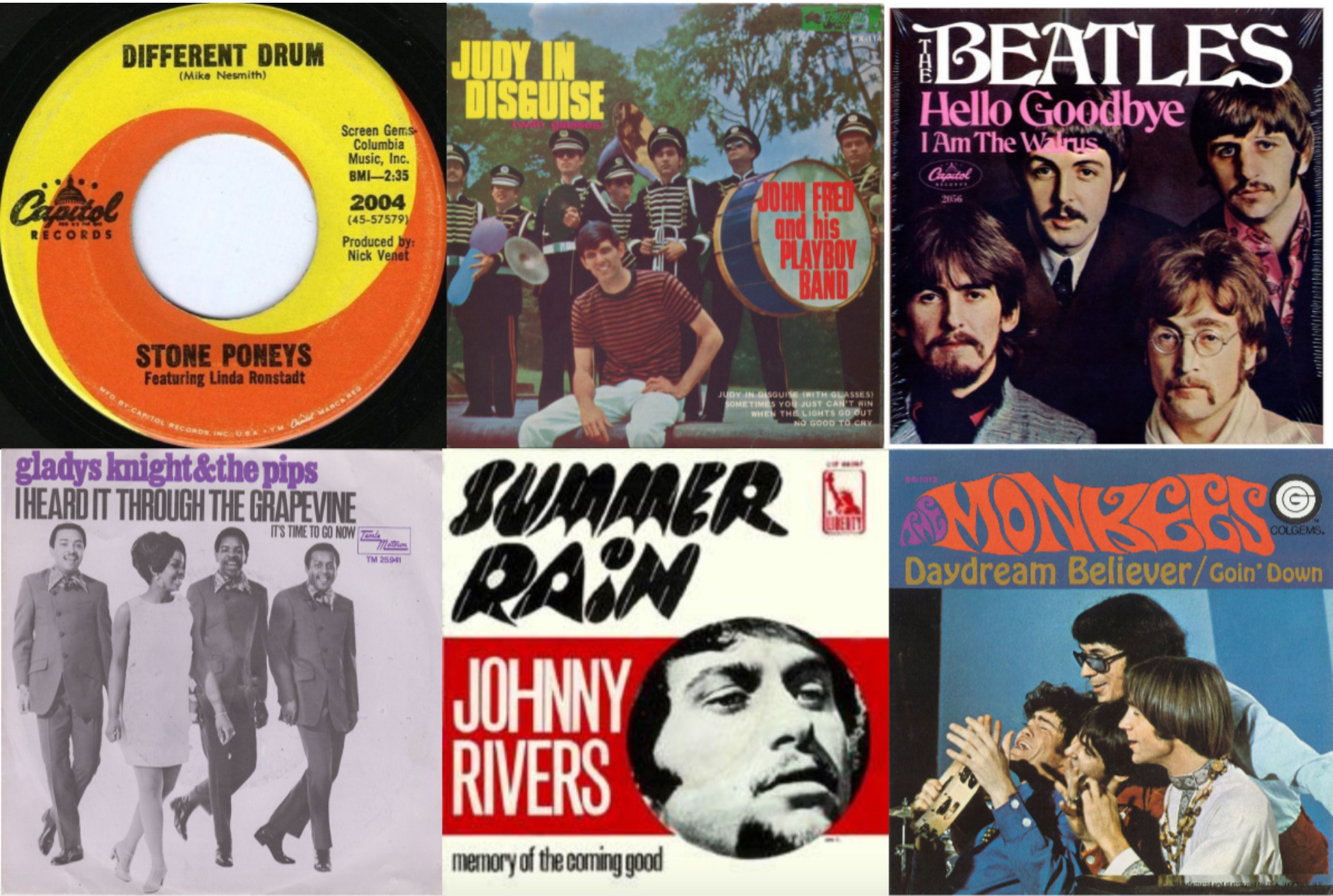 Some of the events that were happening as 1967 was coming to a close… Dr. Christiaan Barnard performed the world's first human-to-human heart transplant. Allen Ginsberg and Dr. Benjamin Spock were among those arrested at a Vietnam War protest in New York City.
In the coming days, the Green Bay Packers would win the NFL Championship against the Dallas Cowboys in the famous "Ice Bowl" game.
And the weekly survey on Miami's Top 40 WQAM was loaded with songs that would remain favorites decades later.
Bubbling under the Top 10… Aretha Franklin's "Chain of Fools" took a huge jump from #51 to #37. The song would ultimately reach #1 R&B and #2 pop in the U.S.
Also taking a big leap was Smokey Robinson & the Miracles' "I Second That Emotion," from #36 to #25. It, too, would become a #1 R&B hit; #4 pop.
The Royal Guardsmen were having another Snoopy-themed hit as "Snoopy's Christmas" moved from #26 to #19.
Making the biggest jump was John Fred & His Playboy Band with "Judy in Disguise (With Glasses)." (The song's title was a parody of The Beatles' "Lucy in the Sky With Diamonds.") This week, the amazing single went from #48 to #16 and would ultimately reach #1 and was the group's lone hit.
Entering the Top 10 was The Bee Gees' fourth worldwide hit of 1967, "Massachusetts." (The other three: "New York Mining Disaster 1941," "To Love Somebody" and Holiday.")
Despite Johnny Rivers' beautiful vocal on "Summer Rain," the song–at #9 this week on WQAM–would stall at just #14 nationally. Not sure why it was released in November…
Related: Our feature story on Johnny Rivers
Gladys Knight & the Pips' amazing "I Heard it Through the Grapevine" jumped from #33 to #7 (on its way to #1 R&B and #1 pop).
Related: Looking back at 1967 in rock music
Mike Nesmith's "Different Drum" was at #5 for the Stone Poneys (featuring Linda Ronstadt on lead vocals). The song stalled nationally at #13.
At #3, The Monkees earned their third (and final) #1 single with "Daydream Believer," with Davy Jones on lead vocals.
Gary Puckett and Union Gap enjoyed five Top 10 hits in less than two years. The first, "Woman Woman," was at #2 (peaking at #4 nationally).
And at #1? The Beatles' two-sided hits "Hello, Goodbye" and "I Am the Walrus," in a long string of chart-toppers for the Fab Four.
Related: The #1 singles of 1967
37. "Chain of Fools" – Aretha Franklin
25. "I Second That Emotion" – Smokey Robinson & the Miracles
19. "Snoopy's Christmas" – The Royal Guardsmen
16. "Judy in Disguise (With Glasses) – John Fred & His Playboy Band
10. "Massachusetts" – The Bee Gees
9. "Summer Rain" – Johnny Rivers
8. "Beg Borrow and Steal" – Ohio Express
7. "I Heard it Through the Grapevine" – Gladys Knight & the Pips
6. "I Say a Little Prayer" – Dionne Warwick
5. "Different Drum" – Stone Poneys
4. "Sit Down Kids" – Cher
3. "Daydream Believer" – The Monkees
2. "Woman Woman" – Gary Puckett & the Union Gap
1. "Hello, Goodbye" / "I Am the Walrus" – The Beatles
Chart courtesy of WQAM Radio Tribute Site

Latest posts by Best Classic Bands Staff
(see all)