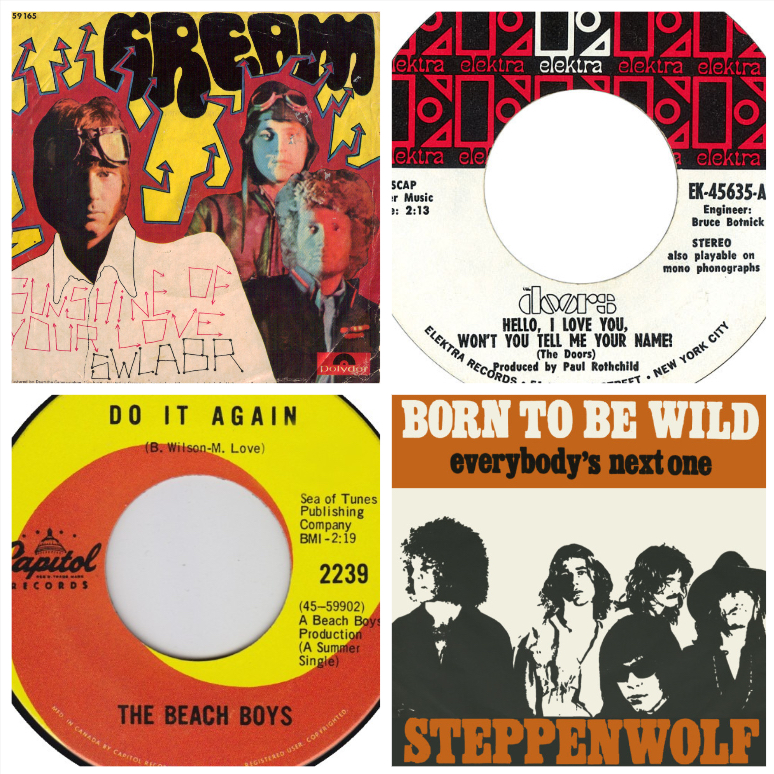 In mid-summer 1968, Richard Nixon had just been nominated to be the presidential candidate at the Republican National Convention. The soap opera One Life to Live premiered on ABC where it would remain for 43 years.
And classic rock songs dominated the Top 10 in the Windy City this week 50 years ago on WLS Chicago, long a sister station of WABC New York. The two stations shared the Musicradio moniker but were programmed separately. But getting your song played on either influential 50,000 watt clear channel station, meant you had a crack at really breaking through nationally during their heyday when AM Top 40 was king.
Bubbling under at #22 was the Beach Boys' "Do it Again." While it would hit #1 in the U.K., it only reached #20 on the Billboard U.S. singles chart.
The Mamas & the Papas' "Dream a Little Dream of Me," with a great vocal by Mama Cass, was at #20.
At #18, was the Vanilla Fudge's cover of the Holland-Dozier-Holland song "You Keep Me Hangin' On." A tip of the cap to BCB reader "Chatterdj" who points out that the single became a hit a year after the Fudge had originally released it.
At #10, "Sunshine Of Your Love" was one of Cream's two biggest hits. Since we're always trying to help Best Classic Bands' readers win bar bets, here's a wild fact: the song peaked at #5 in the U.S. but only #25 in the U.K.
The Doors are loved two times on the chart. Once with "Hello, I Love You" (at #4), which would become their second #1 pop hit following 1967's "Light My Fire." José Feliciano covered the latter and completely transformed it in '68, ultimately earning the blind guitarist a Grammy.
If you're a new Best Classic Bands reader, we'd be grateful if you would Like our Facebook page and/or bookmark our Home page.
"People Got To Be Free," a timely song for a turbulent era, was the third (and final) #1 hit for the New Jersey-based The Rascals.
Mason Williams' day job was as an Emmy Award-winning writer for the hit CBS-TV variety show The Smothers Brothers Comedy Hour. But he's perhaps best known for this week's #2, his instrumental hit, "Classical Gas." Click on the video and listen to how beautiful the guitar playing is. And that musicianship? None other than the L.A. studio musicians known as The Wrecking Crew.
The much-covered "Born To Be Wild" was the biggest hit of Steppenwolf's career, peaking at #2 nationally and the perfect song for the Easy Rider opening credits.
With "Sunshine Of Your Love" as a bookend on the Top 10 with "Born To Be Wild" on this survey, it's a reminder of how hard the Top 40 rocked in the late '60s.
22. "Do it Again" – The Beach Boys (Capitol)
20. "Dream a Little Dream of Me" – The Mamas & the Papas (ABC/Dunhill)
18. "You Keep Me Hangin' On" – Vanilla Fudge (Atco)
10. "Sunshine Of Your Love" – Cream (Atco)
9. "Stay In My Corner" – The Dells (Cadet)
8. "Light My Fire" – Jose Feliciano (RCA)
7. "1, 2, 3 Red Light" – 1910 Fruitgum Co. (Buddah)
6. "Turn Around Look At Me" – The Vogues (Reprise)
5. "Sealed With A Kiss" – Gary Lewis (Liberty)
4. "Hello, I Love You" – The Doors (Elektra)
3. "People Got To Be Free" – The Rascals (Atlantic)
2. "Classical Gas" – Mason Williams (Warner Bros.)
1. "Born To Be Wild" – Steppenwolf (ABC/Dunhill)

Latest posts by Best Classic Bands Staff
(see all)