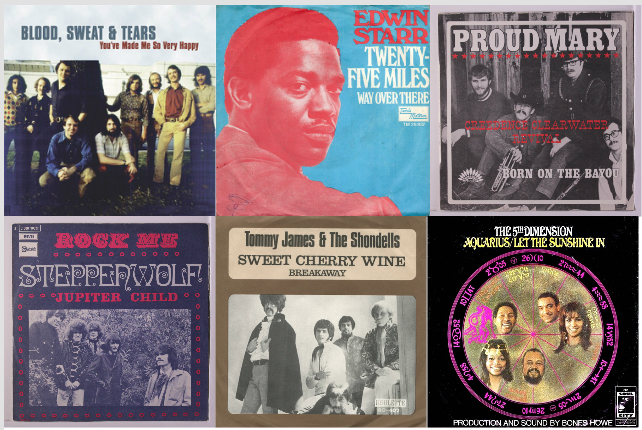 No matter what your age, when you hear a certain song, it transports you back to when you first heard it. Such is the case when we research the charts that we run each week on Best Classic Bands. When we got to this one from early April 1969 on New York City powerhouse 77WABC, we were suddenly back in sixth grade.
Bubbling under and jumping from #27 to #20 was Tommy James and the Shondells with one of the seven Top 10 singles they earned from 1966- 1969, "Sweet Cherry Wine."
Related: Our interview with Tommy James on all those hits
The Cowsills took an even bigger jump with "Hair" (one of two songs this week from the hit Broadway show of the same name). The song went from #43 to #17.
Often overlooked by Steppenwolf's even bigger hits was "Rock Me," at #12, the band's third (and final) Top 10 single.
Soul singer Edwin Starr would have a signature hit one year later with "War," a #1 smash. But this week he had success with another great song, "25 Miles," at #10 this week. I, I, I, I'm so tired… But I just can't lose my stride.
Between his successful TV variety series and his pop and country chart hits, Glen Campbell's impact was large. This week, he enjoyed his third hit with a Jimmy Webb-penned song in as many years with "Galveston" at #7.
If you don't remember the Beatles-esque run that Creedence Clearwater Revival had on the pop charts from 1969-1971, we're happy to remind you. In that span, the group had nine Top 10 singles including "Proud Mary" this week at #6 on WABC. (It would reach #2 nationally.)
Soft rockers the Classics IV had three Top 5 singles in the late '60s including "Spooky" and "Stormy." The final one was "Traces," at #5 this week.
Related: Our feature on the Classics IV and their three big hits
If you're not aware, here's the unlikely tale of the Zombies success with "Time of the Season," well over a year after they had broken up. The song, at #4 this week, became the British Invasion group's third Top 10 single.
Blood, Sweat & Tears' self-titled second album won the Grammy Award for Album of the Year, in large part due to its three huge singles, each of which peaked at #2 on Billboard. "You've Made Me So Very Happy" was at #3 on WABC this week. (It would be followed by "Spinning Wheel" and "And When I Die."
At #1? The medley of "Aquarius/Let the Sunshine In," in what would be the year's four smash single from Hair. Sung by The 5th Dimension, with instrumentation by the Los Angeles session musicians The Wrecking Crew, the song would stay at #1 for seven weeks on WABC and ultimately win the Grammy for Record of the Year.
10. "25 Miles" – Edwin Starr (Gordy)
9. "Things I'd Like to Say" – The New Colony Six (Mercury)
8. "It's Your Thing" – The Isley Brothers (T-Neck)
7. "Galveston" – Glen Campbell (Capitol)
6. "Proud Mary" – Creedence Clearwater Revival (Fantasy)
5. "Traces" – Classics IV featuring Dennis Yost (Imperial)
4. "Time of the Season" – The Zombies (Date)
3. "You've Made Me So Very Happy" – Blood, Sweat & Tears (Columbia)
2. "Dizzy" – Tommy Roe (ABC)
1. "Aquarius/Let the Sunshine In" – The 5th Dimension (Soul CIty)
Chart courtesy of Musicradio77.com

The BCB team brings you the latest Breaking News, Contests, On This Day rock history stories, Classic Videos, retro-Charts and more.

Latest posts by Best Classic Bands Staff (see all)