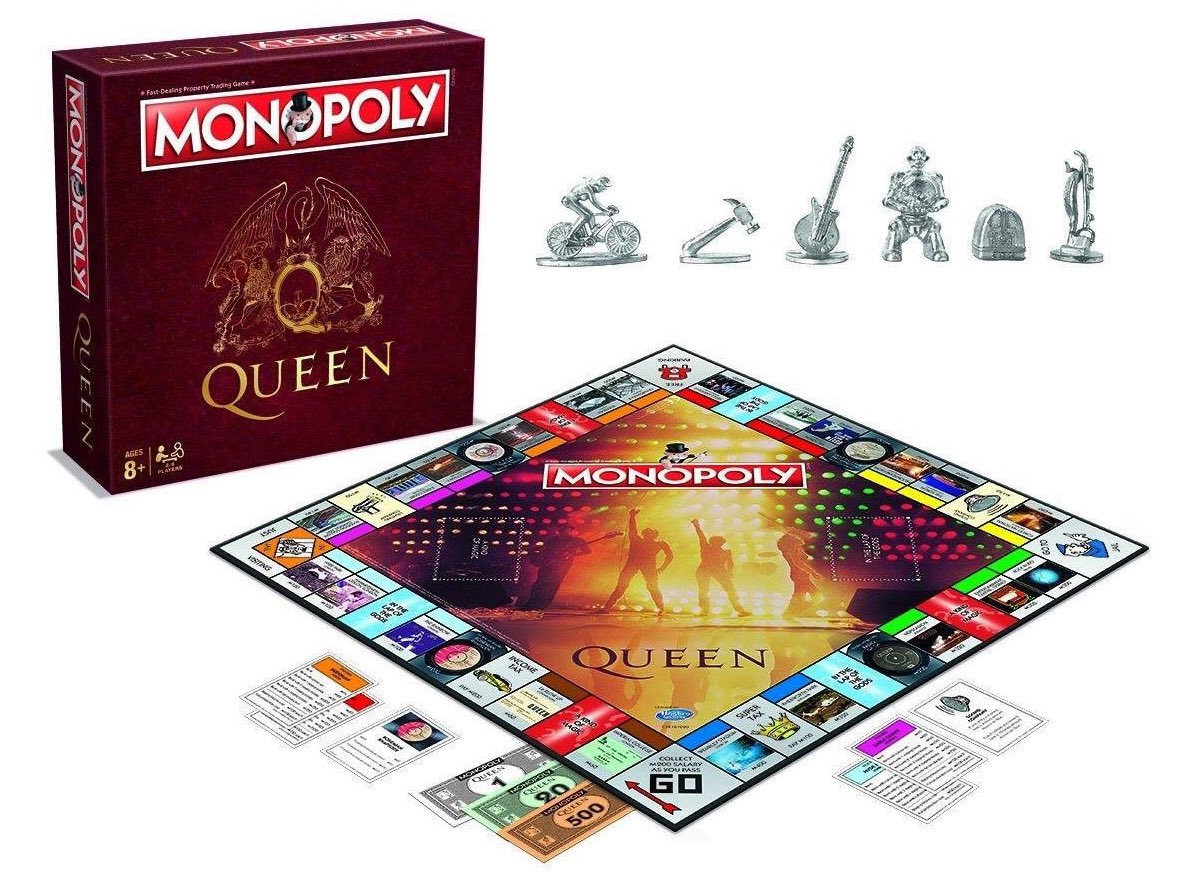 If you're a savvy investor and think you have it in you to be a ruthless real estate tycoon, you'll be singing "We Are the Champions" for a different reason pretty soon. Bravado, Universal Music Group's merchandise and brand management company, and global games company Winning Moves announced today that Queen has joined forces to create a Monoploy: Queen Edition game, set for release on May 8 and available for pre-order now.
Produced with the full collaboration of the band, the Monopoly: Queen Edition game features six collectible Queen tokens inspired by their career, with houses and hotels designed by the band's Brian May. The game board features gig venues from throughout Queen's illustrious history, from the band's formation in 1970 up to the 1986 Wembley and Knebworth shows–Freddie Mercury's last appearances–thanks to band member Roger Taylor's encyclopedic memory of their live experiences.
According to a press release, "Immerse yourself in Queen's world, buy these famous venues and charge admission. Collect the color sets and begin building staging blocks so you can charge higher prices. Upgrade to the full Queen production when you have four staging blocks and charge maximum admission. Take your chances with 'A Kind of Magic' and 'In the Lap of the Gods' cards, which can boost your career or land you in trouble. As you play, you'll experience life as a member of a world-class rock band within the unique Monopoly game setting."
From overseeing the development of the game May, Queen's guitarist and founding member, said, "I think fans will be enchanted by the depth of detail in this special Queen edition of an already well-loved game. We have subtly morphed the traditional property-developing journey of Monopoly into the real-life adventure of a rock band on the road. Players will plot a whole career, based on developing bigger and better shows in venues all around the globe. Join us and conquer the World !!!
Related: Brian May is a rock star and a scientist
May has been especially busy as of late. In addition to touring with Queen + Adam Lambert, the guitarist has a new collaborative album, Golden Days, with Kerry Ellis, out in the U.K. and Ireland on Sony tomorrow (April 7). A U.S. release date has not yet been announced.
The album, according to a press release, includes five new original compositions plus new rock arrangements of some of May and Ellis' favorite songs of all time: a tribute to guitar virtuoso Gary Moore, two songs dedicated to their work on behalf of wild animals, and a couple of reinterpretations of songs which have already become essentials in their live act.
Watch Queen + Adam Lambert performing "Somebody to Love"
Never miss a post! Sign up for Best Classic Bands' Newsletter; form is on every page.

Latest posts by Best Classic Bands Staff
(see all)