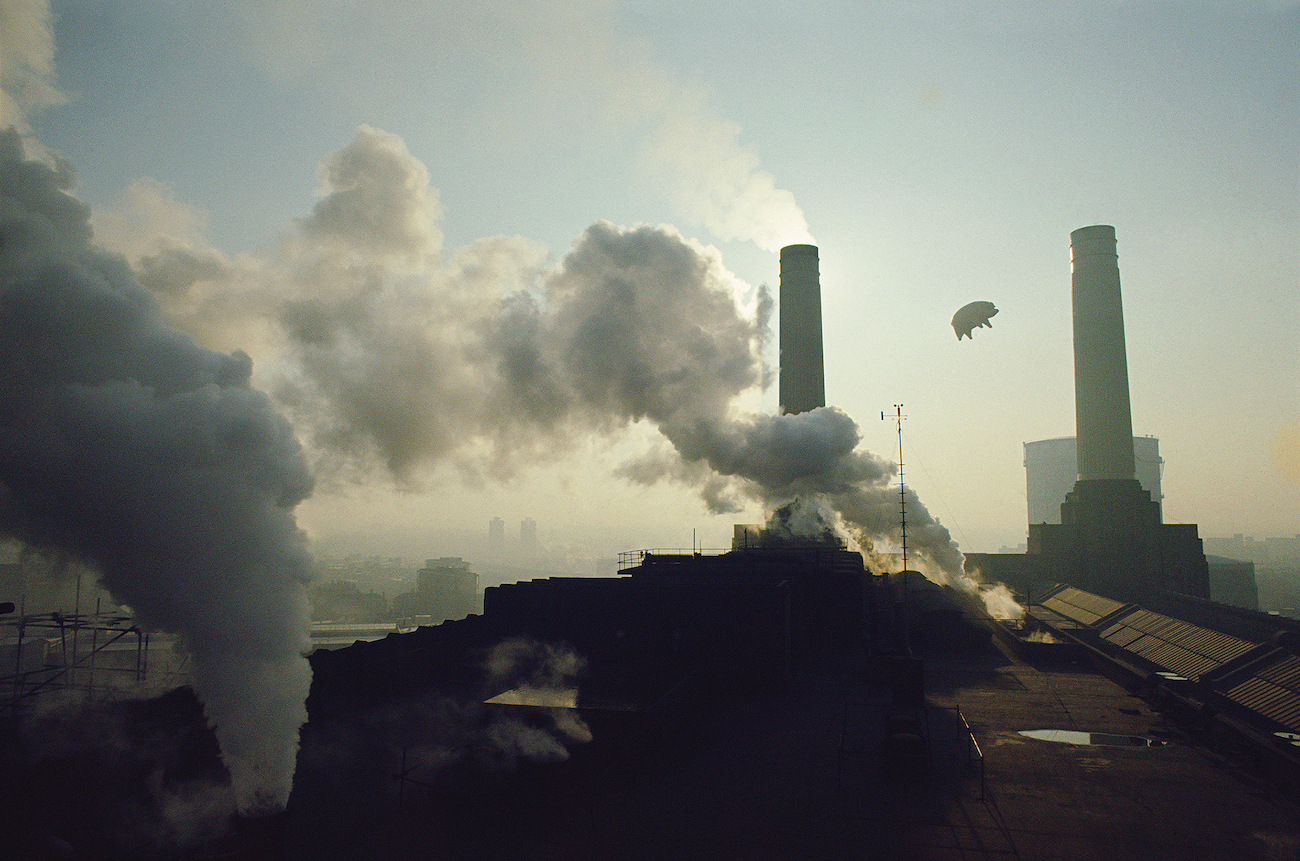 Her name is Algie, she was 40-feet tall, and she addressed the old saying "when pigs fly." Quite dramatically, in fact, during the cover photo shoot for the Pink Floyd album Animals at the Battersea Power Station on the banks of the River Thames in central London.
A helium filled balloon, she was designed by Roger Waters and created by artist Jeffery Shaw with the help of the Hipgnosis design team. On day one of the photo shoot a marksman was standing by to shoot Algie if she got loose, but she wasn't launched. The second and third days she was launched but the marksman wasn't there. So, of course, Algie broke free of her moorings on day three (December 3, 1976) when a strong gust of wind came along. Within five minutes she floated out of sight.
She was next spotted at 30,000 feet by airline pilots. The pig eventually floated into air space used by Heathrow Airport, causing flights to be canceled. Eventually Algie landed in a farmer's field in Kent, much to the displeasure of his cows.
The shot on the album cover ended up being a composite of day one (with its moody weather) and the pig balloon from day three.
Related: Our feature on Pink Floyd – The early years
Algie became a popular part of Pink Floyd's stage show during the subsequent "In The Flesh" tour, appearing during the song "Pigs (Three Different Ones)." A black inflatable pig was used during performances of The Wall. When Waters and his Pink Floyd bandmates split up, Waters was given the right to use the pig in his stage shows. The other three members got around the prohibition against using the pig by creating an inflatable sow with testicles.
When Waters toured in 2008, the pig balloon got loose from the Coachella Festival and at dates in Dallas and Houston.
In 2011, a slightly smaller replica of Algie floated above Battersea Station to mark the reissue of Pink Floyd's 14 studio albums.
See – pigs do fly!

Latest posts by Best Classic Bands Staff
(see all)