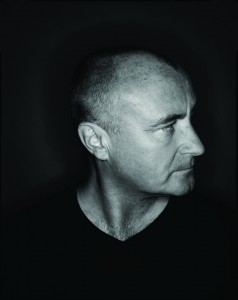 Update (12/2): The date for the charity event in Florida for Collins' foundation has moved to March 11, 2016 at the Fillmore Miami Beach at Jackie Gleason Theater to accommodate the performer's recovery from his recent surgery. It's been described as an "intimate acoustic" show to benefit the Little Dreams Foundation, whose mission is to fulfill the dreams of young talents without financial means to achieve their goals. The pricey tickets – hey, it's a benefit, remember – start at $153.75 – are available here. Alas… no news yet on a full tour.
We've been telling you about the one-off performance in December that Phil Collins has agreed to do to raise funds for the Foundation that he co-founded with his ex-wife. Now, while still on the mend from recent back surgery, the veteran Genesis singer and drummer is talking about resuming his solo career by recording a new album and touring.
In an interview Rolling Stone posted on Wednesday (10/28), he said: "I'm no longer officially retired. The horse is out of the stable and I'm raring to go."
Collins plans to move a recording studio into his Miami home and expects to begin recording before the year is up. He reveals that he rehearsed last year with many of the band members from his solo career, though subbing in drummer Jason Bonham, son of Led Zeppelin drummer John Bonham.
Collins balked at continued rumors of a Genesis reunion. "Let's start with this bit first," he told the magazine. "I love the guys. I would just prefer to do this first. For now, let's just see how this goes."
The last Genesis tour in 2007 reunited Collins with band co-founding members, keyboardist Tony Banks and bassist Mike Rutherford. That core earned the band its greatest success with numerous platinum albums and hit singles. It was on that tour that Collins says he dislocated some vertebrae in his upper neck that ultimately led to the surgery.
As for the December benefit, Collins will perform an "intimate acoustic" show at The Fillmore Miami Beach, joined by longtime Genesis concert guitarist Daryl Stuermer and veteran bassist Leland Sklar.
The Collins solo catalog is about to receive a significant overhaul from Rhino, beginning in January. The "Take A Look At Me Now" retrospective reissue campaign boasts extended and remastered deluxe editions featuring live tracks, demos and B-sides, all curated by Collins.
The series kicks off with the January 29, 2016 release of two titles: his solo debut Face Value and 1993's Both Sides. The series features a new artwork concept in which Collins has recreated his poses from the original album covers with new photography that was shot in the present day. Rhino says Collins' remaining six solo albums will all be re-released in the near future.

Latest posts by Best Classic Bands Staff
(see all)