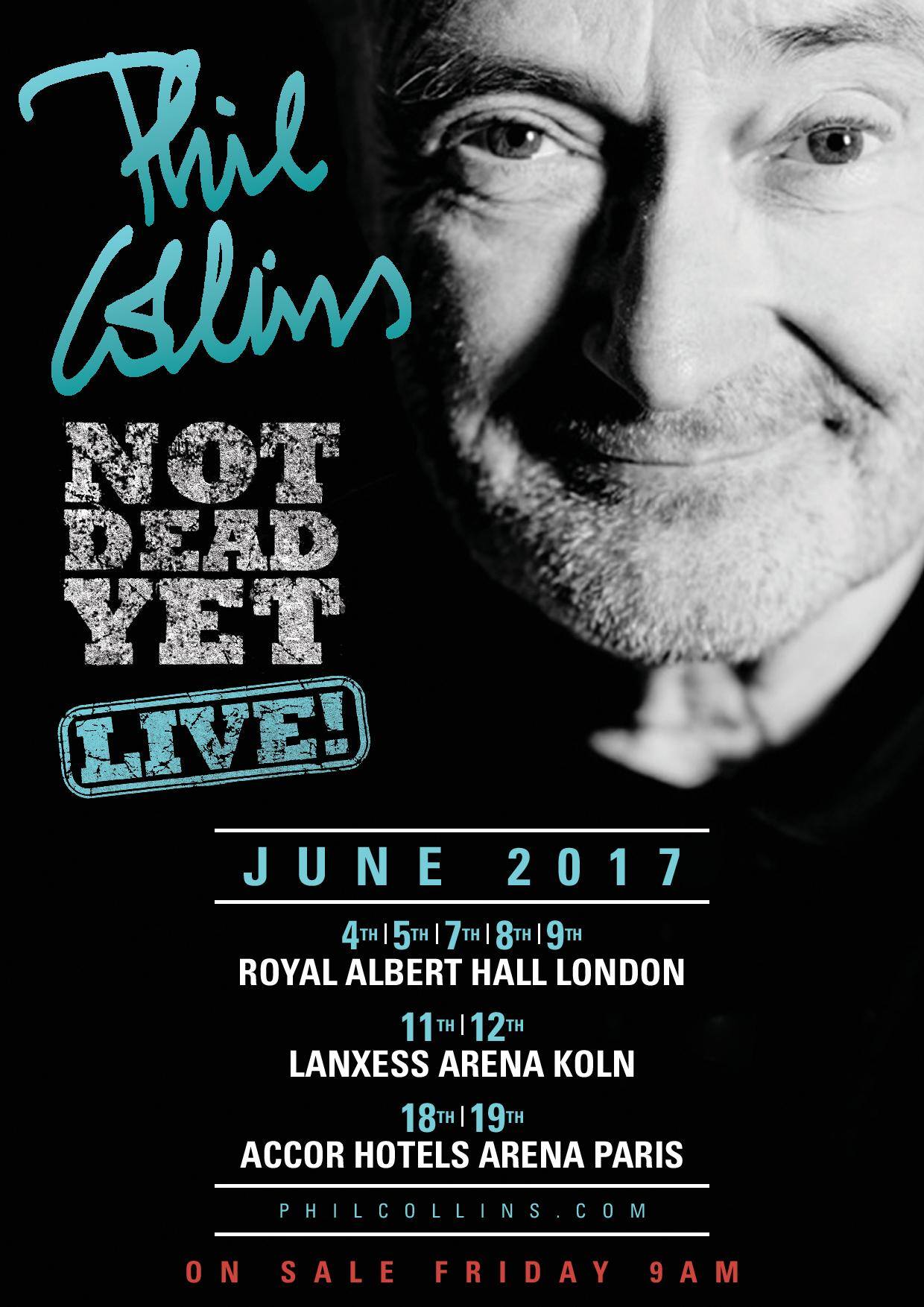 Update (October 20): Collins will be doing a live Q&A today (Thursday) at 1 pm ET on his Facebook page. And he has added Cologne dates on October 14 and 15.  More to come…
After an absence from the stage for nearly a decade, Phil Collins will finally resume touring. At a press conference this morning (October 17) at London's Royal Albert Hall, Collins announced his Not Dead Yet Live! tour. The hugely successful singer and musician, with Genesis and as a solo artist, will begin the tour with five nights at the iconic venue from June 4-9, followed by two dates in Cologne, Germany and two in Paris, France.
Tickets go on sale this Friday, October 21 at 9 am local time. Collins' memoir, Not Dead Yet, is being published on October 25.
On August 29, Collins performed two songs – "In the Air Tonight" and "Easy Lover" – at the opening night ceremonies of the 2016 U.S. (Tennis) Open. It was his first public performance since last March 11 when he sang eight songs for his charitable foundation's annual fundraiser at The Fillmore Miami Beach.
Collins underwent back surgery in 2015 and at today's press conference, he walked onto the stage with a cane. Dressed casually in jeans, a polo shirt and sporting a baseball cap, Collins fielded a range of questions for around 30 minutes.
When asked about additional dates, Collins said: "That's as far as we've got so far. I was brought up old school to think that when you went on tour, it was like going to war… you [weren't] quite sure when you were coming back."
Collins' last tour as a solo artist was in 2004-5; he reunited with Genesis bandmates Michael Rutherford and Tony Banks for a 2007 tour.
He was asked if Genesis were finished. "Doing the book, I was reminded just how good friends we are. Quite often I would return to the fold and we'd do something. That changed when I moved to Switzerland because of the distance. Mike [Rutherford] said 'Our kids have grown up; we'll come to you.'
"I don't want to get too busy. I know how things are. You write a few pieces of music and then you do an album and suddenly there's a tour and you look back and it's six months. What we had was pretty special in as much as the three of us would just sit down in a room with nothing prepared… and we'd just start playing until something happened. And we'd record it… and from there songs would develop. And that is pretty special to have a relationship with guys that can do that. So I wouldn't rule it out."
"The first final farewell tour in 2004-5, that was meant to be me stopping. We did do the 2007 Genesis reunion tour because I certainly felt – and I think the guys would agree – that we never really said goodbye properly. I stopped worked because I wanted to be a dad at home."
Collins revealed that one of his sons will be touring with him.
"I've changed my mind. I'm living with my young kids and they want me to go out on the road to do some new things and there's no reason why not. Nicholas, who's 15 now, he's a fantastic drummer. He takes notes very well. We did three [charity] shows in Europe this year and he played and he was fantastic; all the band were very impressed. So he'll be going out with me; he'll be 16."
When asked whether he'll be playing instruments, Collins said: "I think I'll just be singing. I've got a drum kit in the garage and I will be getting to that to see if I can… do 'In the Air.' That would be something I feel I should do."
Collins talked about his physical problems. "I play with my fingers. And that's the thing that has clammed up over the last few years, so it's just the question of getting my strength back. I don't think I'll ever be able to play the way I used to. Something happened [during the 2007 reunion tour] during the drum duet with Chester. We'd be pushing it and pushing it. Something happened one night and at that point it never came back. It's a little bit of a mystery as to why it happened. I'm 65… I've been playing since I was five years old but I'm not going to lose sleep over it.
"The 60 years of drumming really messed my back [and my hips] up."
The singer was asked if he would be nervous to mount a major tour after so many years. "I'm looking forward to it. The reason I'm doing it is that we've done these charity events and when you first go out on stage and haven't done it for 10 years… the reaction was very warm."
Collins talked about potential collaborations with more contemporary artists such as Adele or Pharell. "I would but it depends what it was. I don't just want to be an ornament on someone else's cake. If it's a real project to do something together, then possibly."
The musician's solo catalog received a significant overhaul from Rhino this year.
Phil Collins Not Dead Yet Live 2017 Tour Dates
June 4-5-7-8-9 – London, England – Royal Albert Hall
June 11-12, 14-15 – Cologne, Germany – Lanxess Arena
June 18-19 – Paris, France – Accor Hotels Arena
If you're a new Best Classic Bands reader, we'd be grateful if you would Like our Facebook page and/or bookmark our Home page.

Latest posts by Best Classic Bands Staff
(see all)