Paul Krassner, '60s Counterculture Figure, Dies at 87
by Jeff Tamarkin
As editor and publisher of The Realist, co-founder of the Yippies and a longtime advocate of free speech, Paul Krassner was on the front lines of the 1960s counterculture. Krassner died today (July 21) at his home in Desert Hot Springs, Calif. His daughter confirmed his death.
Krassner was 87 and had been in hospice care, although no cause of death has been cited.
Krassner was also the author of several books, which detailed his own journeys through the counterculture. Some of his writing advocated drug use, particularly LSD, which he claimed to have taken with Groucho Marx and Timothy Leary, among other celebrities.
Born April 9, 1932, in Brooklyn, Krassner was a child violin prodigy (reportedly the youngest musician to play Carnegie Hall, at age 6) but he veered toward journalism in college, while also, with the encouragement of Lenny Bruce, performing standup comedy. He contributed to Mad magazine but his true love was political and social satire and in 1958 he founded The Realist as an outlet for that brand of writing. Both edited and published by Krassner, The Realist became an increasingly important voice among disaffected youth, but its somewhat absurdist and irreverent humor and satirical bent kept it from becoming strident, like many other left-leaning publications.
Among those who contributed to The Realist were Lenny Bruce, Woody Allen, R. Crumb, Mort Sahl, Richard Pryor, Phil Ochs, Ken Kesey, Garry Trudeau, Ken Kesey and Joseph Heller.
Related: 13 books that every hippie owned
Krassner and The Realist courted controversy. He once mailed a copy of an obscenely worded poster to FBI director J. Edgar Hoover and concocted an outrageous tale regarding President Lyndon B. Johnson's alleged necrophilia with John F. Kennedy's corpse.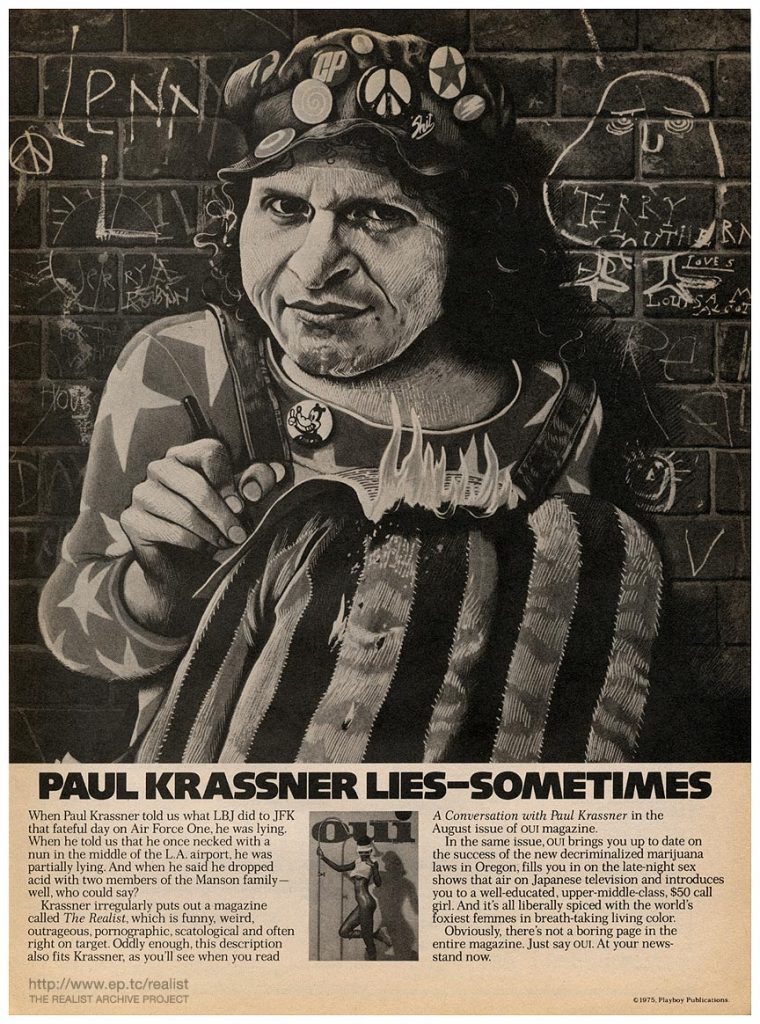 In 1967, Krassner, along with Abbie Hoffman, Jerry Rubin and others, formed the anti-establishment Youth International Party, or Yippies, which Krassner reportedly named. Among the group's activities, which were often devised with the intent of getting media attention for their causes, was to nominate a pig—named Pigasus—for president in 1968. The Yippies demanded that the pig receive press briefings and Secret Service protection and reasoned, "If we can't have him in the White House, we can have him for breakfast." Pigasus received an unspecified number of votes in the 1968 election; reportedly a police officer later butchered and ate him.
The Yippies also received considerable attention for throwing dollar bills onto the trading floor of the New York Stock Exchange.
Krassner, who was also associated with Ken Kesey and the Merry Pranksters troupe of LSD pioneers, continued his involvement in political and social causes throughout his life, and continued to write prolifically and serving as a public speaker and radio host. He also contributed articles on political topics to the music monthly Crawdaddy.
Watch Krassner speak on political satire

Latest posts by Jeff Tamarkin
(see all)