Otis Redding's posthumous albums are being released together for a new vinyl boxed set that includes mono versions of all of the singles from the albums. Limited to 1,000 copies, Otis Forever: The Albums & Singles: (1968-1970) arrives on June 9, 2023, as a 6-LP set on multi-color vinyl. The albums are each pressed on different colors. The Singles 1968-1970 is a double album exclusive to the set in a gatefold sleeve illustrated with the 7" labels from all 24 singles.
Between 1962 and 1967, the Georgia-born singer-songwriter was a creative dynamo, recording frequently at Stax Records with Booker T. & The MG's – keyboardist Booker T. Jones, guitarist Steve Cropper, bassist Donald "Duck" Dunn, and drummer Al Jackson Jr. During his lifetime, Redding released six studio albums and a succession of R&B and Top 40 hits ("These Arms of Mine," "Respect," "Try A Little Tenderness") that helped transform Stax from a small Memphis record label into a global musical institution.
When Redding died in December 1967, he'd recorded enough music to fill several albums. The first song from that trove arrived shortly after his death when "(Sittin' On) The Dock of the Bay" was released in January 1968. Recorded during his final days, it became Redding's signature song, biggest hit, and first pop chart-topper.
The song was the title track for the first of the Prince of Soul's four posthumous studio albums: The Dock of the Bay (1968), The Immortal Otis Redding (1968), Love Man (1969), and Tell the Truth (1970). The albums sustained Redding's streak of hits, introducing singles like "Look at That Girl," "Love Man," "I've Got Dreams to Remember" and "Amen." The album reached #1 in the U.S. and U.K. The album's title track made history in America as the first posthumous #1 single on the Billboard Hot 100. Through the years, the song has accumulated a multitude of awards and achievements, including over four million copies sold worldwide; and two Grammy Awards (Best R&B Song and Best Male R&B Vocal Performance).
Redding's legacy has only grown since his 1962 Stax debut with "These Arms Of Mine." He's been inducted into the Rock & Roll Hall of Fame and Songwriters Hall of fame. Decades after his passing, his music has continued to be recognized with a Grammy Lifetime Achievement Award (1999), and three of Redding's songs have been inducted into the Grammy Hall of Fame: "Respect" (1998), "I've Been Loving You Too Long" (2011), and "Try a Little Tenderness" (2015).
The complete track listing appears below the Amazon links.
Otis Forever: The Albums & Singles: (1968-1970) Vinyl Track Listing
The Dock of the Bay (1968)
Side One
1. "(Sittin' On) The Dock Of The Bay"
2. "I Love You More Than Words Can Say"
3. "Let Me Come On Home"
4. "Open The Door"
5. "Don't Mess With Cupid"
Side Two
1. "The Glory Of Love"
2. "I'm Coming Home"
3. "Tramp" – Otis Redding & Carla Thomas
4. "The Huckle-Buck"
5. "Nobody Knows You (When You're Down And Out)"
6. "Ole Man Trouble"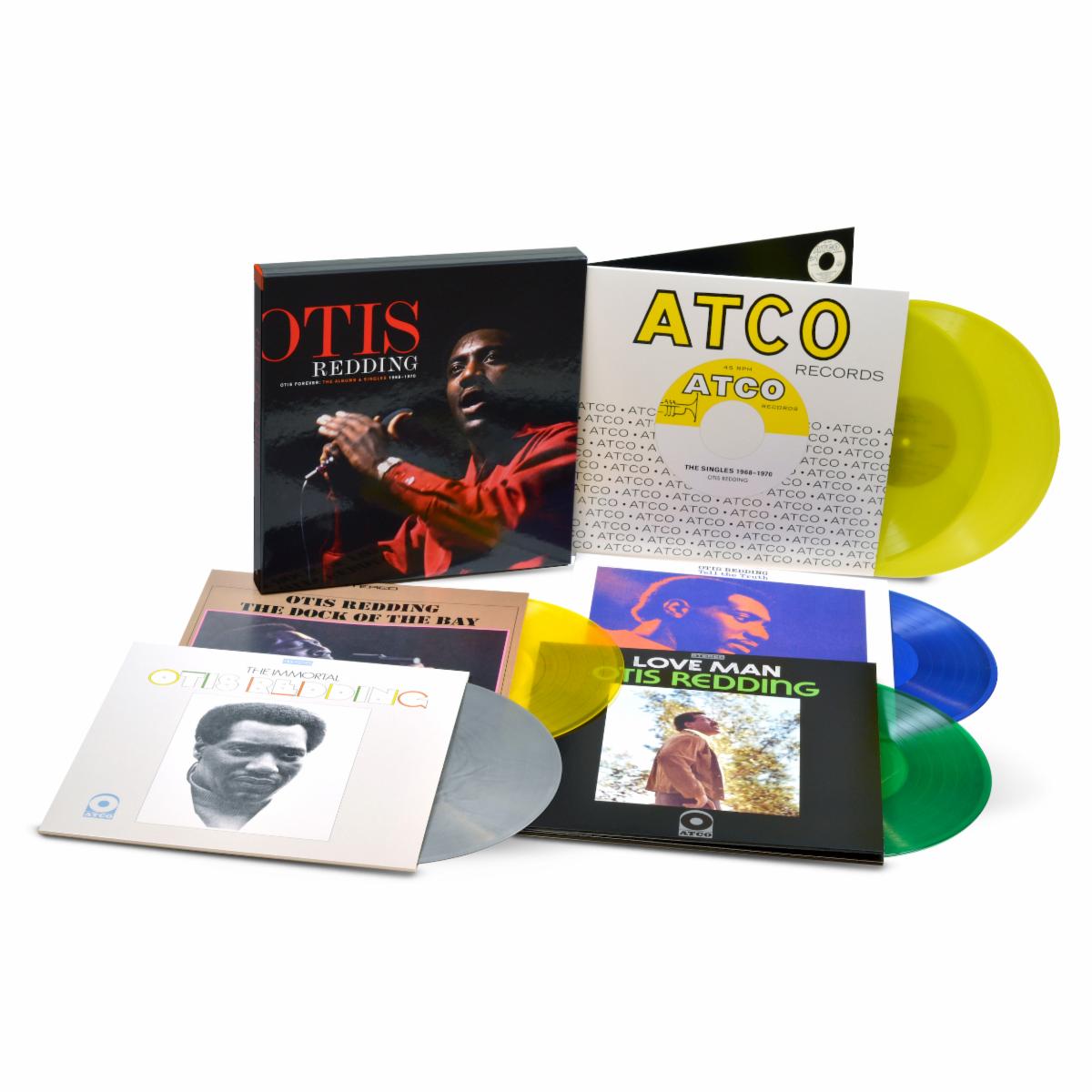 The Immortal Otis Redding (1968)
Side One
1. "I've Got Dreams To Remember"
2. "You Made A Man Out Of Me"
3. "Nobody's Fault But Mine"
4. "Hard To Handle"
5. "Thousand Miles Away"
6. "The Happy Song (Dum-Dum-De-De-De-Dum-Dum)"
Side Two
1. "Think About It"
2. "A Waste Of Time"
3. "Champagne And Wine"
4. "Fool For You"
5. "Amen"
Love Man (1969)
Side One
1. "I'm A Changed Man"
2. "(Your Love Has Lifted Me) Higher And Higher"
3. "That's A Good Idea"
4. "I'll Let Nothing Separate Us"
5. "Direct Me"
6. "Love Man"
Side Two
1. "Groovin' Time"
2. "Your Feeling Is Mine"
3. "Got To Get Myself Together"
4. "Free Me"
5. "A Lover's Question"
6. "Look At That Girl"
Tell The Truth (1970)
Side One
1. "Demonstration"
2. "Tell The Truth"
3. "Out Of Sight"
4. "Give Away None Of My Love"
5. "Wholesale Love"
6. "I Got The Will"
Side Two
1. "Johnny's Heartbreak"
2. "Snatch A Little Piece"
3. "Slippin' And Slidin'"
4. "The Match Game"
5. "A Little Time"
6. "Swingin' On A String"
The Singles: 1968-1970
Side One
1. "(Sittin' On) The Dock Of The Bay"
2. "Sweet Lorene"
3. "The Happy Song (Dum-Dum)"
4. "Open The Door"
5. "Hard To Handle"
6. "Amen"
Side Two
1. "I've Got Dreams To Remember"
2. "Nobody's Fault But Mine"
3. "White Christmas"
4. "Merry Christmas, Baby"
5. "Papa's Got A Brand New Bag"
6. "Direct Me"
Side Three
1. "A Lover's Question"
2. "You Made A Man Out Of Me"
3. "Love Man"
4. "Can't Turn You Loose"
5. "Free Me"
6. "(Your Love Has Lifted Me) Higher & Higher"
Side Four
1. "Look At That Girl"
2. "That's A Good Idea"
3. "Demonstration"
4. "Johnny's Heartbreak"
5. "Give Away None Of My Love"
6. "Snatch A Little Piece

Latest posts by Best Classic Bands Staff
(see all)