Sure, there were scary films before. In the 1970s alone, we jumped out of our seats the first time we saw young Linda Blair making the bed bounce and twisting her head around in 1973's The Exorcist. The next year, good ol' Leatherface caused quite a bit of mayhem in The Texas Chainsaw Massacre. And when we saw Jaws in 1975, we refused to go in the water all summer—not even a lake (!)—for fear of winding up in the belly of a shark. And Ridley Scott closed out a memorable decade with his sci-fi great, Aliens.
But in October 1978, we were first introduced to Michael Myers, the silent, mask-wearing stalker, in Halloween. We've never trusted a lone wolf trick-or-treater again.
In the film, masterfully directed by John Carpenter (with a screenplay he co-wrote with Debra Hill), Myers has spent the last 15 years inside Smith's Grove sanitarium under the care of child psychiatrist Dr. Samuel Loomis (played by Donald Pleasance), after brutally murdering his sister when he was 6-years-old. On October 30, 1978, Myers escapes and makes his way back home to Haddonfield, Ill. Dr. Loomis senses that his patient will return to his hometown and follows him there but not before Myers turns a night of tricks and treats into a slashing rampage for the locals, including Laurie Strode, the star-making role for Jamie Lee Curtis.
"I spent eight years trying to reach him," says Dr. Loomis, "and another seven trying to keep him locked up because I realized that what was living behind that boy's eyes was purely, and simply, evil."
Watch the original trailer
Curtis, born November 22, 1958, was just 19 when she made the film, which earned her the nickname of the "Scream Queen." She soon made a series of horror films including many Halloween sequels, as well as Prom Night and The Fog.
Halloween premiered in cinemas and on drive-in screens on October 25, 1978, changing the landscape of horror cinema. It stunned audiences worldwide and has since inspired countless films in the genre.
Hollywood's Variety, missed the point in its review: "After a promising opening, [it] becomes just another maniac-on-the-loose suspenser." Rival trade magazine, The Hollywood Reporter, got it just right. "Carpenter obviously knows the genre well," they wrote, "and he builds a properly terrifying atmosphere through his well-paced direction."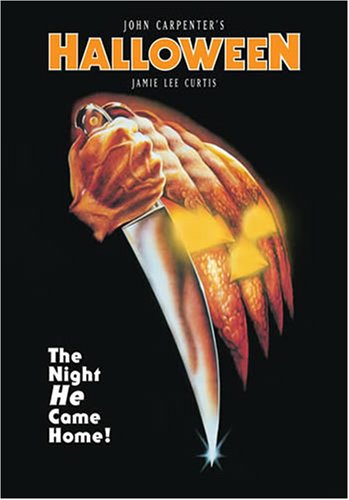 It was made on a shoestring budget… a reported $325,000 and ultimately earned more than $60 million worldwide. (As of October 2022, the franchise has taken in over $773 million at the box-office, including the enormously successful 2021 Halloween Kills. The latest title, also starring Curtis, is 2022's Halloween Ends.)
In 2006, the original was selected by the Library of Congress as one of a select few films to be preserved in the U.S. National Film Registry for its cultural significance.
Carpenter, born January 16, 1948, also composed and performed the score for the film. He told Rolling Stone: "Halloween night. It has never been the theme in a film. My idea was to do an old haunted house film." Well done, sir.
Trick or treat…

Latest posts by Best Classic Bands Staff
(see all)