Donovan on 'Season of the Witch': 'The Spookiness Was Real'
by Dennis Elsas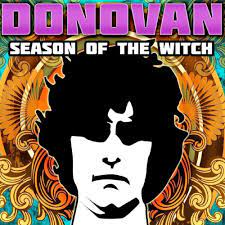 Donovan Phillips Leitch was born in Scotland in 1946 and moved with his family to the outskirts of London when he was 10. With Scottish and English folk music as his early influences, he dropped out of art school to pursue life on the road as a musician. His early success with the acoustic-based songs "Catch the Wind," "Colours" and "Universal Soldier" had some calling him the British Bob Dylan. Joan Baez and Pete Seeger introduced him to American audiences at the 1965 Newport Folk Festival.
Teaming up with successful pop producer Mickie Most, Donovan's records took on a new sound and he had his first #1 hit with "Sunshine Superman" in 1966. It was the same year that he became the first well known British pop star to be busted for possession of marijuana. With the follow-up hit "Mellow Yellow" and its line "electrical banana is gonna be a sudden craze," fueling the myth that smoking dried banana skins could make you high, Donovan was labeled a poster child for the hippie drug culture that had emerged.
Though he would eventually move past that image, it did serve as part of the inspiration for one of his most memorable songs, "Season of the Witch." He talked about it with New York radio legend Dennis Elsas in July 2004 while promoting his latest album, Beat Café.
First, listen to a new version of "Season of the Witch" released by Donovan in time for Halloween 2021
Dennis Elsas: I was walking today in Midtown Manhattan and I thought, Halloween, it's the Season of the Witch. I mean, that is definitive. How did that song come about?
Donovan: I remember being grabbed by two young students of Eton College, after a talk I was giving, and they took me to their dorm. In the dorm were posters all over the wall of big rock guitar players. They locked me in the room and I said, "What do you want?" And they said, "The chords of 'Season of the Witch.'" It was like some contraband or some secret that I had that nobody else knew.
It turned out the two chords go together in a very unusual marriage and the D7#9 second chord, I learned from Bert Jansch. Somebody was there, John Renbourn and another guitar player, in England. When John Renbourn saw me learn these two chords, he said, "You played it 12 hours, nonstop and you wrote the song in the kitchen in this bohemian pad you were in." I couldn't put it down.
Related: We talked to Donovan about his greatest hits
It was about the Season of the Witch. It was about beatniks out to make it rich. It was bohemia infiltrating the popular culture. It was tongue in cheek, but also it was about a darkness that was falling. That darkness was the freedoms that I spoke of, that opened the doors, and the Beats in the '50s who helped us speak what we wanted to speak: Dylan on this side of the world and me and the Beatles on the other side. We could now speak our minds on our records.
That darkness was coming down to close it down, and "Season of the Witch" was prophetic in a way, because I was the first to be busted for smoking hash, and that darkness fell. And it was like a Season of the Witch. We were in 1966, so it was serious stuff. And that spookiness in the record was real.
Elsas is one of the most respected album rock air personalities in the nation, and recently celebrated his 51st year on New York radio. From a quarter-century-plus stint as a DJ and music director at WNEW-FM to his endeavors today as afternoon drive host at the esteemed WFUV and as co-host of the weekly Beatles talk and "call-in" show, "Fab Fourum," heard exclusively on the Beatles Sirius/XM Channel (18) plus weekend shifts on Sirius/XM's Classic Vinyl Channel (26), he has earned the regard of listeners and artists alike.
Listen to Elsas' interview with Donovan here.

Latest posts by Dennis Elsas
(see all)