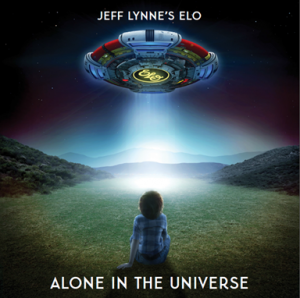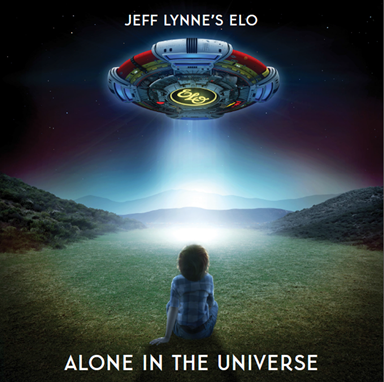 Update: Hear Jeff Lynne's interview with BBC Radio's Chris Evans from Friday morning in which he confirms plans for a 2016 tour, below.  We've also got the album's track listing and order info.
Electric Light Orchestra fans didn't have to hold on tight after all. Ever since Jeff Lynne's surprise announcement on September 10 that he was formally reviving ELO with a new worldwide deal with Columbia Records, fans wondered when the first new ELO music in a decade would appear.
And just like that, a beautiful, new Beatles-esque song "When I Was A Boy," appeared Thursday – the first single from Alone In The Universe, coming November 13th.  Available for pre-order now on CD and vinyl (see below).
In his BBC Radio interview, Lynne coyly revealed: "We're gonna do some dates. I think it's like April (or May)." Click below to hear.
Track listing for Alone In The Universe:
1. "When I Was A Boy"
2. "Love And Rain"
3. "Dirty To The Bone"
4. "When The Night Comes"
5. "The Sun Will Shine On You"
6. "Ain't It A Drag"
7. "All My Life"
8. "I'm Leaving You"
9. "One Step At A Time"
10. "Alone In The Universe"
11. "Fault Line" (Bonus Track)
12. "Blue" (Bonus Track)
In Thursday's announcement, Lynne said: "Music is such a powerful force in our lives. A good song can make people feel much less alone in this universe. And trying to create one of those songs somehow makes me feel less alone too. My whole life — from being that kid with a dream in Birmingham right until today — proves how much music can do."
Ashley Newton, President of Columbia Records, said: "Jeff Lynne is a total master of his craft and Alone In The Universe is pure pop perfection. We are thrilled to be involved in the return of ELO and enormously proud to be releasing this contemporary classic on Columbia Records."
Last September, Jeff Lynne's ELO performed at London's Hyde Park – his first public concert in decades – and the event's 50,000 tickets sold-out quickly. The DVD of that concert was released on September 11th via Eagle Rock Entertainment.
ELO enjoyed a tremendous run with seven top-selling albums from 1974-1981 including A New World Record and Face The Music. The group's biggest hits include such classic rock standards as "Evil Woman," "Telephone Line," "Strange Magic," "Sweet Talkin' Woman" and "Don't Bring Me Down."

Latest posts by Best Classic Bands Staff
(see all)