Mar. 12, 2018: Nokie Edwards, Ventures Lead Guitarist, Dies
by Jeff Tamarkin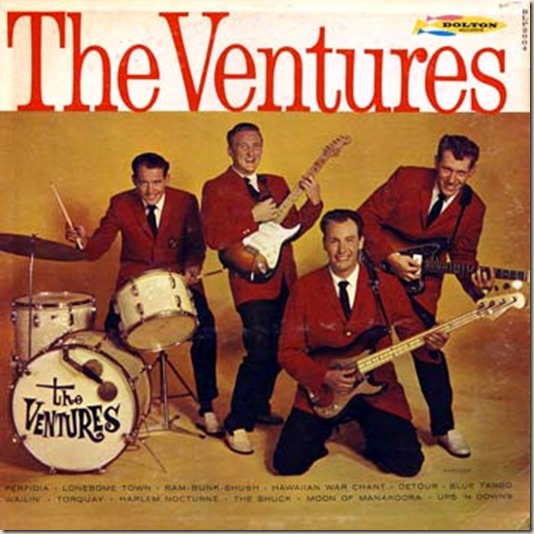 Rock and Roll Hall of Fame inductee Nokie Edwards, lead guitarist for the highly influential instrumental rock group The Ventures, died on March 12, 2018, in Yuma, Ariz., following complications from hip surgery. He was 82.
A post on the band's website read, "We have been advised that Nokie Edwards passed away today after several months battling an infection after hip surgery this past December. The Ventures family feels this loss very deeply: Nokie has been part of the Ventures' history for almost 6 decades and helped to shape the early Ventures' sound and the success of their career. He was an innovator and one of the greats on guitar, so much so that he influenced many young players over the course of his career. Born in Lahoma, Oklahoma with Cherokee roots, he found his way to Washington State where he met Bob Bogle and Don Wilson and began playing and recording with The Ventures, initially on bass (because Bob was playing lead) but eventually taking over as lead guitarist for the group. Nokie's many accomplishments include composing and his song, 'Ginza Lights (Futari No Ginza),' was one of the first of the Ventures' Japanese hits – and is still a standard in Japan. Our thoughts and prayers go out to Nokie's wife, Judy, and all family members, friends and fans. His music will live on."
The Rock Hall's website called the Ventures "the most successful instrumental combo in rock and roll history."
Born May 9, 1935, in the above-named Oklahoma town, Nole Floyd "Nokie" Edwards began playing stringed instruments at age 5. As noted in the statement, his family moved to Washington and Edwards began playing in country music bands after serving in the Army Reserves. The Ventures (at first going by the names the Impacts and the Versatones) were formed in Tacoma, Wash., in 1958 with Don Wilson on rhythm guitar, Bob Bogle on lead guitar (who later became the bass player) and drummer George Babbitt. Edwards was hired first as the band's bassist, then became the lead guitarist.
Bogle, Edwards, Wilson and drummer Skip Moore recorded "Walk—Don't Run," in 1960, and it was released first on the local Blue Horizon label before being picked up by the nationally distributed Dolton label and rocketing to #2 nationally. Howie Johnson took over the drum stool with the departure of Babbitt and the lineup of Bogle, Edwards, Johnson and Wilson remained together until 1962. At that point Mel Taylor became the band's drummer, a position he held until 1996.
Watch them perform "Walk–Don't Run"
The Ventures placed a total of 25 singles on the Billboard chart into 1971, including the #8 "Walk—Don't Run '64" and the #4 "Hawaii Five-O," the theme from the same-named TV show, in 1969. In addition to their singles success, however, the Ventures were major album sellers at a time when that format was only just catching on among rock fans. Their 1960 debut Walk Don't Run reached #11 and their 1963 title The Ventures Play Telstar, The Lonely Bull peaked at #8. In all they placed 38 albums on the Billboard LP chart into 1972.
The group was enormously influential, inspiring countless would-be guitarists to pick up the instrument and imitate Edwards' style. And the Ventures were huge overseas as well, particularly in Japan—it is said they outsold the Beatles there and they released numerous albums solely for the Japanese market. |
By covering current hits in their surf-related instrumental style, and by keeping up with trends (they recorded albums dedicated to Batman, space, surfing and even psychedelic music), the Ventures and maintained found a devoted audience.
Related: 10 great 1960s instrumental hits
The lineup of Wilson, Bogle, Edwards and Taylor continued until 1968, when Edwards left to go solo and was replaced on lead guitar by Gerry McGee. Edwards then returned in 1972 and stayed until 1984, when McGee again took his place. Wilson died in 2022.
Watch a video of the Ventures' "Hawaii Five-O" theme
Related: The Ventures are the subject of their first documentary

Latest posts by Jeff Tamarkin
(see all)