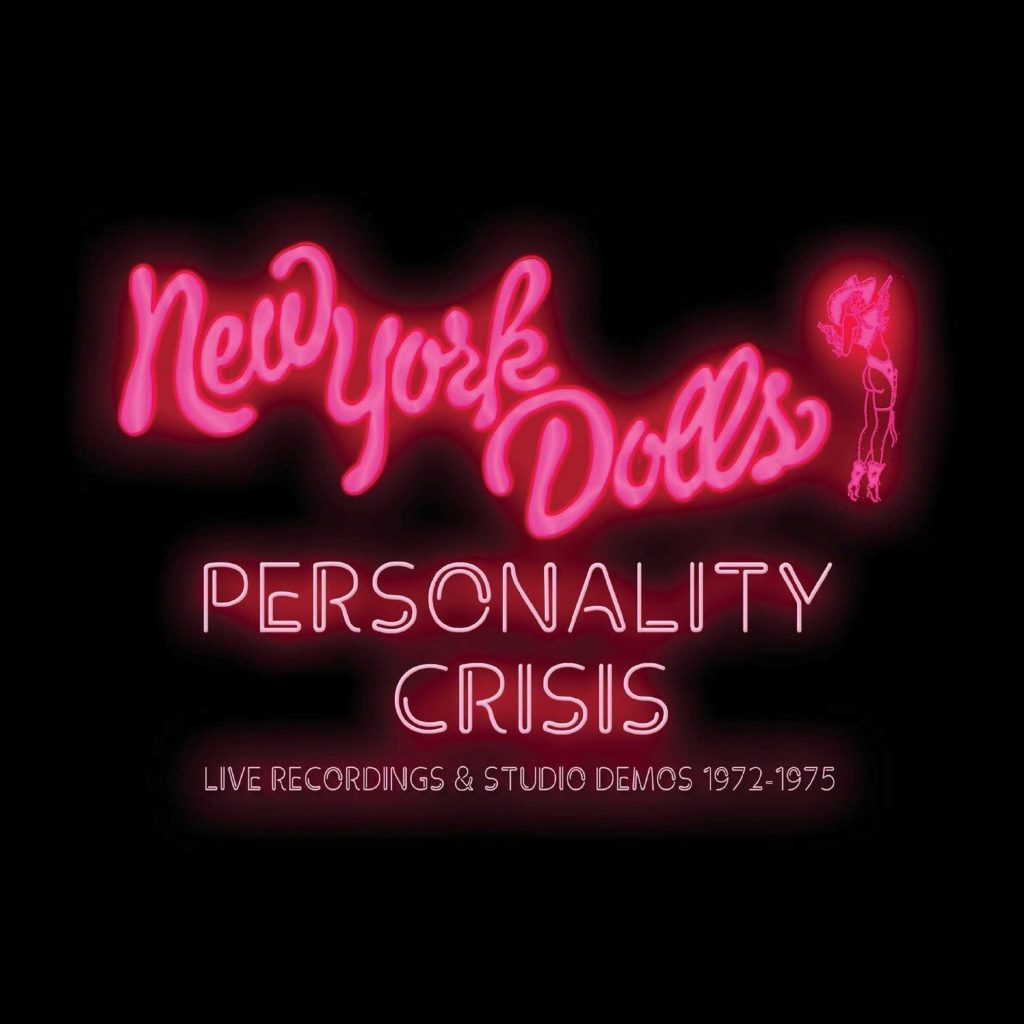 A new boxed set of New York Dolls material, Personality Crisis: Live Recordings & Studio Demos 1972-1975, collects a trio of pre-Mercury Records demo sessions and other rarities from the influential band. The set will be released by Cherry Red Records in the U.K. on April 27.
Pre-order the set here.
According to a press release, "It is commonly perceived that the essence of the New York Dolls was never satisfactorily captured by their two albums for the Mercury label, both of which many believe suffered from unsympathetic production. Fortunately for us all, the band's untutored rawness, unencumbered strength of purpose and unique vision is better served by the recordings that are gathered together for the first time on Personality Crisis: Live Recordings & Studio Demos 1972-1975. A trio of pre-Mercury demo sessions—arguably as close as the Dolls ever got to nailing their sound in the cold austerity of the recording studio—are joined by a collection of incendiary live shows (including two American radio broadcasts) that, despite the variable sound quality, capture their unfettered outrageousness and life-affirming vitality. This package serves, then, as an alternative view of one of the few genuinely essential rock 'n' roll bands to emerge from the early Seventies wastelands."
Related: Looking back at the Dolls' debut album
The package includes early versions of New York Dolls classics such as "Jet Boy," "Trash," "Personality Crisis," "Puss 'n' Boots," "Stranded In The Jungle," "Babylon," "Who Are The Mystery Girls," "Bad Girl" and "Pills."
All material contained within this package has been specially remastered for this release.
Track Listing
Disc One:
Studio Demos 72-73
Blue Rock Studio NYC, June '72
1. Bad Girl
2. Looking For A Kiss
3. Don't Start Me Talkin'
4. Don't Mess With Cupid
5. Human Being
6. Personality Crisis
7. Pills
8. Jet Boy
9. Frankenstein
Escape Studios, UK, Oct '72
10. Personality Crisis
11. Looking For A Kiss
12. Bad Girl
13. Subway Train
Planet Studios, NYC, March '73
14. Seven Day Weekend
15. Frankenstein
16. Who Are The Mystery Girls?
17. (There's Gonna Be A) Showdown
18. Back In The Usa
Disc Two:
Studio Demos 1973
Planet Studios, NYC, March '73
1. Endless Party
2. Jet Boy
3. It's Too Late (False Start)
4. It's Too Late (Full Version)
5. Bad Detective
6. Lonely Planet Boy
7. Subway Train
8. Private World
9. Trash
10. Human Being
11. Don't Start Me Talkin'
12. Hoochie Coochie Man
13. (Give Him A) Great Big Kiss
14. Vietnamese Baby
15. Babylon
16. Bad Girl
17. Pills
18. Personality Crisis
1. Houdini
2. One Night In Texas
3. After The Storm
4. Percy The Pimp
5. Running Wild
6. All In Your Mind
7. Suicide
Bonus Tracks
8. Feel Like I've Been Here Before
Del Bromham
9. Who Do You Love
10. The Best Friend I Ever Had
A & B-Sides Of Single – Released In 1979
Disc Three:
Live
Paris / Detroit / Long Island
Bataclan, Paris, 23 Dec '73
1. Trash
2. The Milk Man
3. Puss'n'boots
Michigan Palace, Detroit, 31 Dec '73
4. Intro/Personality Crisis
5. Bad Girl
6. Looking For A Kiss
7. Who Are The Mystery Girls?
8. Stranded In The Jungle
9. Human Being
10. Pills
11. Trash
12. The Milk Man
13. Puss'n'boots
14. Babylon
15. Lone Star Queen
16. Don't Start Me Talkin'
My Father's Place, Long Island, 14 April '74 (Wbab Radio Broadcast)
17. Puss'n'boots
18. Looking For A Kiss
19. Trash
20. Stranded In The Jungle
21. Personality Crisis
22. Bad Girl
23. Pills
Disc Four:
Live 1974
Long Island / Vancouver / Dallas
My Father's Place, Long Island, 14 April '74 (Wbab Radio Broadcast)
1. Hoochie Coochie Man
2. It's Too Late
3. Chatterbox
4. Human Being Vancouver, Circa June/July '74
5. Hoochie Coochie Man
6. (Give Him A) Great Big Kiss
7. Don't Mess With Cupid
8. Chatterbox
9. Babylon
10. (There's Gonna Be A) Showdown
11. Who Are The Mystery Girls?
12. Jet Boy
13. Human Being
Dallas, Sept '74
14. Intro/Personality Crisis
15. Vietnamese Baby
16. Bad Girl
17. (Give Him A) Great Big Kiss
Disc Five:
Live 1974
Dallas '74 / NYC '75
Dallas, Sept '74 (Disc Five)
1. Pills
2. Frankenstein
3. Lone Star Queen
4. Don't Start Me Talkin'
New York, 1975
5. Red Patent Leather
6. On Fire
7. Something Else
8. Daddy Rolling Stone
9. Ain't Got No Home/Dizzy Miss Lizzy
10. Girls Girls Girls
11. Down Down Downtown
12. Pirate Love
13. Pills
14. Teenage News
15.Personality Crisis/Looking For A Kiss
16. Stranded In The Jungle
Watch the New York Dolls perform "Pills" and "Trash" live in 1973

Latest posts by Best Classic Bands Staff
(see all)