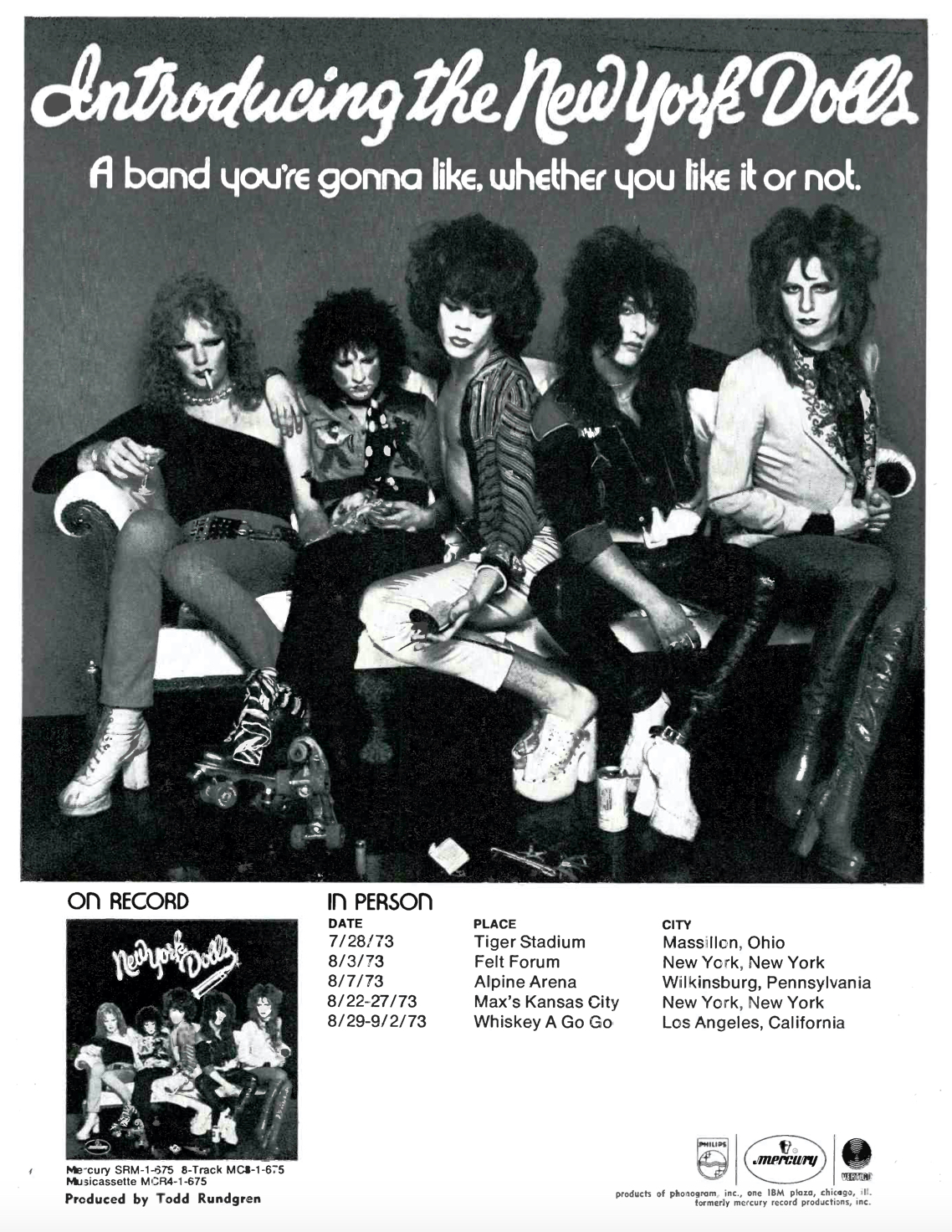 Declared both the Best New Band and Worst Band in Creem magazine's year-end poll, the New York Dolls were nothing if not polarizing when their self-titled first album hit the streets. Back then they were occasionally crossdressing Lower Manhattan gutter punks that – despite packing such NYC venues as the Mercer Arts Center and Max's Kansas City – only reached #116 on the Billboard Album Chart with their debut, released July 27, 1973.
Today, they are hailed as innovators and visionaries. What a difference time can sometimes make.
The album was recorded in eight days at New York City's Record Plant and mixed in half a day. During the process there was no love lost between the band and the album's producer Todd Rundgren, who disdained the quintet as amateurish. Their aura of danger, recklessness, flamboyance and decadence was borne out by a trail of death: original drummer Billy Murcia died in 1972 from an overdose; guitarist Johnny Thunders (a longtime heroin addict) in 1991 from indeterminate causes that could have been ill health, drugs and/or foul play; drummer Jerry Nolan the next year from chronic health problems.
Now considered proto-punks, the Dolls were a bridge from glam and early hard rock to punk (the band's late-in-career manager was Malcolm McLaren, who went on manage the Sex Pistols). They were an inspiration for Kiss and such later metals bands as Motley Crüe, Guns N' Roses and Hanoi Rocks. Today such album tracks as "Personality Crisis," "Trash," "Looking for a Kiss" and "Jet Boy" are regarded by some as rock classics, and the LP is seen as one of rock music's great debut records.
HBO's since-canceled series Vinyl prominently used the Dolls in the series' pilot with star Bobby Cannavale as record label president Richie Finestra attending one of the band's performances at the Mercer Arts Center. The show took a few liberties…
In 2004 original members Johansen, Syl Sylvain and Arthur Kane reunited to play London's Meltdown festival, invited by that year's curator, Morrisey.
Kane died later that year from leukemia. Johansen and Sylvain released a new Dolls album in 2006, and another in 2009 that was produced by – of all people – Rundgren.
Since 1987, Johansen has also performed as Buster Poindexter.  He was born January 9, 1950 and turned 70 in 2020. Sylvain died on January 13, 2021.
Martin Scorsese, one of the creators of Vinyl, directed a 2023 documentary, Personality Crisis, on Dolls' frontman Johansen for Showtime.

Latest posts by Best Classic Bands Staff
(see all)