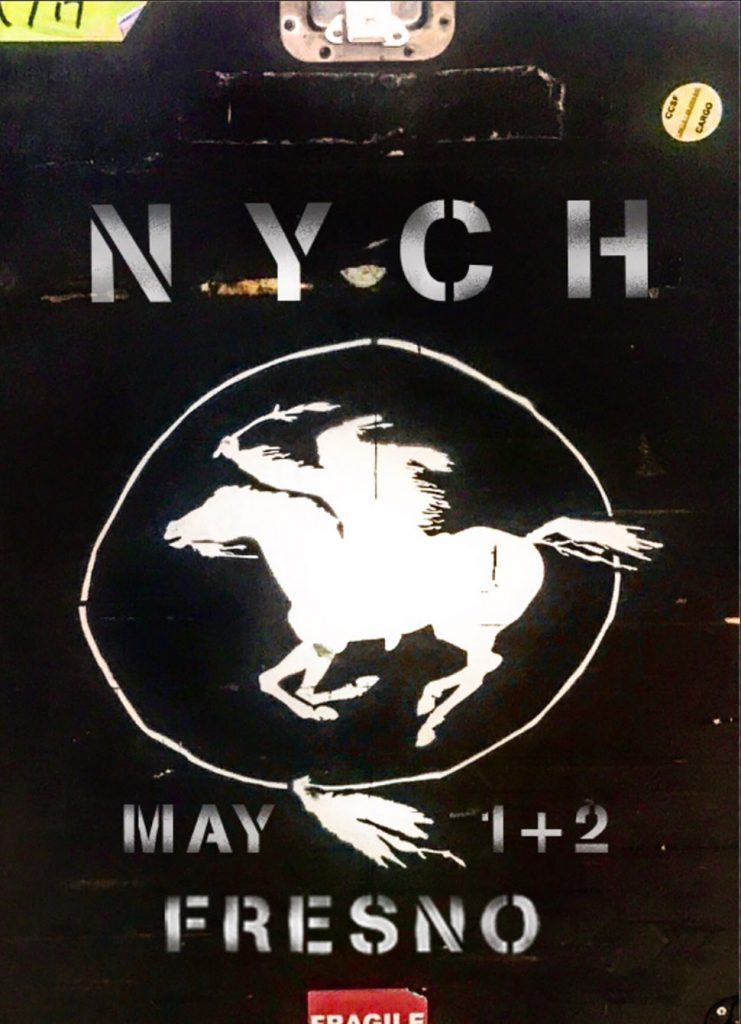 For the first time since 2014, Neil Young will play live music with Crazy Horse. A brief announcement on the Neil Young Archive's web page shows a graphic reading "NYCH May 1 +2 Fresno," followed by the details: "Fresno. May 1 and 2. First time in a long time. Live on stage. No rehearsal."
[More dates have been added; see below.]
That April 23 news got even better the next day. On April 24, a fan, @LBIRobert, tweeted at Crazy Horse alum Nils Lofgren with the news about the dates, noting "I wish you could jump back in." To which Lofgren replied: "The great news is I am jumping back in with #CrazyHorse @Neilyoung. I will be there. Beyond honored. Nothing like playing with old friends."
In a follow-up tweet, Lofgren confirmed that he was specifically referring to those Fresno dates. (See below.)
Lofgren joins Billy Talbot (bass) and Ralph Molina (drums).
Young's basic information is followed by a link to pre-sale tickets, then informs visitors that, unfortunately, said pre-sale is already over and that the public ticket sale begins today (April 24), at noon Pacific Time.
Lofgren's first tweet on the subject on April 24…
The great news is I am jumping back in with #CrazyHorse @Neilyoung I will be there . Beyond honored. Nothing like playing with old friends. A friend just reminded me, at this age you can't coast. https://t.co/JO9CZZFzi5

— Nils Lofgren (@nilslofgren) April 24, 2018
And the follow-up…
Yes I will be in Fresno with Neil and Crazy Horse. https://t.co/E8gkKUAkXn

— Nils Lofgren (@nilslofgren) April 24, 2018
Young last performed with his longtime bandmates in Reykjavík, Iceland, in July 2014. Prior to that, he had toured in 2012-13 with the band, which at the time consisted of bassist Billy Talbot, drummer Ralph Molina, multi-instrumentalist Frank "Poncho" Sampedro and vocalists Dorene Carter and YaDonna West. In 2014, Talbot suffered a stroke and was replaced for that year's dates with Rick Rosas. Rosas himself then passed away in November 2014.
Beyond Lofgren, the Crazy Horse lineup for the two upcoming dates has not yet been announced. Nor has Young indicated whether these two California engagements will be the only ones reuniting him with Crazy Horse or whether fans might expect a full tour following them.
Since 2015, Young has used the group Promise of the Real as his backing band. That group includes Willie Nelson's son Lukas Nelson (vocals/guitar), plus Anthony LoGerfo (drums), Corey McCormick (bass) and Tato Melgar (percussion). Together they have released two studio albums with Young—The Monsanto Years (2015) and The Visitor (2017)—as well as a soundtrack album, Paradox (2018), and a live album, Earth (2016).
The most recent album release by Young with Crazy Horse was 2012's Psychedelic Pill.
Neil Young and Crazy Horse 2018 Dates
May 01 – Fresno, CA – Warnors Theater
May 02 – Fresno, CA – Warnors Theater
May 03 – Fresno, CA – Warnors Theater
May 05 – Bakersfield, CA – Fox Theater
May 06 – Bakersfield, CA – Fox Theater
Other Neil Young Dates
Jun 23 – Pasadena, CA – Arroyo Seco Weekend (With Promise of the Real)
Jul 06 – Quebec, Canada – Quebec Summer Festival (Band not confirmed)
Sep 23 – Saratoga, NY – SPAC (Outlaw Music Festival) (With Promise of the Real)
Young's Roxy – Tonight's The Night Live around the world, featuring the first public performances [on Sept. 20-22, 1973] of many of the songs that would make up his seminal 1975 album Tonight's The Night, has just been released.
On April 21, Young took part in another reunion gig, this time with Stephen Stills. The two ex-Buffalo Springfield/CSN&Y bandmates teamed up for Stills' Light Up the Blues benefit concert in Los Angeles, where they were joined by the Heartbreakers, in their first appearance together since the death of Tom Petty last year. For more about that show, go here.
Watch Neil Young and Crazy Horse perform "Down By the River" in 1994

Latest posts by Best Classic Bands Staff
(see all)