On October 16, Neil Young announced the upcoming release of Archives Volume II: 1972-1976, the second installment in the comprehensive, chronological survey of his legendary body of work. The enormous box set, with dozens of previously unreleased recordings, will be available on November 20 in a very limited edition. So limited, in fact, that just two days later, and despite its hefty $249.98 price, Young announced that it had already sold out. The musician has a Plan B, though. He says that a second edition is being planned that will be "unique" and indicates he'll have news about it "soon."
Even better, notes Young, "we are reflecting on another edition of NYA VOLUME I, (with the blu ray discs)." For the uninitiated, 2009's Archives Volume I: 1963-1972 offered "an unprecedented look at Young's early work, shedding light on the road he traveled during his time with The Squires and Buffalo Springfield, as well as exploring iconic LPs like Harvest." It's been long out-of-print.
And that's not all… in the same post, Young writes, "we are well into production on NYA Volume III."
The long-anticipated Volume II focuses on an especially prolific and intense era of Young's career during which he—often joined by Crazy Horse—released some of his heaviest and most visceral albums, including Time Fades Away, On the Beach, Tonight's the Night, Zuma, and, with Stephen Stills, Long May You Run. The recently released Homegrown from 1975 is part of this history as well.
Archives Volume II: 1972-1976 was available for pre-order, exclusively from The Greedy Hand Store here. Watch the official trailer and unboxing videos below.
Listen to the previously unreleased "Come Along and Say You Will"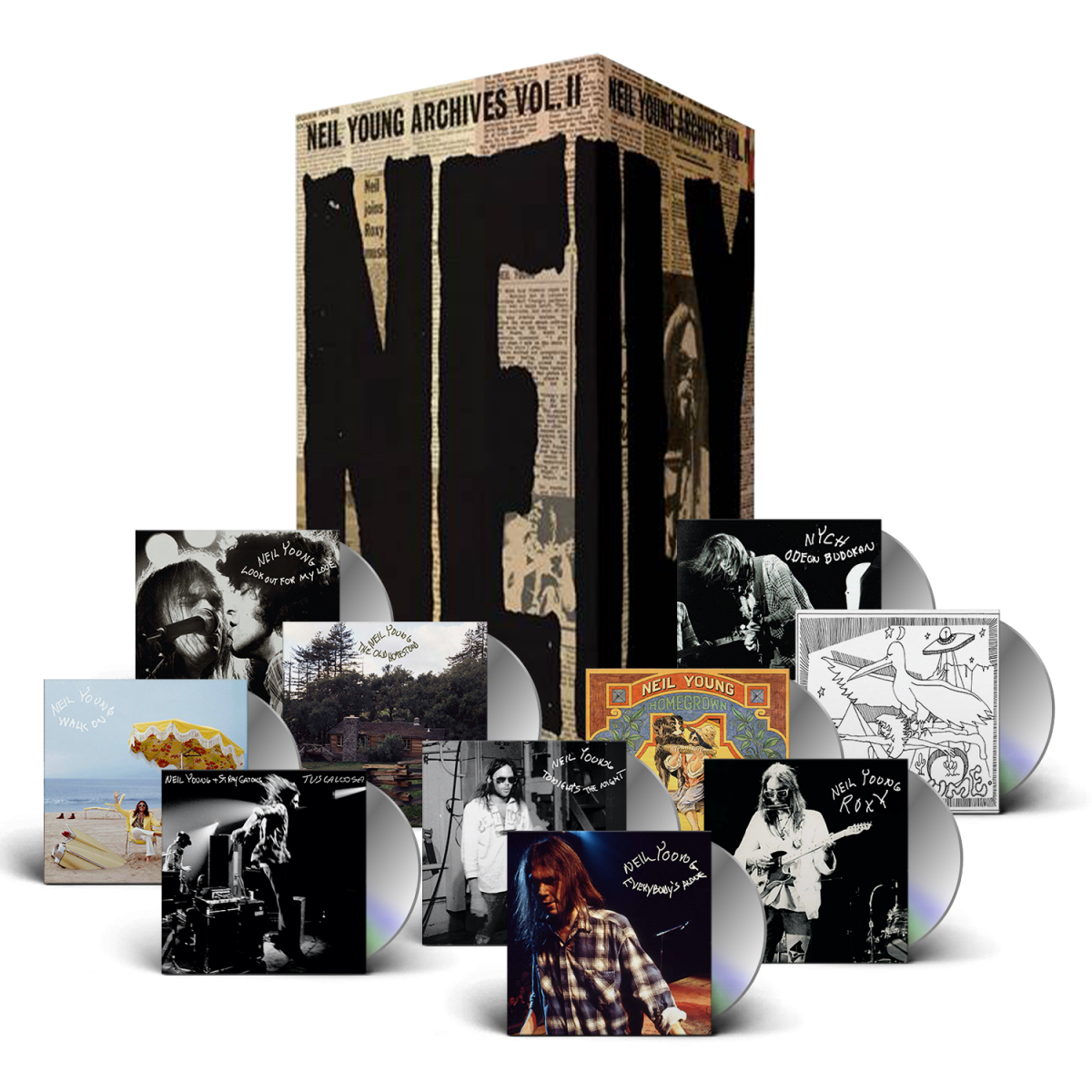 The deluxe edition box set of Archives Volume II: 1972-1976 contains 10 CDs with 131 tracks, including 12 songs that have never been released in any form, and 49 new unreleased versions of Young's classics—studio and live recordings both solo and with Crazy Horse (Odeon Budokan), the Stray Gators (Tuscaloosa), the Santa Monica Flyers (Roxy: Tonight's the Night Live), Crosby, Stills, Nash and Young, and The Stills Young Band. It also includes a 252-page hardbound book with hundreds of previously unseen photographs, additional archival materials, a partial tape database, a detailed description of the music, a fold-out timeline of the period. In addition, each purchase includes the hi-res 192/24 digital files of all 131 tracks, as well as a free one-year membership to the online Neil Young Archives. The box also includes a massive poster. Box sets are strictly limited worldwide to 3,000 units.
Watch the official unboxing video
From the Oct. 16 announcement: Archives Volume II: 1972-1976 offers extensive documentation of a period in Young's career that saw his music take heavier turns in both tone and subject matter. The records he crafted during this time, including the haunting "Ditch Trilogy"—Time Fades Away, On the Beach, and Tonight's the Night—are dense with darkness and wildness also reflected in Young's electrifying live shows from the era.
Watch the official trailer
Archives Volume II: 1972-1976 will be available digitally on Neil Young Archives, the home of Young's virtual daily newspaper, The Times Contrarian, and The Hearse Theater, which shows rare footage from his career and live streamed performances.
Archives Volume II: 1972-1976 Track Listing
* = previously unreleased song
** = new unreleased version
Disc 1 (1972-1973)
Everybody's Alone
Letter From 'Nam *
Monday Morning **
The Bridge **
Time Fades Away **
Come Along and Say You Will *
Goodbye Christians on the Shore *
Last Trip to Tulsa
The Loner **
Sweet Joni *
Yonder Stands the Sinner
L.A. (Story)
L.A. **
Human Highway **
Disc 2 (1973)
Tuscaloosa
Here We Are in the Years
After the Gold Rush
Out on the Weekend
Harvest
Old Man
Heart of Gold
Time Fades Away
Lookout Joe
New Mama
Alabama
Don't Be Denied
Disc 3 (1973)
Tonight's the Night
Speakin' Out Jam **
Everybody's Alone **
Tired Eyes
Tonight's the Night
Mellow My Mind
World on a String
Speakin' Out
Raised on Robbery (Joni Mitchell song) *
Roll Another Number
New Mama
Albuquerque
Tonight's the Night Part II
Disc 4 (1973)
Roxy: Tonight's the Night Live
Tonight's the Night
Mellow My Mind
World on a String
Speakin' Out
Albuquerque
New Mama
Roll Another Number
Tired Eyes
Tonight's the Night Part II
Walk On
The Losing End **
Disc 5 (1974)
Walk On
Winterlong
Walk On
Bad Fog of Loneliness **
Borrowed Tune
Traces #
For the Turnstiles
Ambulance Blues
Motion Pictures
On the Beach
Revolution Blues
Vampire Blues
Greensleeves *
Disc 6 (1974)
The Old Homestead
Love/Art Blues **
Through My Sails **
Homefires *
Pardon My Heart **
Hawaiian Sunrise **
LA Girls and Ocean Boys *
Pushed It Over the End **
On the Beach **
Vacancy **
One More Sign **
Frozen Man *
Give Me Strength **
Bad News Comes to Town **
Changing Highways **
Love/Art Blues **
The Old Homestead
Daughters *
Deep Forbidden Lake
Love/Art Blues **
Disc 7 (1974)
Homegrown
Separate Ways
Try
Mexico
Love Is a Rose
Homegrown
Florida
Kansas
We Don't Smoke It No More
White Line
Vacancy
Little Wing
Star of Bethlehem
Disc 8 (1975)
Dume
Ride My Llama **
Cortez the Killer
Don't Cry No Tears
Born to Run *
Barstool Blues
Danger Bird
Stupid Girl
Kansas **
Powderfinger **
Hawaii **
Drive Back
Lookin' for a Love
Pardon My Heart
Too Far Gone **
Pocahontas **
No One Seems to Know **
Disc 9 (1976)
Look Out for My Love
Like a Hurricane
Lotta Love
Lookin' for a Love
Separate Ways **
Let It Shine **
Long May You Run
Fontainebleau
Traces **
Mellow My Mind **
Midnight on the Bay **
Stringman **
Mediterranean *
Ocean Girl **
Midnight on the Bay **
Human Highway **
Disc 10 (1976)
Odeon Budokan
The Old Laughing Lady **
After the Gold Rush **
Too Far Gone **
Old Man **
Stringman **
Don't Cry No Tears **
Cowgirl in the Sand **
Lotta Love **
Drive Back **
Cortez the Killer **

Latest posts by Best Classic Bands Staff
(see all)