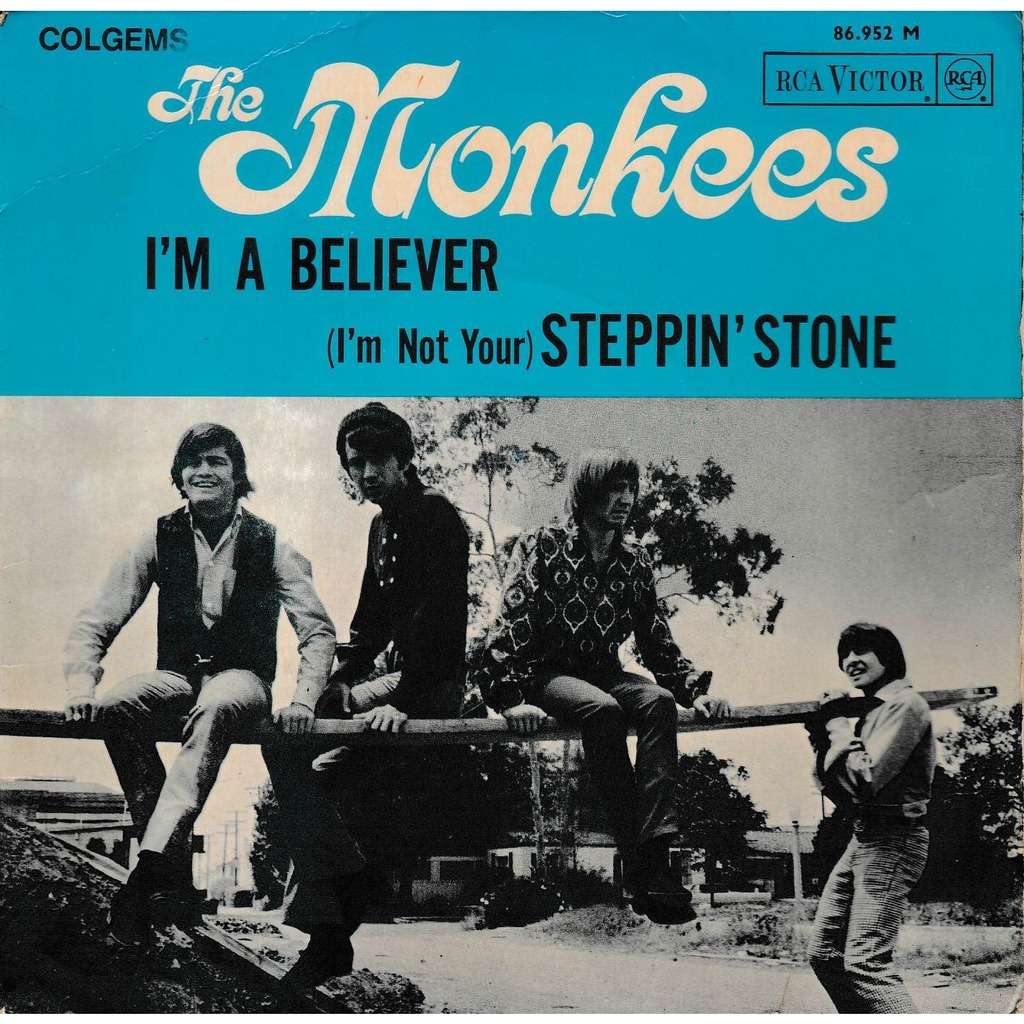 It became the second chart-topping single for a band that, initially, did not really exist. On the other hand, little did producers Bob Rafelson and Bert Schneider realize that when they auditioned and assembled four talents to play a rock 'n' roll band a la The Beatles in a TV series, that The Monkees would end up becoming a band in their own right.
The first Monkees single, "Last Train to Clarksville," written and produced by Tommy Boyce and Bobby Hart, was released on August 16, 1966 just prior to the September 12 debut of the TV series on NBC. It reached #1 on the Hot 100 on November 5. The album it was on, The Monkees, came out on October 10 and also went to #1, where it remained for 13 weeks.
Initial sessions for "I'm A Believer," written and previously recorded by Neil Diamond, were on this day in 1966 in New York City.  Guitarist Al Gorgoni (who played on "The Sound of Silence" and later on "Brown Eyed Girl") played on the session. Others include Sal DiTroia on rhythm guitar, Diamond himself on acoustic guitar, Russ Savakus on bass, George Butcher on piano, Stan Free on Vox Continental organ, George Devens on percussion, and Buddy Saltzman on drums.
The track was produced by Jeff Barry. Vocals were done in a separate session on October 23.
Released on Nov. 12, it hit #1 on Dec. 31. With advance orders of over one million copies, it was certified gold within two days, and stayed at #1 for seven weeks, and became the the best-selling record of 1967. Its success helped propel the More of The Monkees album to an 18-week run at #1 on the Top 200.
The single's B-side was the catchy "(I'm Not Your) Steppin' Stone," another Boyce-Hart track with lead vocal by Dolenz, and it would have been a logical choice to be an A-side. Many Top 40 stations played it in December and "Steppin' Stone" actually charted.
If you're a new Best Classic Bands reader, we'd be grateful if you would Like our Facebook page and/or bookmark our Home page.
The four members of The Monkees – Dolenz, Davy Jones, Michael Nesmith and Peter Tork – had begun working together as musicians using the musical equipment on the set as they waited in between shooting scenes for the show. The success of their records led to a tour by the band that began in January 1967 and was greeted by their young fans with a fervor that resembled Beatlemania. They ended up becoming the top selling group of '67, outpacing even The Beatles and Rolling Stones.
Related: Here we come… Our look back at the Monkees' incredible first year
Eventually the four Monkees gained more control over the making of their music, and their popularity as a musical act exceeded that of the show. In the mid 1990s the members began to tour in various configurations, drawing crowds that underscored how they had become one of the most popular musical acts of the 1960s.
Related: 16 classic double-sided singles of the '60s

Latest posts by Best Classic Bands Staff
(see all)