After being delayed several times, on Sept. 10, 2021, Micky Dolenz and Michael Nesmith finally began what was billed as the Monkees' Farewell Tour. The run was supposed to begin in April 2020 but the shows were postponed – twice – due to the pandemic. The 2021 tour, with more than three dozen dates, continued into November, and featured "all the hits, deep cuts, and fan favorites." At the opening night concert, Dolenz and Nesmith played 31 songs including such classics as "Last Train to Clarksville," "Daydream Believer," and "Pleasant Valley Sunday," along with such LP cuts as "Sweet Young Thing" and "Papa Gene's Blues." Watch several performances from the 2021 tour below.
The two remaining members of the famed pop group toured together in recent years, and released an album in 2020, The Monkees – The Mike & Micky Show Live, a 24-track collection recorded in March 2019.
When it was originally booked for 2020, the tour was billed as "A Night of Magic Music & Memories." It was later changed to "The Monkees Farewell Tour with Michael Nesmith and Micky Dolenz."
The pair wore their trademark headwear: a fedora for Dolenz, and wool hat for Nesmith.
The following clips are from the 2021 tour's second performance, on Sept. 11 at the Moore Theatre in Seattle.
Watch Dolenz sing Nesmith's "Mary, Mary," which appeared on More of the Monkees
Watch Dolenz sing his 1967 song, "Randy Scouse Git"
Watch Nesmith sing his song "Circle Sky," which closed the evening's first set
Here are "The Girl I Knew Somewhere" and "(I'm Not Your) Steppin' Stone"
Related: Our detailed look at the Monkees' incredible first year
Watch them perform "Daydream Believer" and "Pleasant Valley Sunday" to close the main set on Sept. 11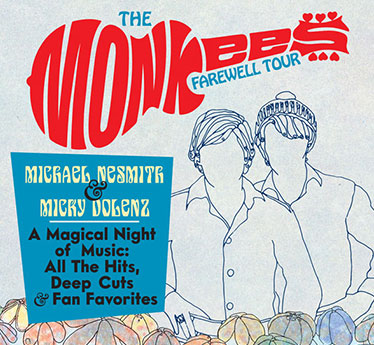 Dolenz, who had turned 76 on March 8, released a new album in 2021, his first new solo studio effort in nine years, comprised entirely of songs Nesmith wrote throughout his career. Dolenz Sings Nesmith, produced by Nesmith's son, Christian Nesmith, was from 7a Records.
Nesmith, who turned 78 on December 30, 2020, was the subject of a recent release, Different Drum: The Lost RCA Victor Recordings, with 22 tracks drawn from the vaults.
Thanks to issaquahwa for the videos.
On Dec. 10, 2021, exactly three months after the tour began, Nesmith died from a heart ailment.
Related: Listings for 100s of classic rock tours

Latest posts by Best Classic Bands Staff
(see all)