If he had done nothing else but serve as David Bowie's foil in the Spiders from Mars, Mick Ronson would still be deserving of high praise and a prominent spot in the rock history books. But he also served a similar role for several years with Ian Hunter, the former Mott the Hoople frontman, and worked with Americans Lou Reed, Bob Dylan and John Mellencamp, as well as many other prominent names.
He's most often seen as a shooting star of the glam era, but his fellow musicians knew him as a ceaselessly inventive and versatile guitarist who could adapt to a wide variety of situations. In addition to all of that, Ronson recorded as a solo artist and as a producer/arranger/songwriter. He was, first and foremost, about the music.
"I go to the venue, put on my makeup, play my guitar, take my makeup off and go home," Ronson once said when asked about his role as Bowie's androgynous and indispensable sidekick.
In return, when Ronson died of liver cancer on April 29, 1993, Bowie said, "Of all the early '70s guitar players, Mick was probably one of the most influential and profound, and I miss him a lot."
Related: Def Leppard's Joe Elliott on Mott the Hoople
He was born Michael Ronson in Kingston Upon Hull, England, on May 26, 1946, and raised a Mormon. He took up violin and piano, then guitar, and joined his first band in his teens, playing in several different groups that failed to find significant success. In 1970 he came to the attention of Bowie, whose own career was just beginning to take off, and joined his backing group, then known as the Rats, then the Hype.
Ronson played on Bowie's The Man Who Sold the World and Hunky Dory albums, and by the time they started on 1972's The Rise and Fall of Ziggy Stardust and the Spiders from Mars, with the band having taken on the name Spiders From Mars as its own, Ronson's role had become more vital. In addition to lead guitar he provided string arrangements and played other instruments, and when the show went out on the road, Ronson—with his dyed blond hair and eyeliner—proved the perfect visual complement to Bowie's own outrageously unique character.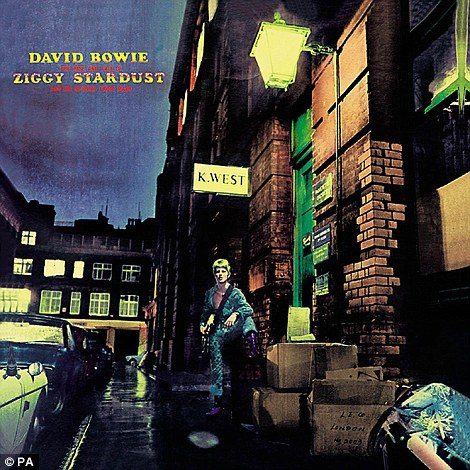 Related: Our Album Rewind of The Rise and Fall of Ziggy Stardust and the Spiders from Mars
The photos of Bowie on his knees before Ronson, feigning a sexual act, are about as famous as any in the rock music canon. Bowie later said, "As a rock duo, I thought we were every bit as good as Mick and Keith or Axl and Slash. Ziggy and Mick were the personification of that rock n roll dualism."
Ronson also played on Bowie's Aladdin Sane and Pin Ups albums but a mutual restlessness took him in other directions in 1973. In 1974, he released his first solo album, Slaughter on 10th Avenue, which reached #9 in the U.K. but only #156 in the U.S. His second solo album, Play Don't Worry, came the following year and again fared better in his homeland.
Related: David Bowie's 1972 NYC debut
Ronson never lacked for work. He contributed to Reed's album Transformer in 1972 (the string arrangement on "Walk on the Wild Side" was his) and started a long-term collaboration with Hunter on the latter's 1975 self-titled solo album. Ronson (who had played briefly in a later lineup of Mott the Hoople) played on Hunter's celebrated You're Never Alone With a Schizophrenic in 1979 and they shared equal billing on 1990's YUI Orta.
Ronson's participation in Dylan's Rolling Thunder Revue tour of 1975 struck some as an odd pairing but Ronson fit right in. Roger McGuinn, formerly of the Byrds, was a fan and used Ronson on his Cardiff Rose album, and even teen idol David Cassidy called upon him. Roger Daltrey, Lulu and Mellencamp, for his 1982 American Fool album, were others who recruited Ronson.
As a producer, Ronson teamed with Morrissey (formerly of the Smiths), Davis Johansen, the Rick Kids, Ellen Foley and others. Ronson also toured with Van Morrison.
By the late'80s/early '90s Ronson was no longer as active. He appeared at the Freddie Mercury tribute concert , his final high-profile appearance, in 1992. he also contribute to one track on Bowie's Black Tie White Noise album in 1992.
Upon Ronson's death, Ian Hunter said, "Mick's thing was always about working and improving, not about making lots of money. His work was of great quality, and will stand up long after a lot of people who are flashier players will be forgotten. On a personal level, he was so kind and full of life."
Watch Bowie and Ronson perform "Moonage Daydream" in 1973

Latest posts by Best Classic Bands Staff
(see all)