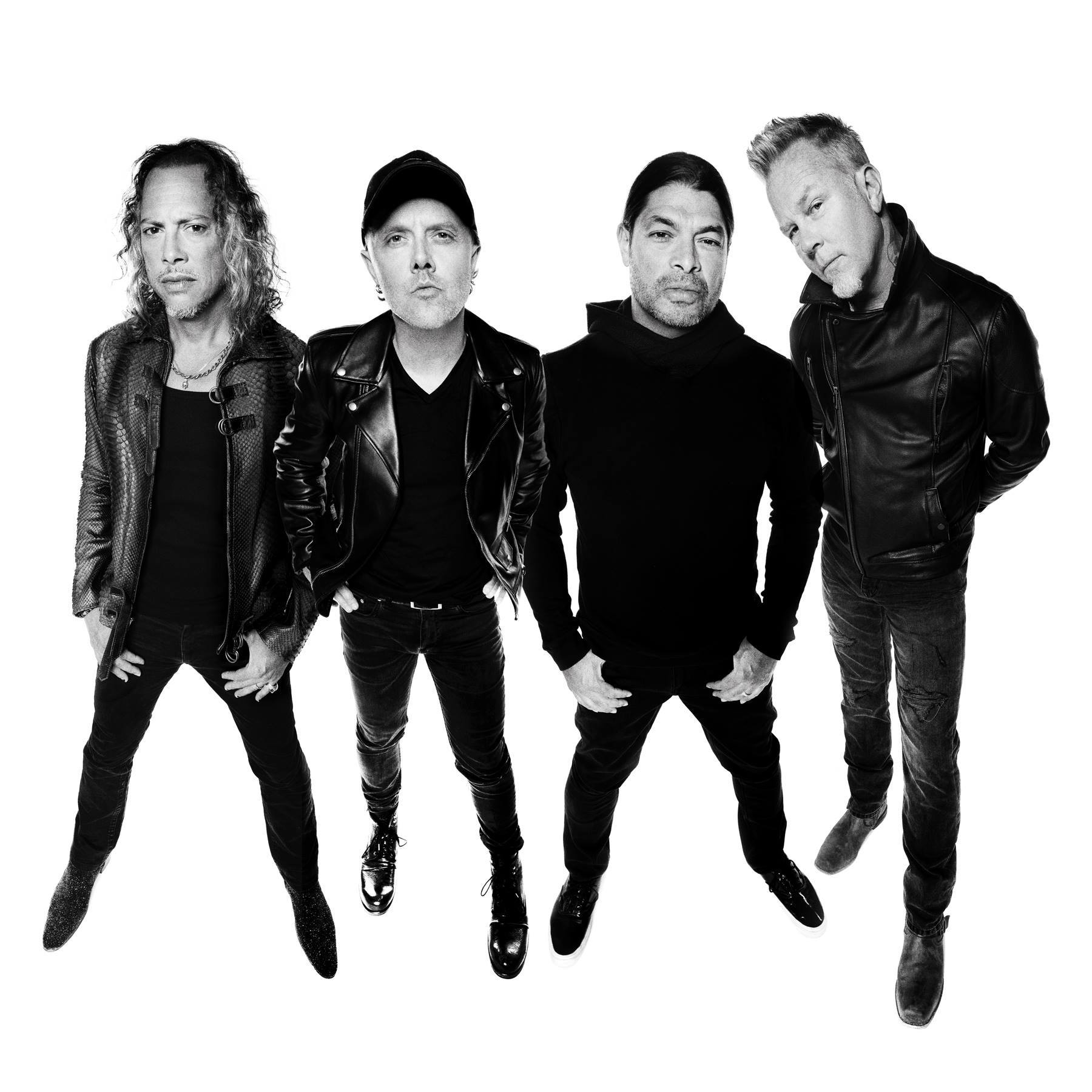 Update (August 21): Metallica played the title track, "Hardwired," from the new album at their August 20 concert at the new U.S. Bank Stadium in Minneapolis. They performed it as the first tune of the encore. (Watch it below.)
The entire set list was as follows:
Creeping Death
For Whom the Bell Tolls
Fuel
King Nothing
The Memory Remains
The Unforgiven
Leper Messiah
Welcome Home (Sanitarium)
Sad But True
Wherever I May Roam
One
Master of Puppets
Battery
Fade to Black
Seek & Destroy
Encore:
Hardwired
Whiskey in the Jar
Nothing Else Matters
Enter Sandman
Metallica will release Hardwired…To Self-Destruct, their first new studio album in eight years, on November 18. The two-disc, 12-track set is the band's 11th studio album in all and was produced by Greg Fidelman with band members James Hetfield and Lars Ulrich. It follows 2008's Death Magnetic. In addition to being released as a double-CD, the 80-minute Hardwired…To Self-Destruct will also be available as a digital download and, reportedly, a deluxe version with the riffs that were the origins of the album.
Metallica has said that they worked on Hardwired…To Self-Destruct for a few years, when not involved in live gigs, a film, archival recording releases and other projects.
Fans placing pre-orders via Metallica.com will receive an instant download of the song "Hardwired." Watch the brand new video of the title track here. Turn it up…
Don't miss a post! Sign up for Best Classic Bands' Newsletter; form is on every page.
Track listing:
Disc One
01. Hardwired
02. Atlas, Rise!
03. Now That We're Dead
04. Moth Into Flame
05. Am I Savage?
06. Halo On Fire

Disc Two
01. Confusion
02. Dream No More
03. ManUNkind
04. Here Comes Revenge
05. Murder One
06. Spit Out The Bone
Disc Three (Deluxe Edition Only)
01. Lords Of Summer
02. Riff Charge (Riff Origins)
03. N.W.O.B.H.M. A.T.M. (Riff Origins)
04. Tin Shot (Riff Origins)
05. Plow (Riff Origins)
06. Sawblade (Riff Origins)
07. RIP (Riff Origins)
08. Lima (Riff Origins)
09. 91 (Riff Origins)
10. MTO (Riff Origins)
11. RL72 (Riff Origins)
12. Frankenstein (Riff Origins)
13. CHI (Riff Origins)
14. X Dust (Riff Origins)
At the present time, no Metallica tour dates have been announced, other than two previously scheduled events, August 20 in Minneapolis and the Global Citizen Festival in New York on August 24. New tour dates can be found here once announced.
Related: Metallica to live stream stadium show on Pandora

Latest posts by Best Classic Bands Staff
(see all)