Lulu's 'Gold' Reviewed: More Than 'To Sir With Love'
by Jeff Burger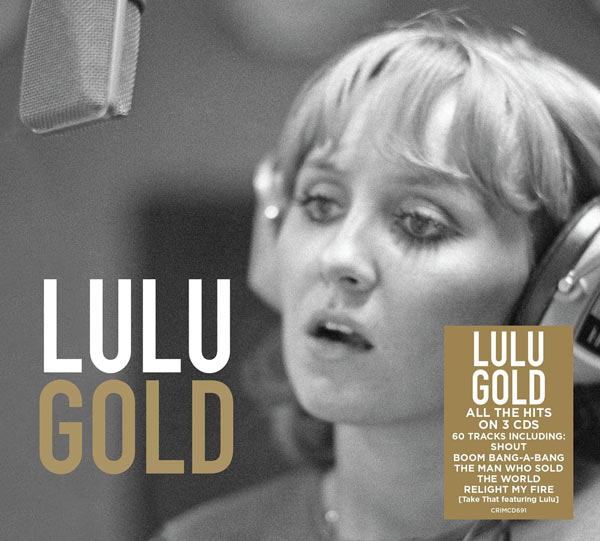 In the U.S., Lulu was pretty much a one-hit wonder. She topped the American charts for five weeks with the terrific "To Sir with Love," one of the most likable mainstream hits of 1967 (and one of the best-orchestrated pop records of its era) and Bobbie Gentry's "Ode to Billie Joe." Three of her other singles made minor dents in the Top 40 in 1968, 1970 and 1981, but they rarely receive any airplay today.
On the other side of the pond, though, the story has been quite different. There, "To Sir with Love" was just a B-side, not a hit at all, which explains why it isn't even among the songs mentioned on a sticker on the shrink-wrap of Gold, a new U.K. anthology that is available stateside as an import. However, the Scottish singer has had much more of a career in England than in the U.S. Besides hosting several popular television series, she has made more than two dozen forays into the singles charts, scoring eight top 10s and major hits in every decade from the 1960s to the 2000s. You'll find all of those singles plus "To Sir with Love" and a whole lot more on the three-CD Gold, which embraces 60 recordings made from 1964 to 2015.
Related: Our review of a 2017 Lulu concert in New York
Lulu's material is mostly excellent and certainly diverse. She covers pop numbers from the likes of Gerry Goffin and Carole King, the producer Bert Berns and Neil Diamond, then turns around and takes on material from Bob Seger, the Rolling Stones and even David Bowie. She also performs a half dozen originals and three numbers from the Bee Gees (not surprising, given that Lulu was married to that group's Maurice Gibb for about four years).
Her versatility is impressive—she can sound like Dionne Warwick one minute and like a garage rock vocalist the next—but she generally does best when she sticks to pop. Her vocals shine, for example, on Berns' "Here Comes the Night," the Van Morrison/Them number, and on Tim Rose's "Morning Dew," but a cover of Bowie's "Watch That Man" is pretty awful.
A career-spanning retrospective this definitive should have been accompanied by a booklet that features detailed biographical and track information, but this release incorporates no notes at all and, in fact, includes only one B&W photo, which appears twice. Oh, well. It's the music that matters most, and this set delivers all you need to get the full Lulu experience.
P.S. to fans of the Bangles' Susanna Hoffs and/or "To Sir with Love": check out the excellent cover of that song on Hoffs' eponymous 1996 album.
Latest posts by Jeff Burger
(see all)