'Forever Changes': A Brilliant Landmark From Love
by Bill Kopp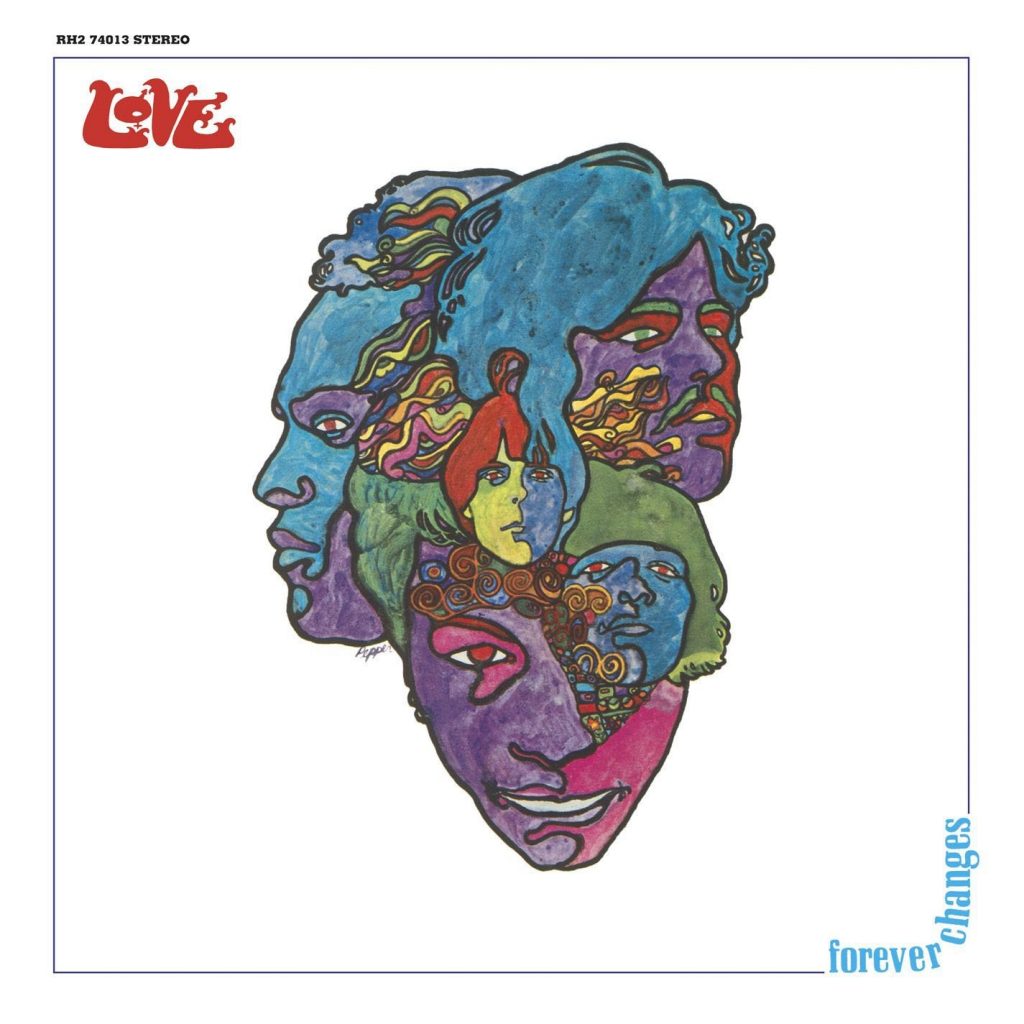 From the release of Love's March 1966 debut single, "My Little Red Book" b/w "A Message to Pretty," it was clear the Los Angeles Group was a breed apart from its contemporaries. The group, led by Arthur Lee, built much of its music upon a snarling, sneering proto-punk aesthetic not completely removed from the style of bands like the Seeds. But just under the surface, there lurked a deeper complexity and nuance.
There had been multi-racial bands before Love: though they never achieved any kind of commercial success, the short-lived Rising Sons were led by Taj Mahal and Ry Cooder. But Love had a black man as its primary writer and front man, and enjoyed the higher profile and accompanying marketing boost that came with having signed to Elektra, home of (among others) the Doors.
Still, Love would manage only one Top 40 single in its time together, 1966's "7 and & Is," a track off of the band's second album, Da Capo. That album also displayed Love and Lee's musical ambitions: a side-long track, "Revelation," ran nearly 19 minutes. This was a full 18 months before Iron Butterfly released its own opus, "In-a-Gadda-Da-Vida."
Listen to "Alone Again Or" from Forever Changes
As a piece of music, "Revelation" wasn't especially noteworthy or groundbreaking, but it did show that Lee and his band mates had artistic/creative inclinations beyond the three-minute pop single. And the band's third full-length, Forever Changes, released in November 1967, would represent the apex of those ambitions.
[Note: A 4-CD/DVD/LP 50th Anniversary edition was released in 2018. The set features a few firsts for the album, including the CD debut of a remastered version made by its original co-producer and engineer Bruce Botnick, as well as the first-ever release of the mono version on CD. Also included are alternate mixes of the album, as well as a selection of rare and unreleased singles and studio outtakes. Order it here.]
The album opens with Bryan MacLean's "Alone Again Or." The track features a Spanish-flavored guitar figure played by the band's Johnny Echols. Subdued percussion and a trilling string section join to support Lee's gentle vocal, one that has more in common with Johnny Mathis than Mick Jagger. As the song reaches the end of its first verse, bursts of brass reinforce the south-of-the-border ambience. In fact the horns sound like nothing so much as A&M Records' flagship act, Herb Alpert and the Tijuana Brass. Yet somehow, the non-rock elements combine in a way that makes "Alone Again Or" a sort of sophisticated, baroque take on rock music. The song's arrangement makes effective use of dynamics, with instruments added and subtracted from the mix in ways that highlight the song's virtues. And in a significant departure from the rock mindset, the solo break in "Alone Again Or" features not a guitar but instead a stirring trumpet solo, backed by strings.
"A House is Not a Motel" continues with the use of acoustic guitar as a central instrument. An insistent drum pattern and a subtle yet busy bass line part support Lee, who once again begins singing in a lilting manner. But as the song progresses, he builds in intensity, eventually reaching a rock 'n' roll roar. Against an emphatic series of chords, Echols takes a pair of lean, sinewy electric guitar solos. For most of its first two minutes, the overall feel of "A House is Not A Motel" is one of restraint. But after a propulsive drum fill from Michael Stuart, multiple overdubbed distorted lead guitars explode into the mix; amid whoops and hollers from the band, those solos take the song to its fadeout.
Related: Going behind the scenes with guitarist Johnny Echols
The melancholy "Andmoreagain" plays up the album's baroque character. Strings and acoustic guitars are the central instruments, and Lee's vocal channels Mathis more overtly than anywhere else on the record. "The Daily Planet" is built around a vigorously strummed acoustic guitar, with deft stabs of chiming guitar and a beefy bass line. The mid-tempo rocker has a feel closer to the Byrds; though he's not credited on the album, Buffalo Springfield guitarist Neil Young oversaw the track's arrangement.
Listen to "Andmoreagain" from the album
But on both "Andmoreagain" and "The Daily Planet," it's not really Love; instead Lee is backed by session musicians. Co-producer Bruce Botnick brought in Wrecking Crew players when he found the band unable to play what was required. Apparently, the shock of being sidelined would eventually lead the band members to get their collective act together; the remaining tracks on Forever Changes would feature the band (plus the string and brass players as needed).
That said, the band members take a back seat on the subtle "Old Man." Cellos and violins are at the center of the fragile arrangement, based upon an idiosyncratic melody from Lee. Brass and tinkling piano are added to the mix in the song's second half. And "The Red Telephone" is almost a continuation "Old Man." With a similar arrangement and a (different) odd melody, it features a stronger beat and an insistent harpsichord part. The seamless interplay between acoustic guitar leads and the string players underscores the fact that the fiddles and cellos were part of Lee's arrangement ideas from the beginning of the project. Lee's spoken lines at the song's end give "The Red Telephone" a vaguely psychedelic feel, but that is punctured by Lee's "All o' god's chillen gots to have their freedom," delivered in a kind of self-parody of black American dialect.
Near unanimous in their praise for Forever Changes, critics often point to MacLean's "Alone Again Or" as the strongest track on the record. But a strong case can be made that Arthur Lee's "Maybe the People Would Be the Times or Between Clark and Hilldale" deserves consideration as well. The brass arrangement in particular fits the song perfectly, helping provide an air of mystery and suspense. It helps, too, that for this track Lee had written a more straightforward melody. The instrumental break features a series of musical dialogues, first between acoustic guitar and the brass, then between electric guitar and the horns, and finally between Lee's vocalizing and the auxiliary players.
Watch Arthur Lee and band play "A House Is Not a Motel" in 1996
The baroque arrangement that opens "Live and Let Live" is jarring when set against Lee's lyrics about snot on his pants and threatening a bluebird with a gun. The song soon segues into a harder, rock-flavored feel; throughout its five-plus minutes, "Live and Let Live" shifts between the two styles; the bridges rock even harder, and toward the song's end, stinging lead electric guitar makes one of its rare appearances on Forever Changes. By the hard-charging final moment of the tune, its bears no resemblance to the manner in which it began.
As effective as those rocking moments may be, it's on the album's gentler tracks where Love truly shines. "The Good Humor Man He Sees Everything Like This" is a case in point. The tune sports another odd melody from Lee; his vocals twist and turn amid an intricate pizzicato string and brass arrangement that rivals "Alone Again Or" in its understated brilliance.
Watch Arthur Lee sing "Bummer in the Summer" in 2003
"Bummer in the Summer" is Forever Changes' outlier track; Lee adopts a sneering, spitting vocal demeanor that's closer in style and character to "7 and 7 Is" and "My Little Red Book" than it is to anything else on the album. The arrangement is similar to the Leaves' reading of "Hey Joe" mixed with a bit of Buddy Holly's "Not Fade Away." Other than session player Don Randi's piano, the track doesn't feature any auxiliary musicians.
Forever Changes concludes with "You Set the Scene," a track built upon crystalline acoustic guitar picking, an insistent bass line and some sawing cellos. Lee's double-tracked harmony lead vocal is among his best work on the record. In the place customarily occupied by a guitar solo, a soaring string ensemble arrangement, punctuated by brass, provides a stirring conclusion to the album. As the song winds toward its end, the majestic brass and string parts build to a crescendo, and then fade to silence.
Listen to "You Set the Scene" from Forever Changes
Notably, outside of music critics, few recognized the specialness of Forever Changes upon its November 1967 release. The album reached a lowly #154 on the Billboard album chart, and the single "Alone Again Or" b/w "A House is Not A Motel" made it only as far as #123. But as had been the case with fellow Los Angelinos the Beach Boys' Pet Sounds, Forever Changes fared far better in Great Britain, where it reached #24 (Pet Sounds rose all the way to #2 in the U.K.).
The lineup that made Forever Changes soon fractured, though Love would go on to make four more albums in the decade to follow. Each of those has its high points, but all are flawed, and none succeeds in doing more than hinting at the once-in-a-lifetime brilliance of Forever Changes.
As a happier postscript, in the later years of his life—as previously-overlooked albums began to earn their due—Arthur Lee, who died in 2006 at age 61, was able to capitalize on the belated recognition of the record's importance. With members of L.A.'s Baby Lemonade, he would tour, presenting the complete Forever Changes in concert. Those shows would often feature auxiliary musicians playing the album's brass and string arrangements, resulting in a live reading that successfully captured the nuance and excitement of the 1967 studio recording.
Bonus video: Here's Love performing their first single "My Little Red Book" on American Bandstand the year before Forever Changes
Latest posts by Bill Kopp
(see all)