Expanded Reissues of Little Feat's 'Sailin' Shoes' and 'Dixie Chicken': Review
by Jeff Burger
With varying lineups over the years, Little Feat has released well over a dozen albums, but anyone who wants to explore their catalog needn't think twice about where to start: the clear high points are Sailin' Shoes, the Los Angeles band's 1972 sophomore release, and Dixie Chicken, that album's 1973 followup. Now, both those LPs have been reissued in expanded two-CD editions that combine remastered versions of the original records with a generous supply of studio and concert bonus tracks.
The critically acclaimed but commercially unsuccessful Sailin' Shoes is where Little Feat finds its footing. With group co-founder Lowell George looming large over the proceedings as lead singer, guitarist and author of most of the material, the band carves out a sound that's rooted in country-rock but wide-ranging enough to draw on blues, funk and classic rock. (In fact, suggested George at the time, that may have been one reason it didn't sell: "It was too diversified to be digested properly.") The record is loaded with surprising chord changes, innovative ideas and consummate musicianship.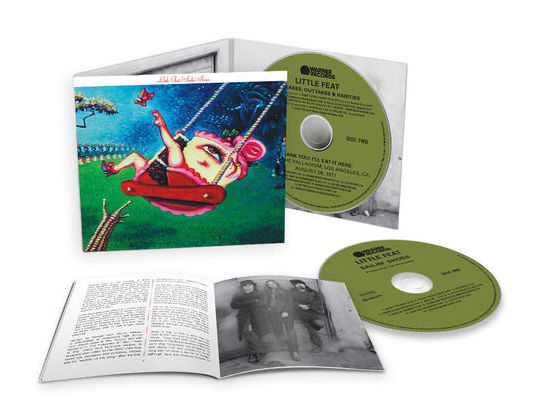 Its best-known number, George's "Willin'"—which also appears in a version with a somewhat faster tempo on Little Feat's eponymous debut LP—showcases his ability to weave an evocative tale, in this case about a trucker who's "driven every kind of rig that's ever been made, driven the back roads, so I wouldn't get weighed." And that song—which has been covered by Linda Ronstadt, the Byrds and many others—is far from the only winner on this album. Also here are a funky, harmonica- and slide guitar-enhanced cynical number called "A Apolitical Blues"; a full-throttle rocker titled "Teenage Nervous Breakdown"; and "Cold, Cold, Cold," a rhythmic visit to hotel hell.
Related: Our Album Rewind of Dixie Chicken
The 2023 reissue adds 21 bonus tracks, among them demo and alternate versions of "Willin'" and a complete 10-song 1971 concert at L.A.'s Palladium that includes about half the numbers from the sophomore album and a few from the group's debut. Some of the demos and alternates have been previously released and several are not far enough removed from the well-known versions to be of great interest, but the propulsive live tracks are a big plus. Little Feat has issued no shortage of concert material over the decades, but a relatively small portion of it comes from its classic earliest years.
Dixie Chicken—which boasts consistently fine guitar work and clever songwriting—is even better than Sailin' Shoes. George, who died in 1979, is again predominant, now as producer as well as writer and performer, but personnel changes give the band a funkier, more Southern sound: Little Feat replaced bassist Roy Estrada (like George, a veteran of Frank Zappa's band) with Kenny Gradney and also added guitarist Paul Barrere and conga player Sam Clayton. Guest contributors include such singers as Bonnie Raitt, Gloria Jones and Bonnie Bramlett. Among the album's many highlights are the soulful sing-along title track; the lyrically deft "Fat Man in the Bathtub"; "Juliette," which finds George playing a jazzy flute; and the melancholy "On Your Way Down," a composition by Allen Toussaint, who appears to have been a major influence on the group.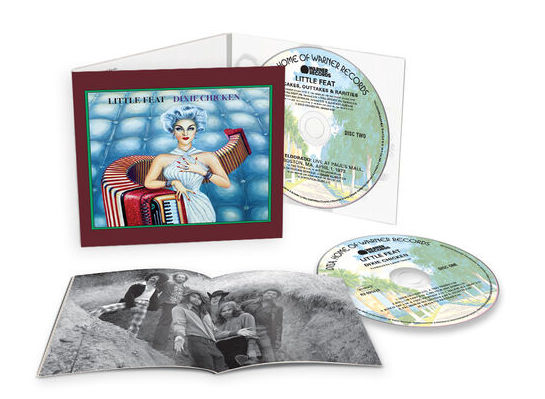 Like Sailin' Shoes, the new edition of Dixie Chicken offers a whole disc of bonus tunes. This second CD contains nine demos and alternate versions, some of which have been previously released, as well as a complete, heretofore unavailable 1973 Boston concert recording whose highlights include a loose, vocals-dominated version of "Willin'" and a stripped-down "Fat Man in the Bathtub."
Though it would eventually go gold, Dixie Chicken didn't sell well at the time of its release: like Sailin' Shoes, it didn't even make Billboard's Top 200 chart. Go figure.
Latest posts by Jeff Burger
(see all)