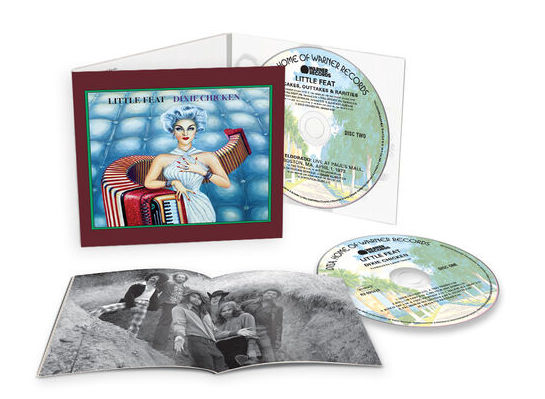 Two of Little Feat's most-loved albums – Sailin' Shoes and Dixie Chicken – have been newly remastered for Deluxe Editions that will introduce unreleased live and studio recordings. The expanded editions arrive on June 23, 2023, via Rhino, each on 2-CD or 3-LP 180-gram vinyl. Along with the announcement, four previously unreleased tracks have been made available including "Sailin' Shoes (Demo)" and "Dixie Chicken (Alternate Version)." Listen to them below.
From the April 25 announcement: Released in 1972, Sailin' Shoes was the second studio album from the founding quartet of singer-guitarist Lowell George, drummer Richard Hayward, keyboard player Bill Payne, and bassist Roy Estrada. Ted Templeman produced the record, which was the first to feature artwork by illustrator Neon Park, who created covers for nearly all of Little Feat's albums.
Its deluxe edition opens with a newly remastered version of the original album, that introduced signature tunes like the title track, "Easy to Slip," and an updated version of "Willin'" a song that also appeared in 1971 on the band's eponymous debut. Several outtakes from the album's recording sessions make their debut here, including alternate versions of "Cold, Cold, Cold" and "A Apolitical Blues."
The magic that Little Feat conjured in concert takes center stage in the new set with a newly discovered and previously unreleased complete show recorded at the Palladium in Los Angeles on August 28, 1971. This live set marks the only multi-track recording in existence to feature the original lineup of the band. The performance features songs from both Sailin' Shoes ("Tripe Face Boogie," "Teenage Nervous Breakdown") and Little Feat ("Hamburger Midnight," "Snakes On Everything"). The set also comes with illustrated liner notes written by music journalist, David Fricke.
Dixie Chicken, the band's third studio album, emerged in 1973 and introduced fans to Little Feat's evolving sound and new line-up. The group's shift toward New Orleans-style funk was accompanied by the arrival of three new members, guitarist Paul Barrere, percussionist Sam Clayton, and bassist Kenny Gradney (who replaced Estrada).
Its deluxe edition contains the newly remastered album, that features classics like "Two Trains," "Fat Man In the Bathtub," and the title track. Several unreleased session recordings debut in the new set, including alternate versions of "Roll Um Easy," "On Your Way Down," and "Juliette."
The unreleased live music was recorded at Paul's Mall in Boston on March 1, 1973. They feature songs from Dixie Chicken ("Two Trains," "Walkin' All Night") and the band's earlier albums ("Willin'," "Got No Shadow.") The illustrated liner notes included in the collection were written by author Dennis McNally, who got his start as the Grateful Dead's publicist.
Related: Our Album Rewind of Dixie Chicken
Little Feat will celebrate these deluxe editions with "The Albums Tour" this fall, which will feature the band playing each album in its entirety across back-to-back nights at select venues (night one will be Sailin' Shoes and night two will be Dixie Chicken). Preceding "The Album Tour," the band is currently in the midst of their "Boogie Your Spring Away" tour. After a short break, Little Feat will hop back on the road for the "Boogie Your Summer Away" tour, kicking off July 12 and wrapping up summer dates on August 19. Tickets are available here and here.
The complete track listing appears below the Amazon links. When you buy something using a link on this page, we receive a commission. Thank you for supporting Best Classic Bands.
Sailin' Shoes Deluxe Edition 2-CD Track Listing
Disc One: Original Album (2023 Remaster)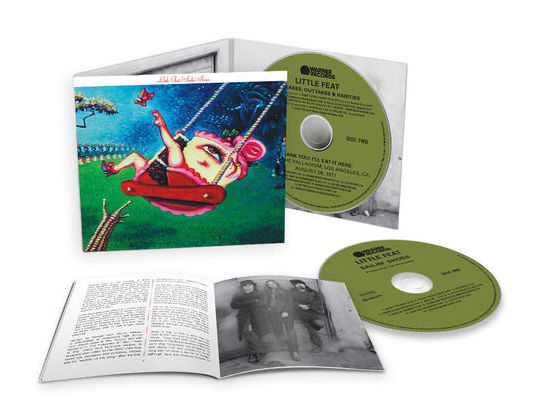 "Easy To Slip"
"Cold, Cold Cold"
"Trouble"
"Tripe Face Boogie"
"Willin'"
"A Apolitical Blues"
"Sailin' Shoes"
"Teenage Nervous Breakdown"
"Got No Shadow"
"Cat Fever"
"Texas Rose Café"
Disc Two: Hotcakes, Outtakes, Rarities
"Sailin' Shoes" – Demo *
"Easy To Fall" (early version of "Easy To Slip") – Demo For Doobie Bros.
"Texas Rose Café" – Demo For Doobie Bros.
"Cold, Cold, Cold" – Alternate Version *
"Roto/Tone"
"A Apolitical Blues" – Alternate Version *
"Boogie" (early version of "Tripe Face Boogie")
"Trouble" – Alternate Version *
"Doriville"
"Willin'" – Alternate Version *
"Easy To Slip" – Mono Single Version
Thank You! I'll Eat It Here: Live At The Palladium, Los Angeles, CA (8/28/71)
"Tripe Face Boogie" *
"Hamburger Midnight" *
"Cat Fever" *
"Willin'" *
"Strawberry Flats" *
"Got No Shadow" *
"Texas Rose Café" *
"Snakes On Everything" *
"Hot Rod" *
"Teenage Nervous Breakdown" *
Dixie Chicken Deluxe Edition 2-CD Track Listing
Disc One: Original Album (2023 Remaster)
"Dixie Chicken"
"Two Trains"
"Roll Um Easy"
"On Your Way Down"
"Kiss It Off"
"Fool Yourself"
"Walkin' All Night"
"Fat Man In The Bathtub"
"Juliette"
"Lafayette Railroad"
Disc Two: Hotcakes, Outtakes, Rarities
"Two Trains" – Demo
"Fat Man In The Bathtub" – Demo
"Walkin' All Night" – Alternate Version *
"Roll Um Easy" – Alternate Version *
"On Your Way Down" – Alternate Version *
"Eldorado Slim"
"Juliette" – Alternate Version *
"Hi Roller (Ace In The Hole)"
"Dixie Chicken" – Alternate Version *
Icepick Eldorado: Live At Paul's Mall, Boston, MA (4/1/73)
"Two Trains" *
"Got No Shadow" *
"On Your Way Down" *
"Walkin' All Night" *
"Fat Man In The Bathtub" *
"Willin'" *
"A Apolitical Blues" *
* previously unreleased

Latest posts by Best Classic Bands Staff
(see all)