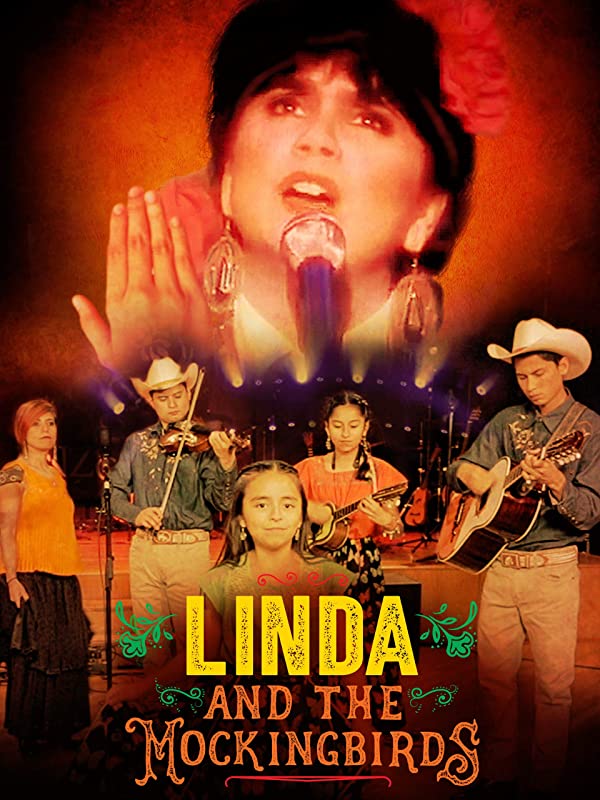 A new film, Linda and the Mockingbirds, documents Linda Ronstadt's 2019 journey with Jackson Browne to Mexico with a group of young students. The film is from award-winning director and producer James Keach who also produced last year's Ronstadt documentary The Sound of My Voice. The title was released digitally to home theaters on October 20 by Shout! Studios and PCH Films.
Linda and the Mockingbirds is the result of Ronstadt's introducing Keach to Los Cenzontles Cultural Arts Academy, for whom she has been a patron for 26 years. The film is available for order here; watch the trailer below and a clip below.
From the Sept. 24 announcement: Linda and the Mockingbirds chronicles a road trip with Ronstadt, Browne, and a tour bus full of young singers, dancers and instrumentalists to the small town of Banámichi in the Mexican state of Sonora, where Ronstadt's grandfather grew up. There they meet up with their Mexican counterparts, the folkloric dance troupe Grupo de Danza Xunutzi, and put on soulful performances showcasing Mexican culture.
Watch a scene from the film, including Jackson Browne performing "The Dreamer"
"Maybe it's genetic memory, but I feel very at home when I go to Mexico," says Ronstadt in the film. "When I'm in Mexico, I have a better understanding of who I am, and who my family is, you know? I feel great pride in it, and I always have. I hope it makes the kids feel like that, that they have more of an understanding of where they came from, the culture they came from, who they are, why they're important, why they should never be rendered invisible or without their dignity."
Watch the trailer for Linda and the Mockingbirds
Los Cenzontles (The Mockingbirds) is a grassroots organization in the Bay Area of California committed to amplifying the roots of Mexican culture. Founded by Eugene Rodriguez, and with a record of 30 years of excellence, Los Cenzontles provides the local community with a family-friendly setting for traditional arts education and cultural events.
Ronstadt's passion for her Mexican heritage is evident, and there is sheer joy and appreciation in her face as she watches the concert, praising the young talent. The performances are riveting, with children and young adults singing and dancing in traditional costumes, musicians performing on guitars, violin, and traditional instruments, the explosive rhythm of the zapateado dancers' shoes striking the ground. A young performer dedicates a sorrowful song about lonely orphan in a palm grove to Ronstadt, which she explains to Browne is a song she learned from her grandfather when she was a child.
Linda and the Mockingbirds artfully blends the narratives of celebrating the music and culture of Mexico and the powerful subject of immigration.
Sitting next to a border wall covered in barbed wire, Los Cenzontles member Lucina Rodriguez tells the story of how she immigrated to the U.S. illegally as a 10 year old child with her mother and brothers in order to be reunited with her father, later becoming a U.S. citizen. Her family's treacherous crossing inspired Browne and Eugene Rodriguez to write "The Dreamer," a song that asks: "A dónde van los sueños?" — "Where do the dreams go?"
In Ronstadt's prolific recording career she released three hit Spanish-language albums, including Canciones De Mi Padre ("Songs of My Father"), introducing the music of her childhood to new generations and fans worldwide.
Related: Our review of the Ronstadt documentary, The Sound of My Voice

Latest posts by Best Classic Bands Staff
(see all)