Class Axes & the Guitarists Who Wielded Them (Pt 2)
by Noe Gold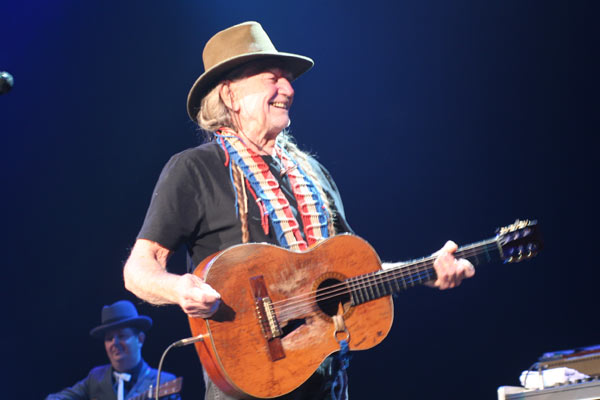 Best Classic Bands contributor and Guitar World magazine founding editor Noe Gold indulged us with one of his favorite things to do as a guitar journalist: share his first seven picks out of 14 special instruments associated with notable guitar players, aka legendary rock guitars aka Class Axes. (See Part One here.)
Here's the second set of seven iconic axes. This list goes beyond certain key models from guitar manufacturers spotlighted in the first part. We have a couple of custom builds, an adaptation, and the famed acoustic above. Guitar technicians, builders and customizers become part of the process by which these six-strings achieve and retain their historic six-string stature.
Or in other words, perfection is where you find and how you define it.
7) Willie Nelson's Martin N-20 acoustic "Trigger"
How did Willie change music history with his beat-up Martin acoustic, "Trigger?" Listen to his music and you'll hear Trigger at the center of most all of Nelson's best recordings. And his considerable skill as a player and guitar stylist driving the melody. All of that that is central to the style that separated Nelson from the country music pack in the 1970s and distinguishes Willie as a truly original American musical artist who transcends genres.
Before Nelson hits the stage every night, his longtime guitar tech, Tom Hawkins, brings out the famous guitar, placing it at the center of the stage. "The whole front row will come up and photograph it for several minutes before the show starts," says Hawkins. That's the power of Trigger.
Nelson discovered Trigger at a crossroads in his career. By 1969, he had spent nearly a decade trying to become a clean-cut solo success in Nashville. After a drunk destroyed his Guild acoustic, he decided to look for a new guitar with a sound similar to his gypsy-jazz hero Django Reinhardt "I think he was the best guitar player ever," Nelson says.
"I named my guitar Trigger because it's kind of my horse," he explains. "Roy Rogers had a horse called Trigger."
"This is the best guitar I have ever played," says the pigtailed avatar of the gut-string classical instrument. It brings to Nelson's country music touches of jazz as well as on occasion a taste of flamenco.
When the IRS seized his possessions in the early '90s, Willie sent his daughter, Lana, to hide the guitar in Hawaii. He's had Trigger for so long and played it so hard and so much that his pick wore a sizable hole through its front. It shouldn't be playable. Willie's response? "I don't want to put a guard over it," he smiles. "I need a place to put my fingers." He regularly has Austin, TX luthier Mark Erlewine shore up its clawed spruce top.
After five decades with his trusty companion, Nelson is still going strong. "I figure we'll give out about the same time," he says of the well-worn acoustic. "We're both pretty old, got a few scars here and there, but we still manage to make a sound every now and then." (For more details read Texas Monthly's feature story on Trigger.)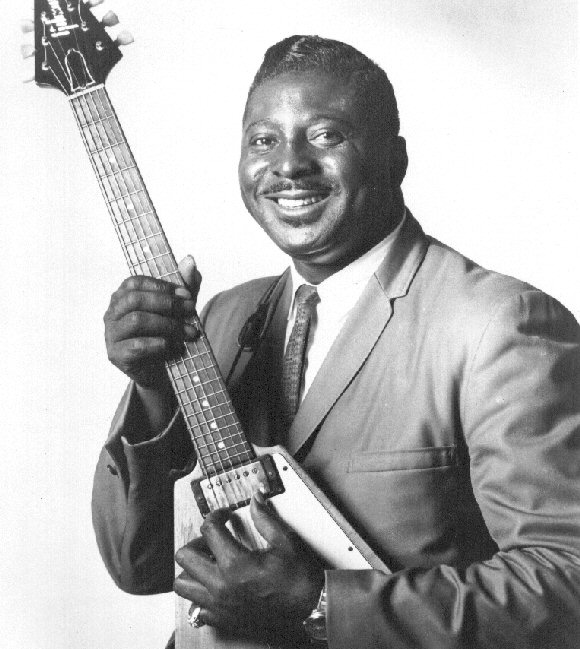 6) Albert King's 1958 Gibson Korina Flying V
Bluesman Albert King was born on April 25, 1923 on a cotton plantation in Indianola, MS. By the time this early champion of the Gibson Flying V's career was ended by a heart attack in Memphis in 1992, he had traveled the world and made dozens of albums, recording such classics as "I'll Play the Blues for You," "Don't Throw Your Love on Me So Strong," "Crosscut Saw," "Laundromat Blues" and, of course, "Born Under a Bad Sign."
What made King so appealing to the A-list of guitarists he influenced, which includes Stevie Ray Vaughan, Jimi Hendrix and Eric Clapton, was his big tone and his radical, rubbery bends. So let's take a look at how to get into this six-foot-four, 250-pounder's zone.
Besides the strength in his massive hands, King also had the southpaw advantage. When he got his 1958 Korina V he immediately flipped it over and played it with the low-E string on the bottom, where a conventional player's high E would be. So, like fellow lefty blues guitar daredevil Otis Rush, King bent downwards instead of the usual upwards direction. Try this on any gauge of string and you'll see the immediate advantage pulling down rather than pushing up yields in controlling bends — better vibrato, easier string travel, and the ability to bend up or down to a note — or even up two notes, in steps, like King often did.
The rest was attitude. King liked to play as slow, slinky and funky as his velvet fog singing. To him – and to his early heroes like Lonnie Johnson and T-Bone Walker – the real blues was unhurried. He also favored slide legends like Blind Lemon Jefferson, and while he never played slide himself, the voice-like qualities of the technique influenced King's smooth bending profoundly. He also never wasted a single, stinging note. His terse phrases were built from just a handful of notes, often decorated with the kind of wrist-shaking vibrato that B.B. King perfected. And they were perfect for the voice-and-guitar call-and-response interplay that made his greatest songs so memorable – each one like a conversation with a wise old soul.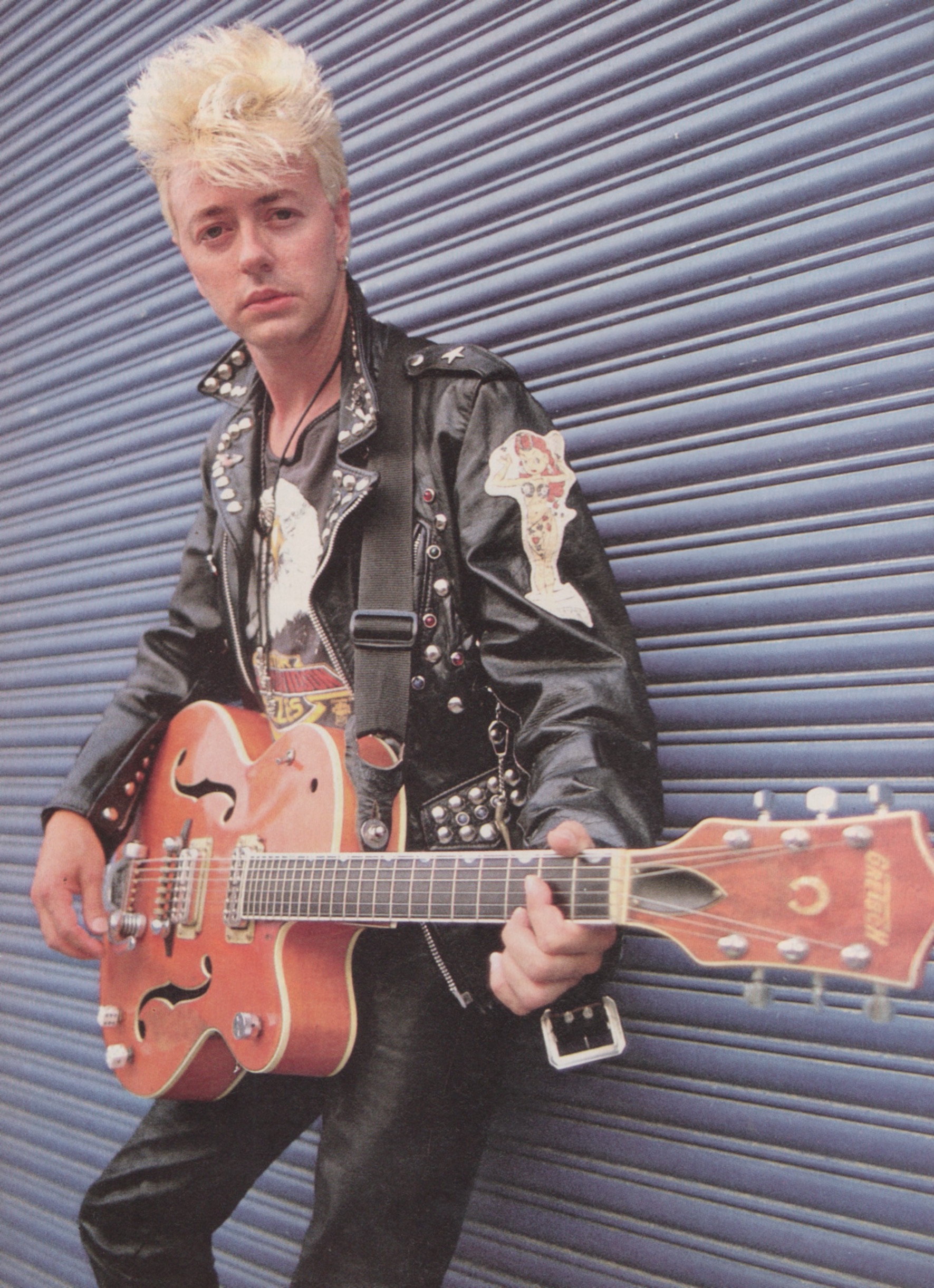 5) Brian Setzer's Gretsch 6120 Hollowbody
The Gretsch 6120 is a hollow-body electric guitar with f-holes, manufactured by Gretsch and first appearing in the mid-1950s with the endorsement of Chet Atkins. It was quickly adopted by rockabilly artists Eddie Cochran and Duane Eddy and of course, years later, neo-rockabilly artist Brian Setzer of the Stray Cats. Eric Clapton has and on occasion plays one; Pete Townshend got one as a gift from Joe Walsh in 1970, which he later would use on recordings for Who's Next and Quadrophenia.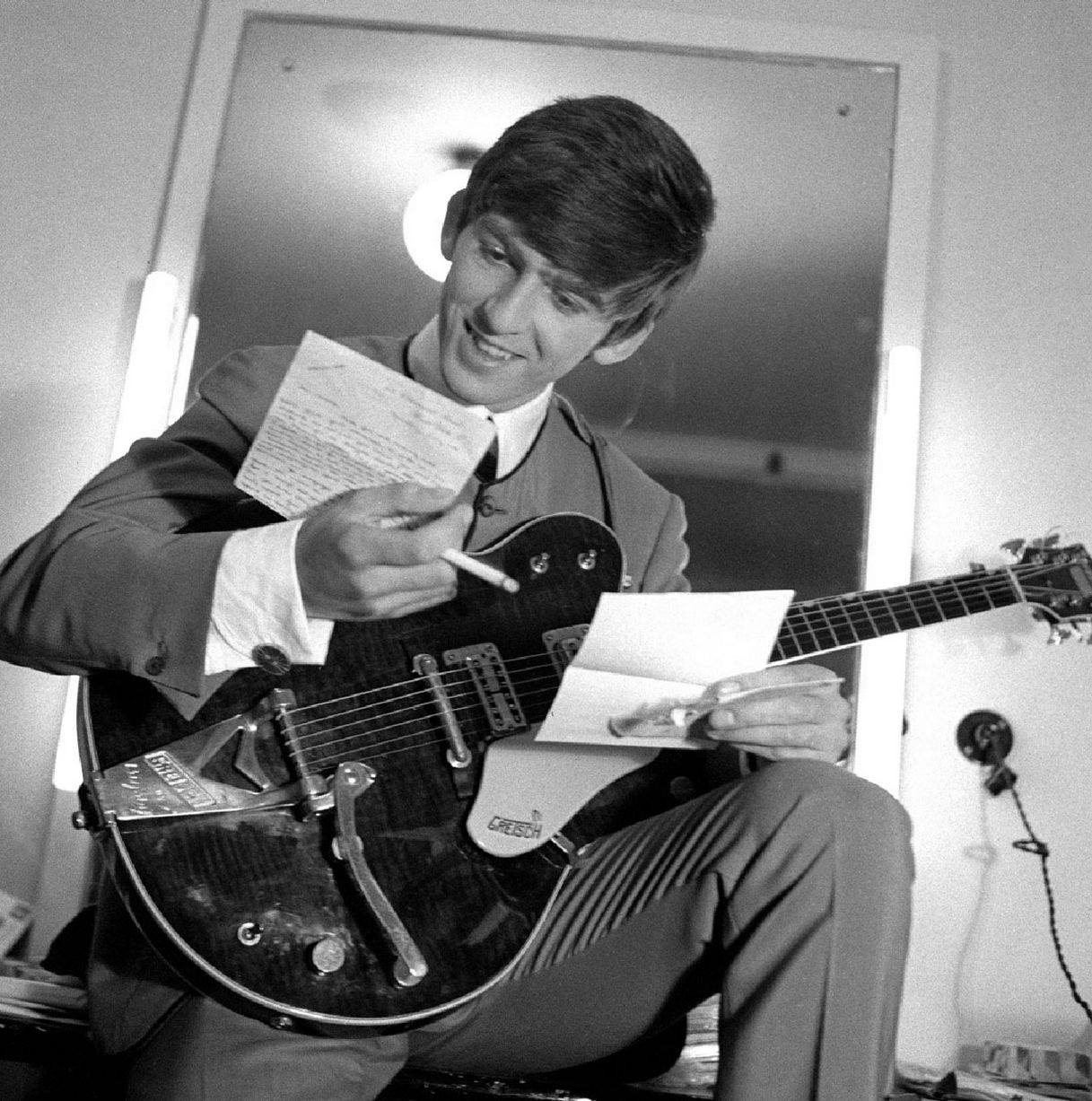 Due to changes in musical tastes and changes in ownership of the Grestch brand in the late 1960s, resulting in deteriorating quality, production of the 6120 ceased in the late 1970s. Values of the existing instruments soared when Setzer was seen playing an old 6120 in his early-80s music videos. Gretsch subsequently went back into the guitar business and new 6120 guitars are again widely available.
Also identified with:
George Harrison's Gretsch Country Gentleman
After George Harrison played the Gretsch Country Gentleman and Tennessean models (which, like the 6120, were developed with and endorsed by Chet Atkins), the company found they could scarcely keep up with demand.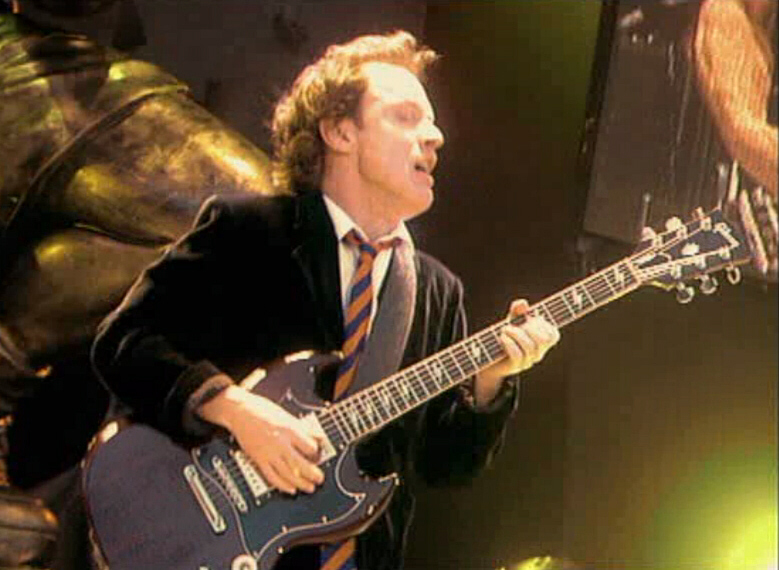 4) Angus Young Gibson Les Paul SG Standard "Cherry"
In 1960, sales of the Les Paul were faltering, and Gibson did some rethinking on its solid-body electric guitar line. Dumping the sunburst Les Paul was only the beginning. During the following year, Gibson introduced a completely new design. We know that design now as the SG, for Solid Guitar, an ultra-thin, hand-contoured, double-cutaway body. The modernistic mix of bevels and points and angles was a radical departure.
Angus began his musical career playing the Gibson SG 1970 model almost exclusively. This model is one of the many variations of design and quality of materials since its first introduction in 1961, but the 1970 version is its quintessential iteration.
The Gibson SG 1970 "is the one I've always played, before the band even started," Angus told Guitar Player. "It was the first brand-name guitar I had gotten for myself, as well. Before that, it was hand-me-downs – a beat-up acoustic. I don't know the SG's year. Some people have said 1969, and some people have said it's from the 1970s."
And what is his favorite song to play on the ax? "One of my favorite tracks to play is 'Back in Black,' because it's a cool riff and people get it immediately. You hear one or two notes and, boom, you know it's 'Back in Black.' That's probably the song Brian [Johnson] hates the most, though, because he has to hit his high notes."
Also identified with: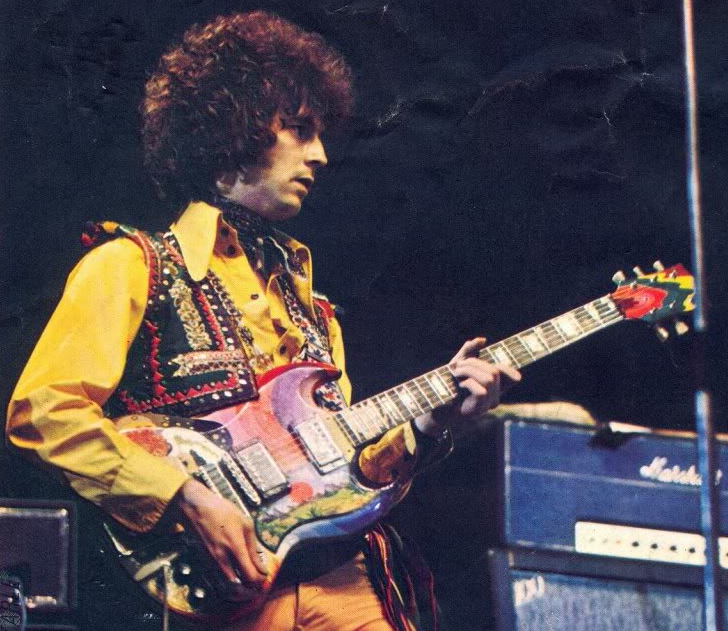 • Eric Clapton's 1964/65 Gibson "The Fool" SG
Later inherited by and remodeled by Todd Rundgren. It's known for what Clapton called the "Woman Tone." Serial number sanded off in painting, so date of vintage is not verifiable. This SG was sold for $500,000 to the Hard Rock Cafe San Francisco.
Also associated with:
• Pete Townshend
• Frank Zappa
• Eric Clapton
• Todd Rundgren
• George Harrison
• Gary Rossington
• Tony Iommi
• Derek Trucks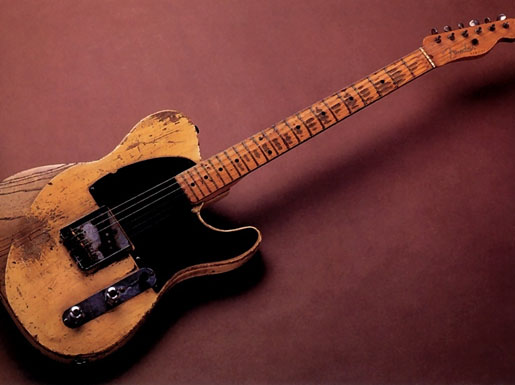 3) Jeff Beck's 1954 Fender "Yardbirds" Esquire
Truly iconic is the image of a sleeveless t-shirt-wearing Jeff Beck, twanging away at the axe that produced the landmark sounds of Beck-powered Yardbirds tracks like "I'm a Man," "Heart Full of Soul," "Over Under Sideways Down" and "Shapes of Things." The Esquire is the icon that completes the picture.
With a body partially ground down to ape the contours of an entirely different model, its broken neck replaced by a well-worn second-hand substitute and a face so scuffed, gouged and scarred it looks more like the boards of a minor league hockey rink, Beck's 1954 Fender Esquire is the rocker's constant companion.
What attracted him to the much-beloved if primordial version of the more popular Telecaster?
"I think it was the transitory period where Fender started using a rosewood fingerboard," Beck explaine. "(But) I didn't want that, I wanted a maple neck. And the only one I ever saw belonged to John Walker (aka John Maus) from the Walker Brothers. As luck would have it, The Yardbirds went on tour with the Walker Brothers early in '65, and I bought it. He wanted £75, which was a lot of money – it was only about 10 quid cheaper than a brand new one. But he wouldn't shift, and I dug out the seventy-five and gave it to him."
Beck's fuzztone intro of "Heart Full of Soul" became a sensation among guitarists of the day, including a young Seymour Duncan, the modern pickup guru who'd eventually acquire the legendary Esquire. Ironically, Jeff had developed that distinctive sound by imitating the sitar used on the session for the first, longer unreleased version of the record.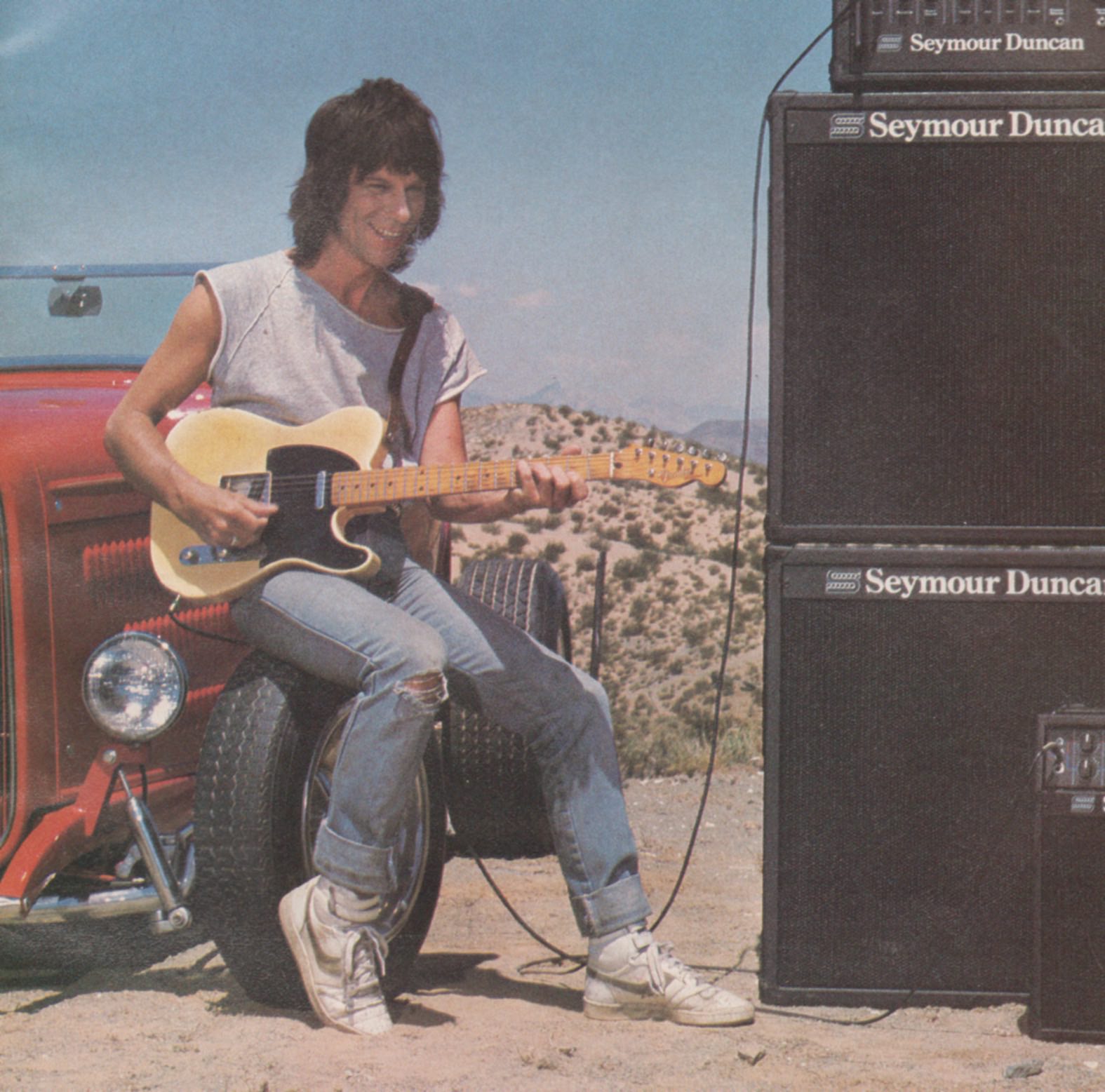 Duncan offered a detailed "guitar-topsy" with some fascinating insights about the legendary instrument in a 1994 Jeff Beck fanzine. "Several years ago John [Maus of the Walker Brothers] visited my shop in Santa Barbara and he said he contoured the front [forearm] and back of the body to make it feel more like a Fender Stratocaster," Seymour said of the Esquire's body customizing. "He carefully shaped the wood leaving the original paint and exposed Swamp Ash body."
"When Jeff first got it from John Maus, it had a white vinyl pick guard as can be seen in earlier Yardbirds videos and photos. Jeff replaced it with a black Esquire pickguard with a 5-hole pattern and two distinctive chips on the top edge and lower neck slot. Jeff liked the contrast and it looked like the Teles made just a year earlier. The body was made in 1954 and the neck (the original was broken) was replaced with one made in 1955.
Seymour lent the Esquire to the Rock and Roll Hall of Fame, where it is on public display.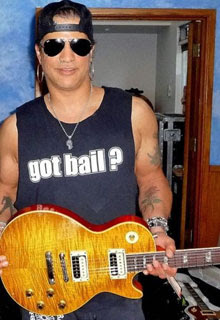 2) Slash's Les Paul Standard 'Burst 1959 replica
When Slash came on the scene with Guns N' Roses, the Les Paul wasn't cool, wasn't synonymous with Axeman Domination. No, the Strat types whose popularity dominated from the late-'70s onward – Stevie Ray Vaughan, Jeff Beck, Clapton and all those slinky guitar heroes inspired by Hendrix – dominated for a while. But then along came Slash. He elevated the stature of the Gibson Les Paul back to the pantheon of rock'n'roll where it had been installed, though sitting a bit dormant, by LP-blasters like Jimmy Page, Carlos Santana and Mike Bloomfield.
For studio sessions, Slash almost exclusively uses a replica of the classic 1959 Les Paul Standard made in the '80s by ace luthier Kris Derrig. It is with this instrument that he recorded almost all parts of Guns N' Roses albums, Slash's Snakepit, Velvet Revolver and his solo recordings. The "Cat in the Hat" aka Saul Hudson, relates the tale of how he acquired the now iconic guitar in his autobiography:
"On our very last day recording Appetite… Alan [Niven, Guns N' Roses' manager] came into the control room and laid a guitar case on the small couch behind the soundboard. One overhead light perfectly spotlighted the guitar as he opened the case. 'I picked this up from a local guy in Redondo Beach,' he said. 'He makes them by hand. Try it out.' It looked good: it was an amazing flame-top 1959 Les Paul replica with no pick guard, and two Seymour Duncan pickups. I felt it out and I liked it…. The moment I plugged in my new guitar I thought it sounded pretty good."
The guitar was originally built by Derrig in 1986 and was meant to be a replica of the so-called "holy grail of electric guitars" – the 1959 Gibson Les Paul Standard. "From 1986 until about 1988, that was my main guitar, that one Kris built," Slash continues. He goes on to say, "The latest Slash model is identical to that guitar."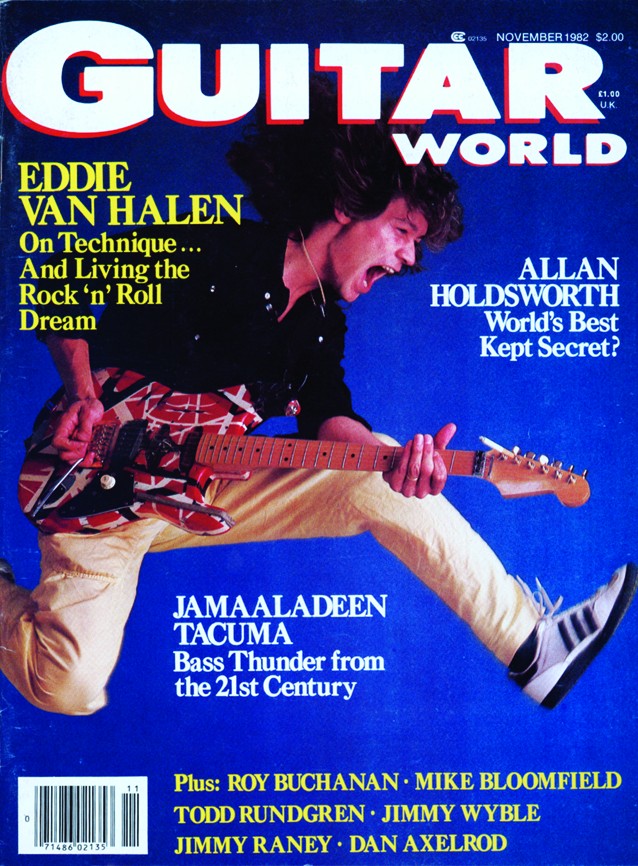 1) Edward Van Halen's Homemade "Frankenstrat"
EVH's famed and distinctive instrument of choice was famously concocted by the player himself in his garage from parts of various guitar carcasses – a Fender-style body here, a maple neck there and a signature whammy bar made by Floyd Rose – is known as the "Frankenstrat." Its name is a tribute to the fictional doctor who combined body parts to create a monster, and the Fender Stratocaster. This mad scientist's monster is a killer in a wholly different way from the the fictional Dr. Frankenstein's creation.
The basic instrument cost Eddie a mere $130. Van Halen bought the prototype's body with a knot in the wood at the discount price of $50. The $80 neck had jumbo fret wire, and its truss rod was adjustable at the heel. Then he performed surgery on the ash Stratocaster-style body, modifying it routing to fit a Gibson PAF humbucking bridge pickup. This tinkering produced an amalgam of Fender-Gibson sound.
Then he replaced a 1958 Fender tremolo with a Floyd Rose bridge, inserting a 1971 quarter to keep the "Floyd" flush with the body. He attached truck reflectors to the rear of the body for decoration and installed large screw eyes instead of strap buttons, a foolproof (albeit unsightly) method of securing the guitar to the strap. The guitar had several paint designs until it arrived at its final combination of red and black-and-white stripes.
Fun Facts:
A copy of the Frankenstrat is housed in the National Museum of American History, part of the Smithsonian Institution in Washington, D.C.
The Frankenstrat was used in the box art for Guitar Hero: Van Halen. It also appears a number of times in the game, including transitions at the end of songs; the stripes appear one by one in quick succession, and are then removed.