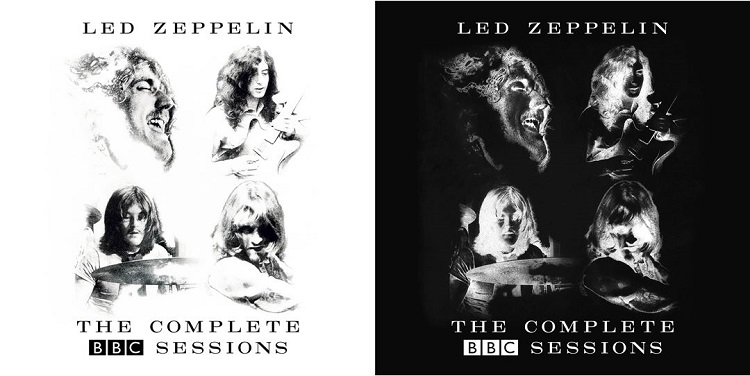 In 1997, Led Zeppelin released BBC Sessions, a two-disc set of live recordings selected from the band's appearances on BBC Radio between 1969 and 1971. On September 16, 2016, the band will unveil The Complete BBC Sessions, a newly remastered, expanded and updated version of the collection with eight unreleased BBC recordings, including three rescued from a previously "lost" session from 1969. The new release, via Atlantic/Swan Song, was supervised by Jimmy Page. (Have a brief listen below.)
The Complete BBC Sessions will be available as a 3-CD deluxe edition that includes the remastered original plus a third disc of unreleased audio and a 5-LP deluxe vinyl edition with the remastered original plus a fifth LP of unreleased audio, on 180-gram vinyl.
Collectors will also be interested in what is being called a "super deluxe box set" that includes:
Remastered album of 2 CDs, each in a replica sleeve;
Unreleased audio on CD in a separate card sleeve;
Remastered album on 180-gram vinyl;
Unreleased audio on 180-gram vinyl;
High-def audio download card of all content at 96kHz/24 bit;
48-page book filled with photos of the band, the recording locations, BBC memorabilia and session information;
High-quality print of the original album cover, the first 30,000 of which will be individually numbered.
BBC Sessions has been certified double platinum by the RIAA. The eight previously unreleased performances on The Complete BBC Sessions includes the debut of a long-lost radio session that has achieved near-mythic status among fans. Originally broadcast in April 1969, the session included three songs: "I Can't Quit You Baby," "You Shook Me," and the only recorded performance of "Sunshine Woman."
Also included are two unreleased versions of both "Communication Breakdown" and "What Is And What Should Never Be." Separated by two years, the performances demonstrate the young band's rapid evolution over a short period of time.
The set includes extensive session-by-session liner notes written by Dave Lewis and, for the first time, provides accurate details and notes about all of the band's BBC sessions.
Jimmy Page spoke about the band's growth in an interview with Guitar World: "The BBC Sessions show in graphic detail just how organic the group was. Led Zeppelin was a band that would change things around substantially each time it played…We were becoming tighter and tighter, to the point of telepathy."
Page formed Led Zeppelin in 1968 and they evolved into one of the most influential and successful groups in classic rock, having sold more than 300 million albums worldwide. Their self-titled debut, released in 1969, was produced by Page, as were all the subsequent albums.
Led Zeppelin continues to be honored for its pivotal role in music history. The band was inducted into the Rock & Roll Hall of Fame in 1995 and received a Grammy Lifetime Achievement Award in 2005. The band was honored for its lifetime contribution to American culture at the Kennedy Center Honors in 2012. In 2014, the band finally won a Grammy Award for Celebration Day, as Best Rock Album. The last two years saw an elaborate reissue campaign of all nine of the band's studio albums.
Have a (brief) listen to some of the music on the collection…
THE COMPLETE BBC SESSIONS
CD Track Listing
Disc One
"You Shook Me"
"I Can't Quit You Baby"
"Communication Breakdown"
"Dazed And Confused"
"The Girl I Love She Got Long Black Wavy Hair"
"What Is And What Should Never Be"
"Communication Breakdown"
"Travelling Riverside Blues"
"Whole Lotta Love"
"Somethin' Else"
"Communication Breakdown"
"I Can't Quit You Baby"
"You Shook Me"
"How Many More Times"
Disc Two
"Immigrant Song"
"Heartbreaker"
"Since I've Been Loving You"
"Black Dog"
"Dazed And Confused"
"Stairway To Heaven"
"Going To California"
"That's The Way"
"Whole Lotta Love" (Medley: Boogie Chillun/Fixin' To Die/That's Alright Mama/A Mess of Blues)
"Thank You"
Disc Three
"Communication Breakdown" *
"What Is And What Should Never Be" *
"Dazed And Confused" *
"White Summer"
"What Is And What Should Never Be" *
"Communication Breakdown" *
"I Can't Quit You Baby" *
"You Shook Me" *
"Sunshine Woman" *
* Previously Unreleased

Latest posts by Best Classic Bands Staff
(see all)