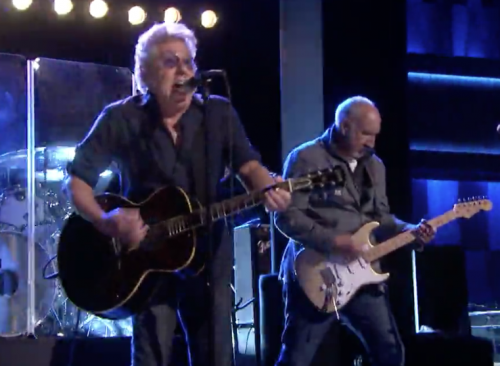 It was expected to possibly be the last concert on what Pete Townshend and Roger Daltrey told us was most likely the final tour by The Who. We are – being the Who fanatics we are – happy to report that it was not the final show by the superstar classic rock band, who will be touring Europe this summer and then appear at the Desert Trip festival in Southern California in October.
Related: The Who will continue to tour past the Hits 50! dates
As Who followers know, this isn't the first time they've announced a final bow only to return later. We feel that Pete and Roger really believed that The Who Hits 50! would be the band's swan song. And that the primary reason they've continued to tour can be found in the fan video below shot at Caesar's Palace Colosseum in Las Vegas – the final date on Hits 50! – last night (5/29) that the group posted on their Facebook page. It's the last song of the set, "Won't Get Fooled Again."
Related: Prior to The Who's Hits 50! tour coming to North America, the band's first biographer gave us an overview
In short, what you'll hear and see on the clip is a genuine and genuinely great band at the peak of their powers, stretching out, finding new musical touches in a classic song, playing it with a verve and freshness that represents rock'n'roll at its finest. So why stop now when they're obviously having a good time?
We also heard The Who as they are now at 50 and then 51, and felt that this wasn't just a get-it-over-with farewell tour by any means.
Related: Best Classic Bands' Editor Rob Patterson reviews The Who at the beginning of the Hits 50! tour
One thing we like about this video clip (and wonder if The Who or their people did too) is that either the person who shot it or someone very close by is sometimes singing along (and largely on key). And shouts out in response to hot moves in the music as fans do. Because we're fans too.
Related: Binky Philips becomes a Who fanatic for life after seeing their first full NYC show in 1967
The Who Setlist at Caesar's Palace Colosseum, 5/29
Who Are You
The Seeker
The Kids Are Alright
I Can See for Miles
My Generation
Pictures of Lily
Behind Blue Eyes
Bargain
Join Together
You Better You Bet
5:15
I'm One
The Rock
Love, Reign O'er Me
Eminence Front
Amazing Journey
Sparks
The Acid Queen
Pinball Wizard
See Me, Feel Me
Baba O'Riley
Won't Get Fooled Again
Related: BCB saw The Who "triumph" at Madison Square Garden earlier this year

Latest posts by Best Classic Bands Staff
(see all)