The Who Hits 50 tour resumes as they return to America to play the second leg, postponed from last fall after singer Roger Daltrey was felled by viral meningitis. He's now recovered and in fine voice (see our report from a recent London show here) as the band finish up what they say is likely their last tour ever. In honor of this final outing by one of our favorite groups, in the coming weeks Best Classic Bands will revisit our earlier coverage of this historic tour.
The band's first biographer reflects on a half-century of The Who and what may be the start of their final bow
The Who hit the road in 2015 on a U. S. tour in celebration of the band's 50th anniversary. Pete Townshend and Roger Daltrey, the two surviving members, still represent its creative identity along with what passes for dignity in rock, and both still care about the aesthetic value of their work. This is evident from Daltrey's superb voice, which he keeps in shape with the discipline of a professional athlete, and Townshend's relentless work as a curator of his own archives and his uncanny durability as both a guitarist/vocalist and a songwriter.
The proof is easily available for inspection. Daltrey's recent collaboration with former Dr. Feelgood guitarist Wilko Johnson, Going Back Home (read BCB's review here), is an extraordinary achievement for both men. Townshend has found more ways to present and reinterpret his own vast body of work, with and without The Who, than any of his peers. What's more, he can bring it with more passion now as a near-septuagenarian – he turned 70 last May – than he seemingly could during his midlife crisis when the burden of carrying The Who around on his shoulders appeared more like his personal albatross.
As a curator of his own work, Townshend's expansion of Live At Leeds somehow managed to make the greatest live album in rock history even better. It shed completely new light on the making of the band's most popular record, Who's Next, and the project that it gestated from, Lifehouse; and it gave him multiple opportunities to rescue the reputation of what turns out to be his masterpiece, Quadrophenia.
Though Lifehouse never came to public fruition, it was pivotal in lifting The Who from pop music and pop art into the realm of multimedia performance with futuristic ambitions they fulfilled on more than a few occasions. As he confessed to me at the time, "I've worked myself on something which you'll never see to the point of nervous breakdown. We've worked probably harder in the last year than we ever have… after about six months with no product, only problems, and only me involved in it and the rest of the group gettin' bored, John getting involved in makin' his own album, Roger ringing me up every day trying to dissuade me from doing the project, saying what we really needed to do is to work on the road, we eventually gave up, and to put it quite frankly just went back into the old mold.
"We went into the studio. I picked out a few numbers I'd had for the film project – "Pure and Easy," "Baba O'Riley," "Getting' in Tune," "Won't Get Fooled Again," "Love Ain't for Keeping," and "Behind Blue Eyes." We did a very straight album." Who's Next is thought by many to be the group's definitive long-player, though substantial cadres of fans feel the same way about Quadrophenia and Tommy; and some of us rate a plural all of the above if not more of their releases as such.
Now comes the ultimate Who exhibition, what has been widely hinted to be, but never formally announced, as the band's farewell tour, a recapitulation of the triumphs and tragedies that have alternately lifted them up and crushed them over the years. The road show is a tribute to fallen band members Keith Moon, who died in 1978, and John Entwistle, who died in 2002; a nod to the band's fans, old and new, who've stood by them all this time; and finally to Daltrey and Townshend themselves, who mightily deserve a proper curtain call as The Who, although neither of them appear ready to stop making music.
"This is the beginning of the long goodbye," Daltrey cryptically observes. Somehow you know if it was up to him he'd never let the band stop. Townshend's remarks about the tour are characteristically more whimsical. "Trying to stay young," he notes. "Not wearing socks. Growing a great big woodcutter's beard. Might even wear a checked shirt on stage and get a tattoo of a Union Jack. Always a fashion victim. But under no illusions. We are what we are, and extremely good at it, but we're lucky to be alive and still touring."
The U.S. run began April 15 in Tampa, FL and will include the band's first American festival appearance since Woodstock at the New Orleans Jazz and Heritage Festival and a stop in Austin, TX before a northeast swing which with several New York City dates, including a return to Forest Hills stadium, where the band played a legendary 1971 concert. After dates in Europe in June and July they were scheduled to return Stateside on September 14 in San Diego and finish up on November 4 in Philadelphia. They now play that second leg this spring.
Townshend describes the U.S. run of shows as containing "hits, picks, mixes and misses." Certain numbers are sure to be included but he also promised some surprises.
What are we likely to hear? It's hard to imagine The Who ever performing without playing "Pinball Wizard" and a handful of other staples. The best predictor of what the sets will probably look like comes from the recently completed British leg of the tour, which kicked off in Scotland last November 30 and finished its run in London on March 26. A core of 20-23 songs were heard at all the shows with a handful of additional numbers phased in and out of shows, which were not uniform in length.
All of the U.K. shows began with the same set of early material, beginning with Townshend's first composition for the band, "I Can't Explain," followed by "Substitute." This one-two punch has opened Who sets for much of the band's career.
"I Can't Explain" is the root from which all of Townshend's writing grew, a song that expressed a simple wonder at life and a frustration at the inability to rationalize and understand that wonder. The sound of the song seemed to embody the notion of pop music, from Townshend's shimmering rhythm guitar pattern to the syncopated hand claps and percussion backing behind the short solo. "Substitute" added a sense of self-deprecating humor mixed with confusion and disorientation. It viscerally connected with the teenage angst many of us felt at the time.
I was born with a plastic spoon in my mouth
The north side of my town faced east and the east was facing south
Now I'm a substitute for another guy
I look pretty tall but my heels are high
Not only are these both great pop songs in the abstract, they work together to define Daltrey's stage persona right at the beginning of the set.
As Townshend recalls of tracking "Substitute," "We went in and played the thing… Keith doesn't even remember the session, Roger was gonna leave the group. It was an amazing time in The Who's career. We were more or less about to break up." Despite The Who being a cauldron of creative and personal tension for decades – one source of the band's incredible potency – the fact that they and their music have endured is yet another cause for celebration as they hit the half century mark.
On the British tour the basic set continued with "The Seeker," then in most cases "Who Are You," "The Kids Are Alright" and "I Can See for Miles." By mixing the song order Daltrey, who writes the set lists, can substantially change the shape of sets from night to night. The March 22 and 23 London shows provide a good illustration. On the 22nd the set continued with "So Sad About Us" from the second album and hit an early highpoint with "My Generation." "Behind Blue Eyes" and "Join Together" from the Lifehouse project followed, then "I'm One" and "Love Reign O'er Me" from Quadrophenia. Next came "Slip Kid" from Who By Numbers; the mini-opera "A Quick One While He's Away"; a good chunk of Tommy: "Amazing Journey"/"Sparks"/"Pinball Wizard"/"See Me, Feel Me"/"Listening to You." And a finale of "Baba O'Riley" followed by "Won't Get Fooled Again" with "Magic Bus" for the free kick.
Now Tommy slates in as but one vital building block of their overall ouevre. But the 1969 "rock opera" – the first and still best – that yielded a movie, Broadway musical and orchestral album did at one point threaten to overtake the band's identity. "I always used to imagine how potent something like Tommy would be if it was never a record, if it always was a stage performance." Townshend once speculated. "And I started to think in that sort of way, that recordings first and performances afterward were somehow getting to be upside down
"Theatrically, it gave us a new strength, a visual, dynamic strength we'd never had. Apart from anything else it turned Roger into much more of the kind of person he needed to be on the stage; it gave him something more to get into – it gave him a part, an identity. It really solidified him within The Who, and it challenged him to sing well as well… Then Tommy got even bigger than us. Tommy and The Who. Then Tommy comes to town. I've even seen that on posters." Yet at the big Five-0, The Who are securely at the point where the sum of their accomplishments is greater than the whole or any of even its finest constituent parts.
The 23rd was a very different show even without many song substitutions. "So Sad About Us" dropped down to just before "A Quick One" (the two were on the same album); and "Magic Bus" moved up behind "My Generation," giving a different shape to the front of the set. "You Better You Bet" was added after "Join Together"; "Slip Kid" was replaced by "Eminence Front"; and "Won't Get Fooled Again" finished up, giving a more dramatic ending to the show.
Watch The Who hit it hard at 50 at Barclay's Center in Brooklyn on May 26, 2015.
On another night of the tour the early songs were all brought to the top of the list. Other shows mixed and matched with added Quadrophenia material "Bell Boy" (with Moon's voice on tape) and "5:15" (with Entwistle's bass track on tape), "Squeeze Box," "Cry if You Want" and the amazing "Naked Eye" – a real treat to witness.
The U.S. tour is accompanied by a terrific new historical compilation of the band's work, The Who Hits 50!, which is neither a hits package, per se, nor a collection of 50 tracks. Its 42 songs do provide an intriguing overview of the band's work, including the biggest hits but also some seriously deep tracks that help define the band's identity as a group that was far more eclectic over its history than the casual listener may think. There's also a new track, "Lucky," which demonstrates how effectively drummer Zak Starkey – yes, son of that Starkey, and tutored on drums as a youngster by Moon – and bassist Pino Palladino have hefted the near-impossible roles trailblazed by Moon and Entwistle. Moon is impossible to reproduce and fortunately Starkey doesn't try; rather than the manic genius, he is simply and magnificently a virtuoso rock drummer. Palladino's extraordinary ability to play Entwistle's lines as if he were Yehudi Menuhin interpreting Paganini shows how deeply musical Entwistle's contribution to The Who sound really was.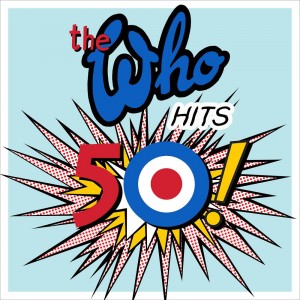 The band may have added other songs to the book during rehearsals for the U.S. tour, which leads to delicious speculation. "I'm Free," "Summertime Blues," "Let's See Action," "Relay," "Athena," "Happy Jack" and "Anyway, Anyhow, Anywhere" are all included on The Who Hits 50! and any of them would fit nicely into the sets they've been playing lately.
Over their 50 years The Who have grown from the spunkiest, smartest and quirkiest quantity to arrive on these shores in the British Invasion to embody the yin/yang dialectic towards the truth of rock music at its finest: stunning magnificence and raw power; spirituality and grace while at the same time surging erotic passion and street-tough defiance; keen intelligence melded with primal tempestuousness. It's all there and more: the dynamism and contradictions of our and their times and our and their lives. Being all too aware of mortality from "My Generation" onward, The Who will no doubt do their iconic legacy proud indeed as they head across America towards their inevitable final farewell.
Read our review of Roger Daltrey's album with Wilko Johnson, Going Back Home, here.
Read our review of the Austin, TX date on the first US leg of their tour here.
The band gives us a new song on The Who Hits 50.
Watch this Roger & Pete acoustic performance and press conference as they announce the tour.

Latest posts by John Swenson
(see all)