A new book, The Jive 95: An Oral History of America's Greatest Underground Rock Radio Station, KSAN San Francisco, written by journalist Hank Rosenfeld, has been published by Backbeat Books. (It's available in the U.S. here; it arrives in the U.K. on Oct. 15.) According to a press release, the book "brings to life the pioneering hippie FM underground outpost that revolutionized the medium."
The announcement continues: "As it spread countercultural consciousness to a new generation of listeners, the Jive 95 became their community center by featuring a band of brilliant, fearless, hell-raising reporters and fun, funny, enlightened DJs."
Listen to Tom Donahue on KSAN Radio
Launched in 1967 by "the hippest hippie in the Bay Area," Rock and Roll Hall of Fame inductee Tom Donahue, KMPX/KSAN had "every hung-up kid in the whole wide universe seeking connection tuned in," the release says. "The 94.9 Jivers were the Craigslist of that day: they aired personal ads; rides looking to share a space; instruction on how to meet up with other peace and luvvers in the park; and, where the next antiwar movement march was happening."
Related: Radical Radio website recalls the era of freeform programming
KSAN played not only individual tracks but entire LP sides—so listeners could tape them—from local bands such as the Grateful Dead, Jefferson Airplane, Santana, Big Brother and the Holding Company (with Janis Joplin), Sly and the Family Stone, Creedence Clearwater Revival, Quicksilver Messenger Service, Country Joe and the Fish and many others, as well as new releases from artists from other parts of the U.S. and around the world. KSAN also broadcast live concerts from many local and non-local artists.
Beginning in the late '70s, KSAN became one of the first commercial stations in the U.S. to specialize in the emerging punk and new wave sounds.
Following the lead of KSAN, other stations cross America at the end of the '60s, inspired by "Big Daddy" Donahue's San Francisco experiment, started up, including Boston's WBCN, New York's WNEW-FM and others.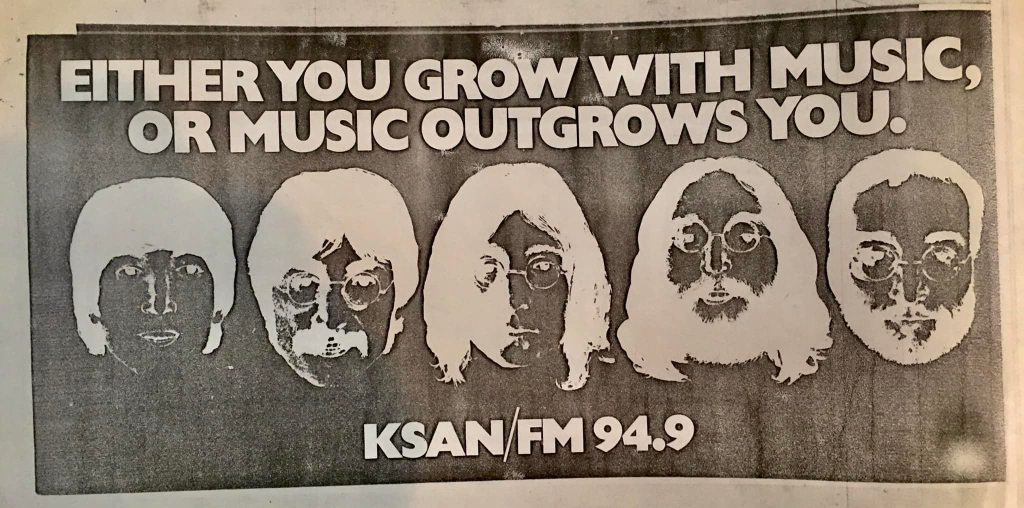 Author Rosenfeld was part of the Jive 95 during its final heyday, producing news and comedy at KSAN before what he describes as "Metromeaningless goons came up from L.A." and "all the creative, cool kids got canned, and KSAN went 'urban country.'" The book also offers readers a way to connect with psychedelicized DJs and radical news rippers.
Listen to a 90-minute broadcast on KSAN following the 1969 Altamont festival debacle

Latest posts by Best Classic Bands Staff
(see all)