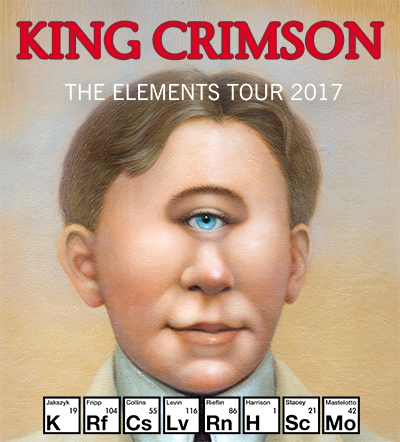 Update (July 13): Plenty of new fall tour dates have been added. Scroll down to the bottom to see the complete itinerary.
Here is our original post from May…
Dates have been revealed for King Crimson's upcoming North American Radical Action Tour 2017, their first in three years. The first leg of the tour will run from June 11 (the Moore Theatre in Seattle) to July 15 (the second of two dates in Mexico City). The group also revealed, "there will be further dates in the autumn, to include New York City."
The entire tour itinerary is below. Tickets are available here and here.
The band will be releasing a CD EP on June 2 featuring their version of "Heroes" recorded in Berlin during the band's 2016 European tour.  Band leader Robert Fripp, who plays the unforgettable guitar on Bowie's original version, notes, "King Crimson performed 'Heroes' at the Admiralspalast in Berlin as a celebration, a remembrancing and an homage. The concert was thirty-nine years and one month after the original sessions at the Hansa Tonstudio overlooking the Berlin Wall. This is released in the Fortieth Anniversary year." (See full track listing below.)
Watch the outstanding live clip of "Heroes"…
Fripp announced that he will be expanding the configuration of the band he called the Seven-Headed Beast to become the new Double Quartet Formation. Multi-instrumentalist Bill Rieflin has returned to the band following a sabbatical and, along with Fripp, rounds out a lineup featuring guitarist Jakko Jakszyk, bassist Tony Levin, saxophonist Mel Collins and drummers Gavin Harrison, Pat Mastelotto and Jeremy Stacey.
"Existing repertoire will be re-calibrated for the about-to-be-becoming King Crimson Double Quartet Formation," Fripp said on the site. "King Crimson is the first group of which Jeremy has been a full-member. Jeremy became a full-contributor to the Seven-Headed Beast during the 2017 EuroTour, a remarkable achievement for Jezza to adopt the entire repertoire on both drums and keyboards. Bill is presently returning from his Sabbatical, and now The Beast has Eight Heads. Jeremy and Bill are both multi-instrumental, so King Crimson is likely to be making a lot more noise than before," Fripp said.
Related: Former member Greg Lake dies at 69
King Crimson hasn't released a new studio album since 2003's The Power to Believe. They have released three live recordings in recent years: Live at the Orpheum, Live in Toronto and the three-disc boxed set Radical Action to Unseat the Hold of Monkey Mind.
Heroes EP full track listing:
Heroes
Easy Money
Starless (Edit)
The Hell Hounds of Krim
Heroes (Radio edit)
Pre-order is available here.
King Crimson Radical Action Fall 2017 Tour Dates
October 19 Austin, TX—Bass Performance Hall
October 21 Dallas, TX—Music Hall
October 23 Atlanta, GA—Center Stage
October 24 Atlanta, GA—Center Stage
October 26 Raleigh, NC—Duke Energy Centre for the Performing Arts
October 28 Washington, DC—Lisner Auditorium
October 29 Washington, DC—Lisner Auditorium
October 31 Newark, NJ—New Jersey PAC
November 2 Philadelphia, PA—Merriam Theatre
November 3 Philadelphia, PA—Merriam Theatre
November 6 Boston, MA—Orpheum Theatre
November 8 Albany, NY—The Egg
November 9 Albany, NY—The Egg
November 11 Allentown, PA—Miller Symphony Hall
November 17 New York, NY—Beacon Theatre
November 18 New York, NY—Beacon Theatre
November 22 Ann Arbor, MI—Michigan Theatre
November 24 Cleveland, OH—Hard Rock Cafe
November 26 Milwaukee, WI—Riverside Theatre
Read more.
Watch King Crimson perform "Starless"
If you're a new Best Classic Bands reader, we'd be grateful if you would Like our Facebook page and/or bookmark our Home page.

Latest posts by Best Classic Bands Staff
(see all)