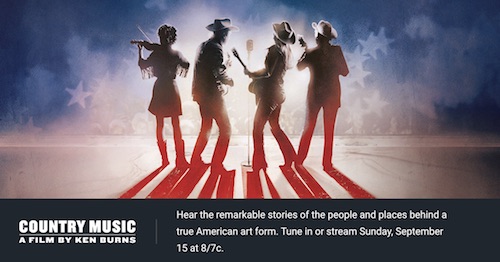 A new 8-part documentary series, Country Music: A Film by Ken Burns, is set to premiere Sunday,  September 15 at 8 p.m. ET on PBS stations and streaming. Director Burns' many previous documentary subjects have included everything from jazz to the Civil War to baseball.
Burns' website issued the following description of Country Music:
"Country Music will chronicle the history of a uniquely American art form, rising from the experiences of remarkable people in distinctive regions of our nation.  From southern Appalachia's songs of struggle, heartbreak and faith to the rollicking western swing of Texas, from California honky tonks to Nashville's Grand Ole Opry, we will follow the evolution of country music over the course of the twentieth century, as it eventually emerged to become America's music."
The 16-hour film was directed and produced by Burns; written and produced by Dayton Duncan; and produced by Julie Dunfey—Emmy-award winning creators of many of PBS's most-acclaimed and most-watched documentaries for more than a quarter century, including The Civil War, Lewis & Clark: The Journey of the Corps of Discovery, The National Parks: America's Best Idea, The Dust Bowl and many more.
Click here for the PBS page on the film.
Country Music: A Ken Burns Film is also being released on DVD and Blu-ray on September 17. The soundtrack was issued August 30 as a 5-CD set with a 68-page book of liner notes and rarely seen archival photos, as well as a 2-CD collection. (See links below.)
More from Burns' website: "Country Music will be a sweeping, multi-episode series, exploring the questions, 'What is country music?' 'Where did it come from?' while focusing on the biographies of the fascinating characters who created it—from the Carter family, Jimmie Rodgers and Bob Wills, to Hank Williams, Johnny Cash, Loretta Lynn, Charley Pride, Willie Nelson, Dolly Parton, Merle Haggard, Emmylou Harris, Garth Brooks and many more—as well as the times in which they lived.  And like the music itself, Country Music will tell unforgettable stories—stories of the hardships and joys shared by everyday people."
Watch the official extended trailer
The program notes continue: "We will trace its origins in minstrel music, ballads, hymns, and the blues, and its early years when it was called hillbilly music played across the airwaves on radio station barn dances. We will see how Hollywood B movies instituted the fad of singing cowboys like Gene Autry and Roy Rogers, and watch how the rise of juke joints after World War II changed the musical style by bringing electric guitars and pedal steel guitars to the forefront.  We will follow the rise of bluegrass music with Bill Monroe and we will note how one of country music's offspring—rockabilly—mutated into rock and roll in Memphis.  And we'll see how Nashville slowly became not just the mecca of country music, but 'Music City USA.' All the while, we will note the constant tug of war between the desire to make country music as mainstream as possible and the periodic reflexes to bring it back to its roots."
Watch an interview with Marty Stuart from Country Music: A Film by Ken Burns

Latest posts by Best Classic Bands Staff
(see all)