The keyboardist and composer who put the "E" in ELP – Keith Emerson – died Thursday night (March 10, 2016) at his Los Angeles home. His death was announced in a brief post on the progressive rock band's Facebook page at around 2:30 pm ET Friday:
Keith Emerson (1944 – 2016)
We regret to announce that Keith Emerson died last night at his home in Santa Monica, Los Angeles, aged 71. We ask that the family's privacy and grief be respected.
Update (March 12, 6:15 pm ET): Greg Lake has issued the following statement:
To all ELP friends and fans all over the world, I would like to express my deep sadness upon hearing this tragic news. As you know Keith and I spent many of the best years of our lives together and to witness his life coming to an end in the way that it has is painful, both to myself and to all who knew him.
As sad and tragic as Keith's death is, I would not want this to be the lasting memory people take away with them. What I will always remember about Keith Emerson was his remarkable talent as a musician and composer and his gift and passion to entertain. Music was his life and despite some of the difficulties he encountered I am sure that the music he created will live on forever.
My deepest condolences go to Keith's family.
May he now be at peace.
Greg Lake.
March 12, 2016
Update (8:30 pm ET): Multiple reports indicate that Emerson's death was from a self-inflicted gunshot wound to the head.
ELP drummer, Carl Palmer, added his own comment on his Facebook page at 3:15 pm ET:
I am deeply saddened to learn of the passing of my good friend and brother-in-music, Keith Emerson. Keith was a gentle soul whose love for music and passion for his performance as a keyboard player will remain unmatched for many years to come. He was a pioneer and an innovator whose musical genius touched all of us in the worlds of rock, classical and jazz. I will always remember his warm smile, good sense of humor, compelling showmanship, and dedication to his musical craft. I am very lucky to have known him and to have made the music we did, together. Rest in peace, Keith.
Carl Palmer
March 11, 2016
In an odd twist, the two most recent news posts on Emerson's website were tributes that he made on Facebook to two other rock legends who passed away in the past few months…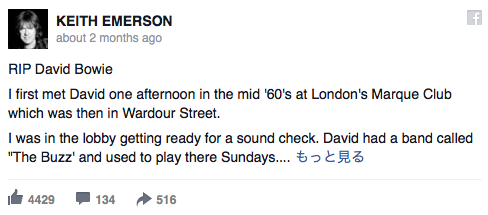 Emerson's last known live performance was on July 10, 2015 at London's Barbican Center, where he performed with a full orchestra. Here's their performance of Aaron Copland's "Fanfare for the Common Man," which ELP recorded on their 1977 Works Volume 1 album.
Emerson teamed with singer-guitarist Greg Lake and drummer Carl Palmer in 1970, following three years as a co-founder of another British prog rock band, The Nice. ELP – chosen by the alphabetical listing – were one of many "supergroups" that were formed in that era. Lake had been a member of King Crimson; Palmer had been in several bands, most notably The Crazy World of Arthur Brown.
Emerson, Lake & Palmer released their first four studio albums in consecutive years. Their 1970 self-titled debut featured "Lucky Man" which became one of their signature tunes. (Though it was released as a single twice – in 1971 and again in 1973 when the band was becoming more well known to Top 40 radio programmers – it failed to score on the pop charts either time.).
Tarkus arrived in 1971 and was quickly followed by a live album that same year, Pictures at an Exhibition. After 1972's Trilogy came Brain Salad Surgery with it's lengthy, multi-part composition "Karn Evil 9." The portion of the song with the lyrics "Welcome back my friends to the show that never ends" became a popular FM radio staple. That phrase was used as the title of a 1974 3-LP set which became the trio's highest-charting U.S. album at #4.
Much of ELP's music was informed by classical music, which Emerson embraced. The keyboardist developed rock arrangements from many classical compositions and became synonymous with his use of the Moog synthesizer, which he helped popularize. Their Pictures at an Exhibition was based largely on the Russian composer Mussorgsky's piece from a century earlier with arrangements from all three members.
After a hiatus in the mid-1970s, the trio returned in 1977 with the ambitious 2-LP set, Works, Volume 1. Each member recorded one side and Emerson's was devoted to an original composition, "Piano Concert No. 1," which he performed with the London Philharmonic Orchestra. ELP united for two lengthy tracks on the collection's final side. The group's longtime U.S. label treated the release with a lavish, double-gatefold package and even provided glassine inner sleeves in the manner of a classical music release.
The group disbanded in 1979 only to reunite in the early 1990s for two studio albums and several tours.
Best Classic Bands will continue to update this story. (If you're a new reader of ours, we'd be grateful if you would Like our Facebook page and/or bookmark our Home page.)

The BCB team brings you the latest Breaking News, Contests, On This Day rock history stories, Classic Videos, retro-Charts and more.

Latest posts by Best Classic Bands Staff (see all)